November 27, 2016
Click the picture below to see the leaflet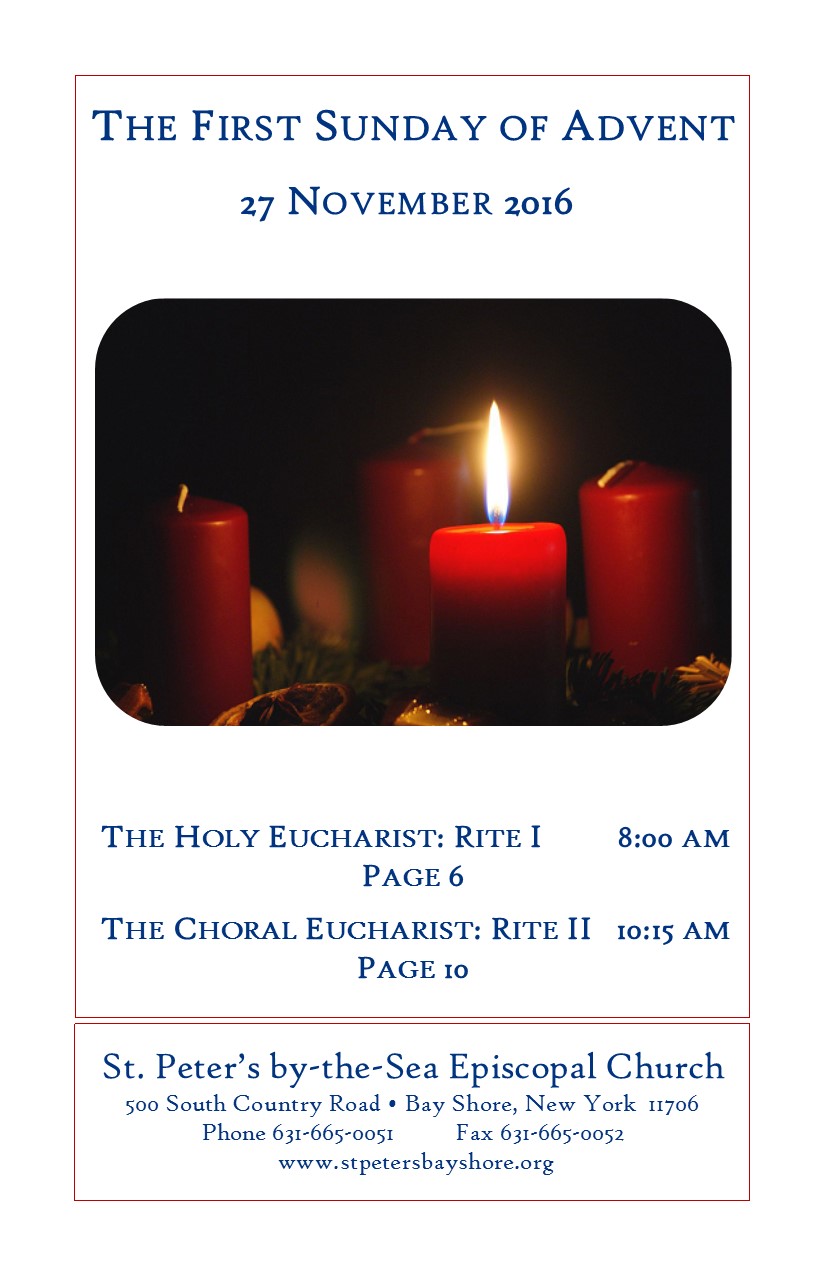 The Right Reverend Johncy Itty
Celebrant and Preacher

Mark Engelhardt, Organist and Director of Music
---
— Parish Notices for the week of 27 November 2016 —
Advent Resources
Today the Episcopal Church celebrates the first Sunday of the season of Advent, which will continue for four Sundays, until Christmas Day. The word "advent" is derived from the Latin word adventus, which means "coming," and during this season, the church enters a time of preparation and expectation for the coming of Christ "in power and glory" (Mark 13:26).
This year, The Episcopal Church's Advent campaign will focus on daily themes highlighting cultural practices and traditions around planning, preparing, and enjoying food special to the holiday season. Each day of Advent, recipes will be posted to a new blog, Make Ready the Feast.
This blog will feature recipes offered by members and friends of The Episcopal Church from around the world – Turkey Gumbo and Chicken & Sausage Jambalaya from Louisiana, Roast Buffalo from First Nations' Kitchen in Minnesota, Buckeye Candy from Ohio, Fried Pork and Plantains from Haiti, Coffee Cake and Leek & Potato Pie from New York, Pralines from Savannah, and many more. Prepare to cook and eat well this Advent season!
Many thanks to Kathy Malloy, who organized the Christmas Ornament Workshop and to Anne Perry and friends who ran it! The kids and parents put their hearts into making lovely decorations for our angel tree. Be sure to take an ornament and provide a lovely Christmas for someone in need.
No Sunday School Classes today. Beginning next Sunday, classes will begin preparations for the Christmas Eve Pageant!
Plan now to come to our Annual HOLIDAY FAIR which will be on Saturday, December 3 from 9 am until 5 pm. Vendors . . . Food . . . Crafts . . . Santa . . . And MORE!
The next Confirmation Class will also be on Saturday, December 3 from 10 am until Noon. We will meet in the Vestry Room.
The Next Altar Guild Meeting will be next Sunday, December 4th at 9:00 a.m. in the Lounge. The Greening of the Church will be on Sunday, December 11, immediately following the 10:15 a.m. service. Any who would like to stay and help are invited to do so!
Have You Taken Control of Your Health Today?
Life Line Screening will be here at on offering safe, painless, non-invasive preventive health screenings that are typically not a part of a routine physical. To be more proactive about your health and to live longer for yourself, your family and your community, please register for these potentially life-saving tests today. Please refer to the attached flyer to get more info about how you can sign up while receiving $10 off any package priced above $139. For only $139 (regularly $149) you can learn your risk of having stroke or vascular disease. There is no time like the present to take action! Learn more by watching this short video: http://www.lifelinescreeningblog.com/introduction/
Our next Music at St. Peter's Concert is just around the corner . . . And it's a GREAT one that you won't want to miss! The Parish Choir and soloists will present Handel's "Messiah", Part I with orchestra on Sunday, December 11 at 4:00 pm. Suggested Donation is $20/$15 for students, seniors, and American Guild of Organists members.
— Prayers for the Week —
We pray for those seeking healing: Allan, Ann, Ann, Beryl, Betty, Bill, Bruce, Cathy, Chris, Connie, Daisy, David, Elizabeth, Ellen, Emily, Gary, Gavin, Glenda, Jack, Jackie, Jean, LaJune, Lee, Lisa, Manuel, Meg, Michaela, Nancy, Peggy, Roger, Rosemarie, Sarah Grace, Susan, Susan W.;
We pray for those who have died,
We pray for those in military service, and especially for Eileen, John, Kyle, Robert, and Stephen;
We pray for the unemployed and underemployed; for all who suffer from addictions; for all who suffer chronic illness, and for all caregivers;
We pray for our companion dioceses of Torit & Ecuador-Central; and for mercy, peace, and justice among all peoples, especially those whose lives have been devastated by natural disasters, terrorism, war, famine, tyranny, or injustice;
In the Diocesan Cycle of Prayer we pray for St. Paul's, Roosevelt; Trinity Church, Roslyn; St. Luke's, Sea Cliff; Brotherhood of St. Andrew; HIV/AIDS Ministries; St. Michael & All Angels, Seaford; Convention Committee on Dispatch;
In the Anglican Cycle of Prayer we pray for the Dioceses of Kansas (USA); Kanyakumari (South India); Western Kansas (USA); Karachi (Pakistan); Karamoja (Uganda); Karimnagar (South India); Karnataka Central (South India).
— Upcoming Events —

Sat, 12/3, 9am - 5 pm: Christmas Fair
Sun, 12/4, 9am: Altar Guild Meeting
Sun, 12/4, 11:45am: Greening of the Church
Sun, 12/11, 4 pm: "Messiah" Concert (Choir and Orchestra)
Thurs, 12/15, 11:30am: ECW Luncheon
Sun, 12/18, 4 pm: eVoco Women's Ensemble Concert
Sat, 12/24, 4 pm: Christmas Eve Family Service
Sat, 12/24, 11 pm: Christmas Eve Festival Eucharist
(Carols at 10:30 pm)
Sun, 12/25, 10 am: Christmas Day Eucharist
Sun, 1/1/2017, 10 am: New Year's Day Eucharist
---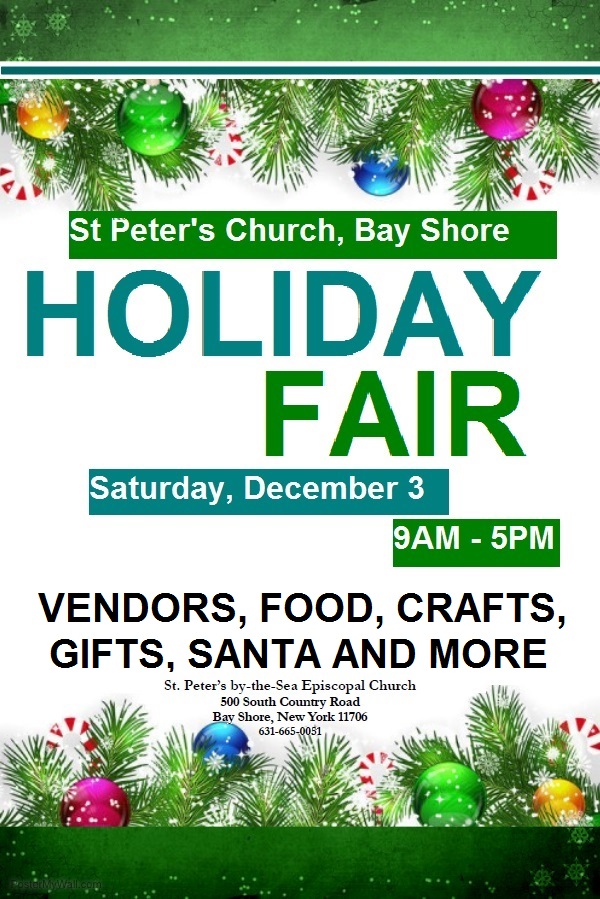 ---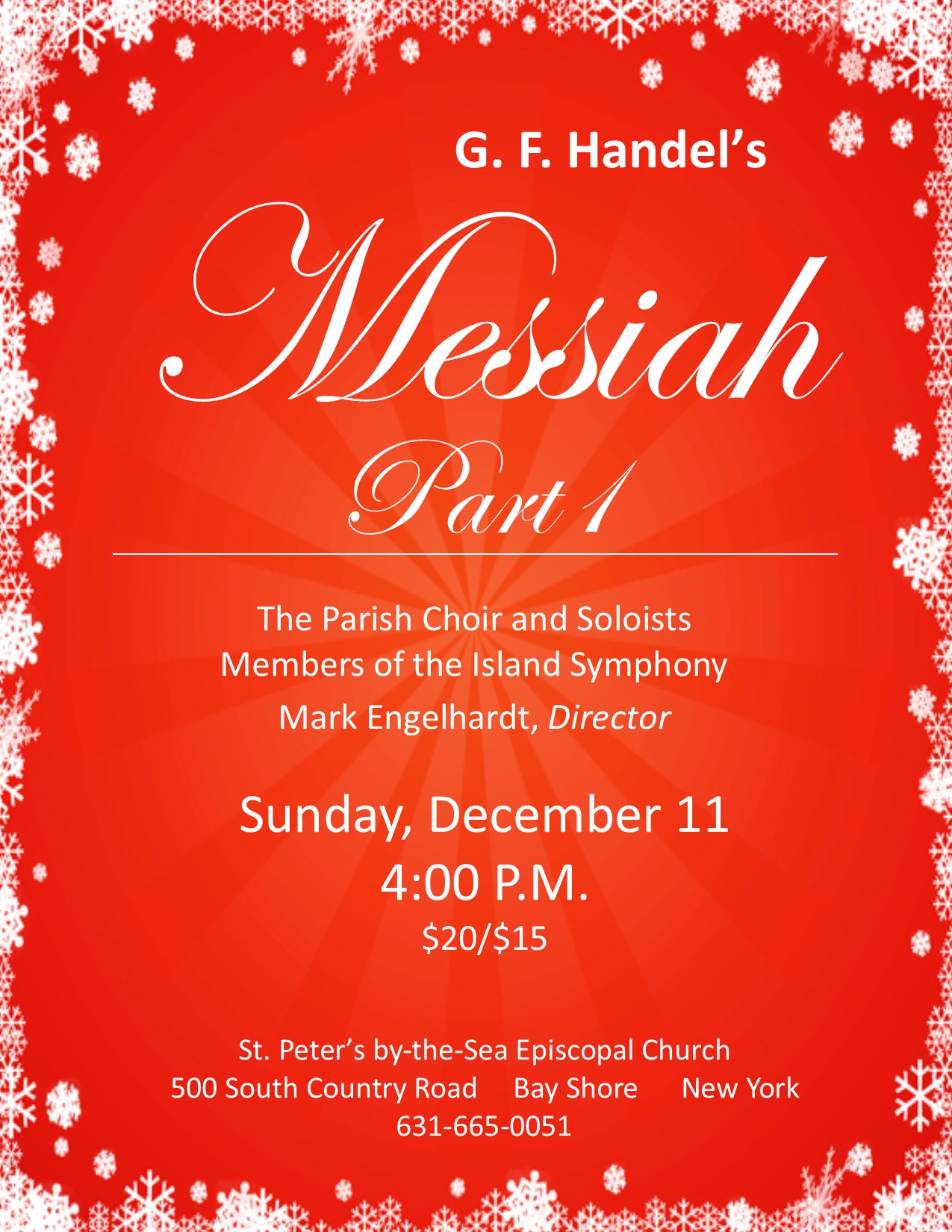 ---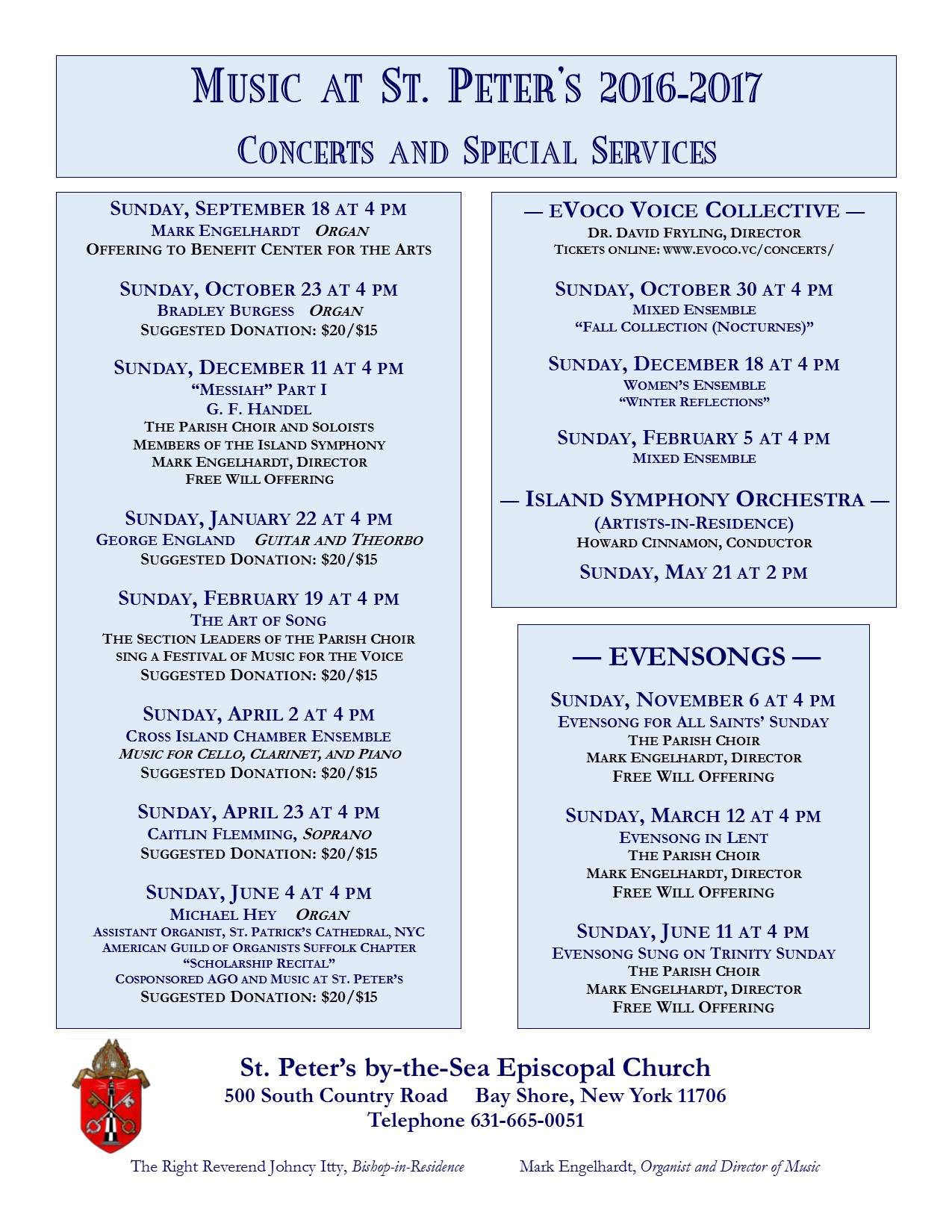 ---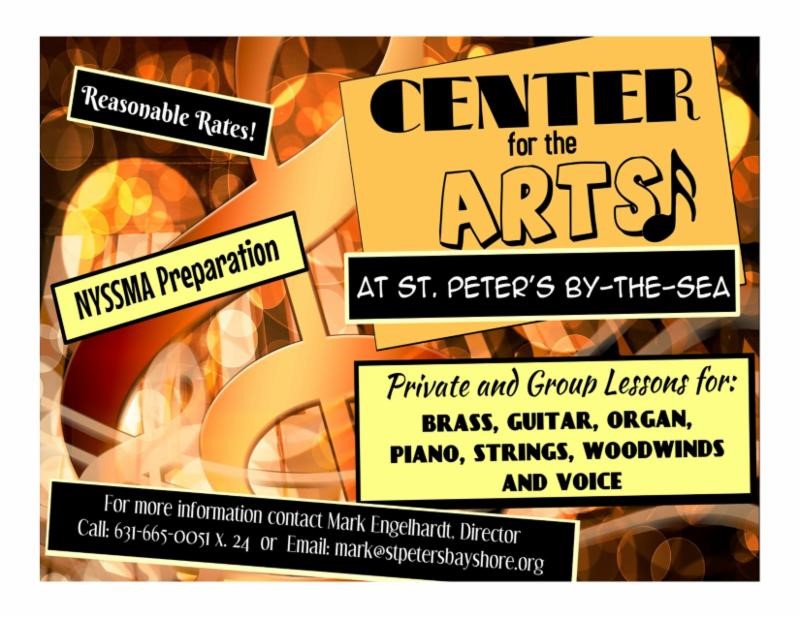 ---
Weekdays:
Morning Prayer is read Monday at 9 am.
Parish Office is open Monday through Thursday 9 am until 2 pm.

A warm welcome will greet you at St. Peter's!
St. Peter's by-the-Sea Episcopal Church
500 South Country Road
Bay Shore, NY 11706
Phone: 631-665-0051
Fax: 631-665-0052
Join us on FACEBOOK

www.facebook.com/StPetersbytheSea
www.facebook.com/StPetersBytheseaEarlyChildhoodLearningCenter
https://www.facebook.com/centerforartstpeters
https://www.facebook.com/stpeterstreblechoir/
AND FOLLOW US ON TWITTER
https://twitter.com/stpetersbaysho1