The NEW St. Peter's Quarterly Newsletter has arrived!
Click below to see the Advent/Christmas Edition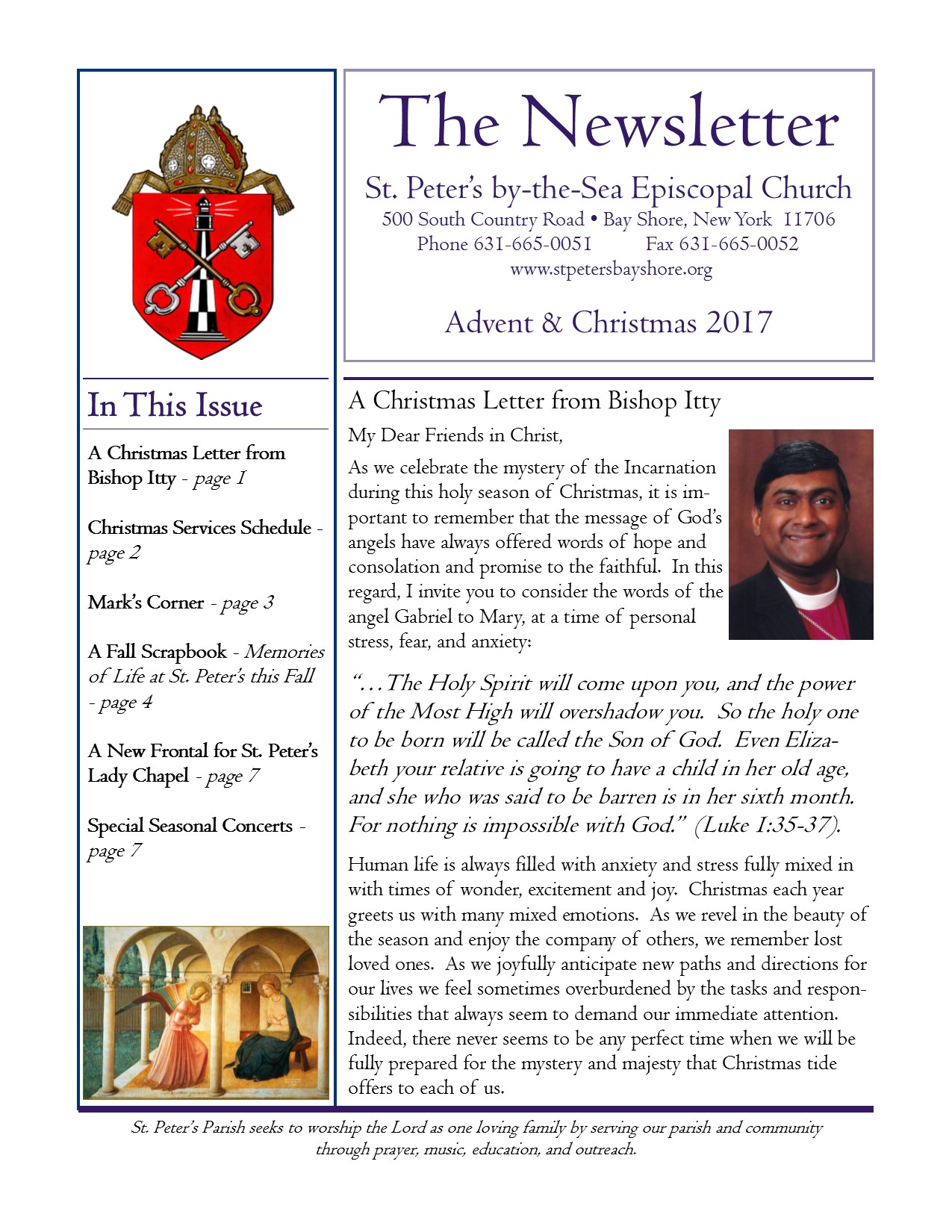 The Second Sunday
of Advent
December 10, 2017

Click the pictures to see the leaflets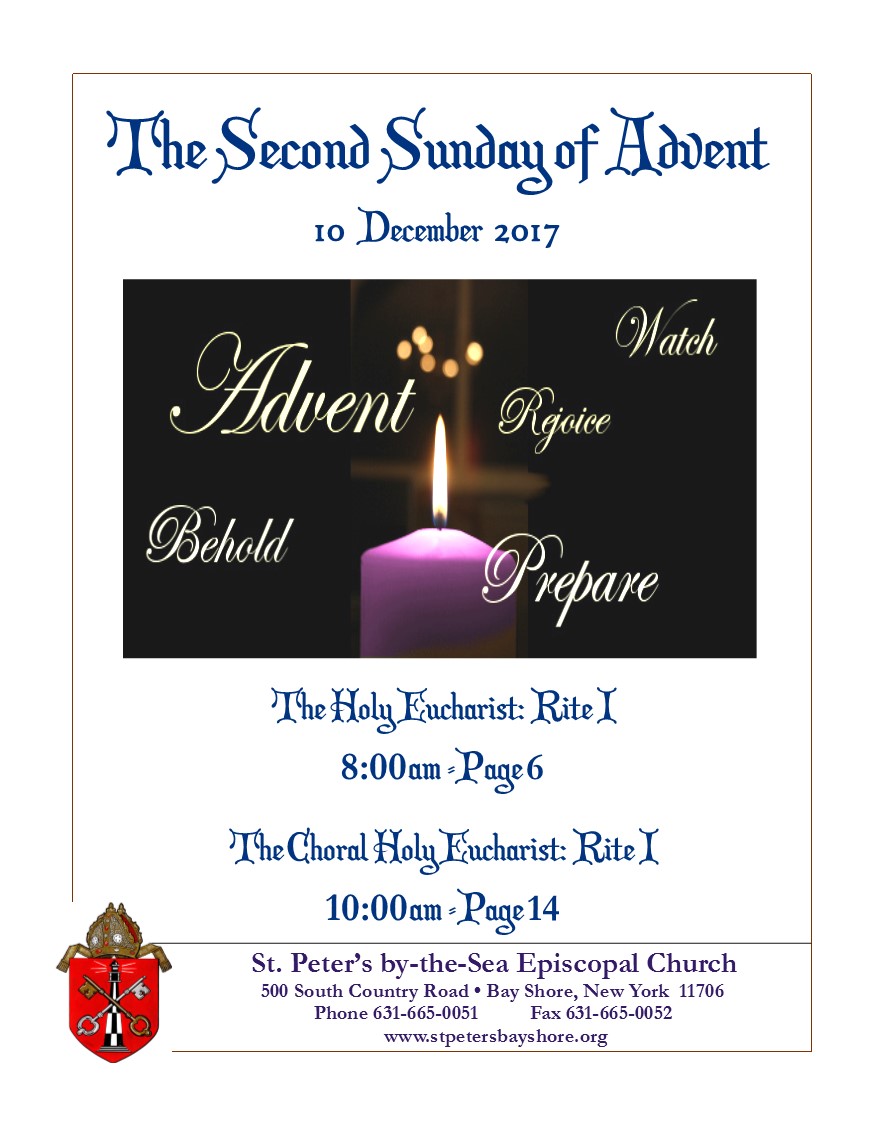 The Holy Eucharist: Rite I
8 AM St. Edmund's Chapel
The Choral Holy Eucharist: Rite I
10 AM Church
A Candlelight Service of Lessons and Carols
4 PM Church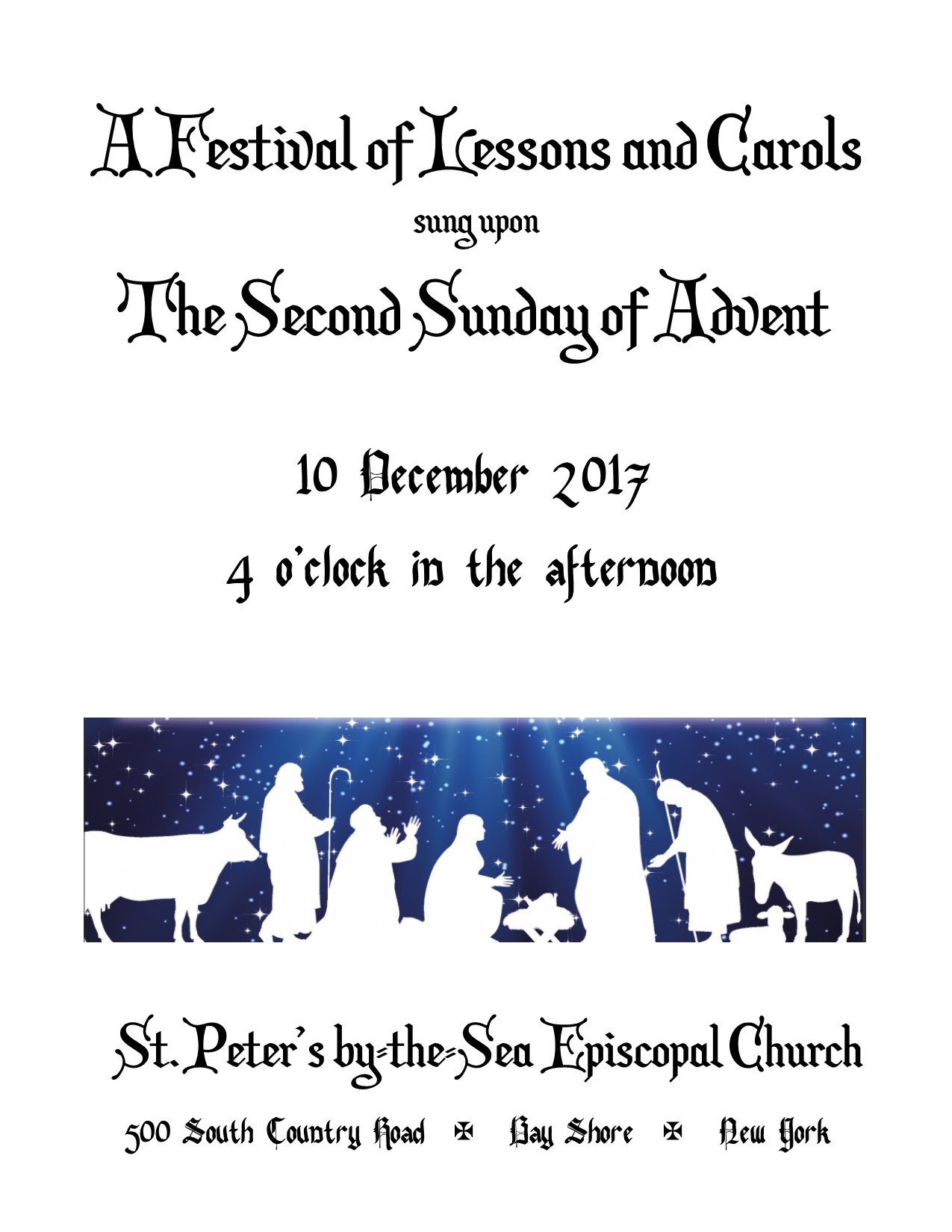 The Right Reverend Johncy Itty
Celebrant and Preacher

Mark Engelhardt
Organist and Director of Music
---
— PARISH NOTICES —
Bible Study continues on Sundays between services and on Tuesdays at 10:30am. All are invited!
The "Greening of the Church" will be this morning following the 10am Eucharist. YOUR ASSISTANCE is needed to decorate the church for Advent and Christmastide. All volunteers, including youth and Boy Scouts, are invited to help!
The Parish Choir will sing the traditional Candlelight service of Lessons and Carols this afternoon, December 10 at 4pm. The originally scheduled concert featuring J. S. Bach's Cantata No. 140 and Respighi's "Laud to the Nativity" has been rescheduled for Sunday, January 28th.
eVoco Women's Ensemble will present their Winter Concert "Virtues and Dieties" at St. Peter's next Sunday, December 17 at 4pm. See details on page 5.
Opportunities Abound For St. Peter's Mission Outreach
The Ongoing Food Pantry Wish List for this week includes these items:

Non-perishable foods that can be opened and eaten, especially cereal, tuna fish, soup beans, mac&cheese, corned beef hash, canned chicken, canned ravioli, spaghetti O's, etc.

The Angel Tree

is up and we are now receiving names for children in families that need assistance for Christmas. Please speak with Anne Perry or Sal to make requests or if you have any questions, and please take a name to help make someone's Christmas brighter.
— December and January at St. Peter's —
December
Sunday, December 10 - Festival of Lessons and Carols by Candlelight - 4pm
Sunday, December 17 - eVoco Women's Ensemble - 4pm
Sunday, December 24 - Fourth Sunday of Advent AND Christmas Eve
Holy Eucharist Rite I for the Fourth Sunday of Advent - 8am
Christmas Pageant and Family Eucharist for Christmas Eve - 10am
Festival Choral Eucharist for Christmas Eve - 9pm
Monday, December 25 - Holy Eucharist with Carols for Christmas Day- 10am
January
Sunday, January 21 - Patronal Festival Eucharist and Annual Parish Meeting - 9am
Sunday, January 28 - Music at ST. Peter's presents the Parish Choir and Orchestra in Concert
Bach - Cantata No. 140 & Respighi - Laud to the Nativity - 4PM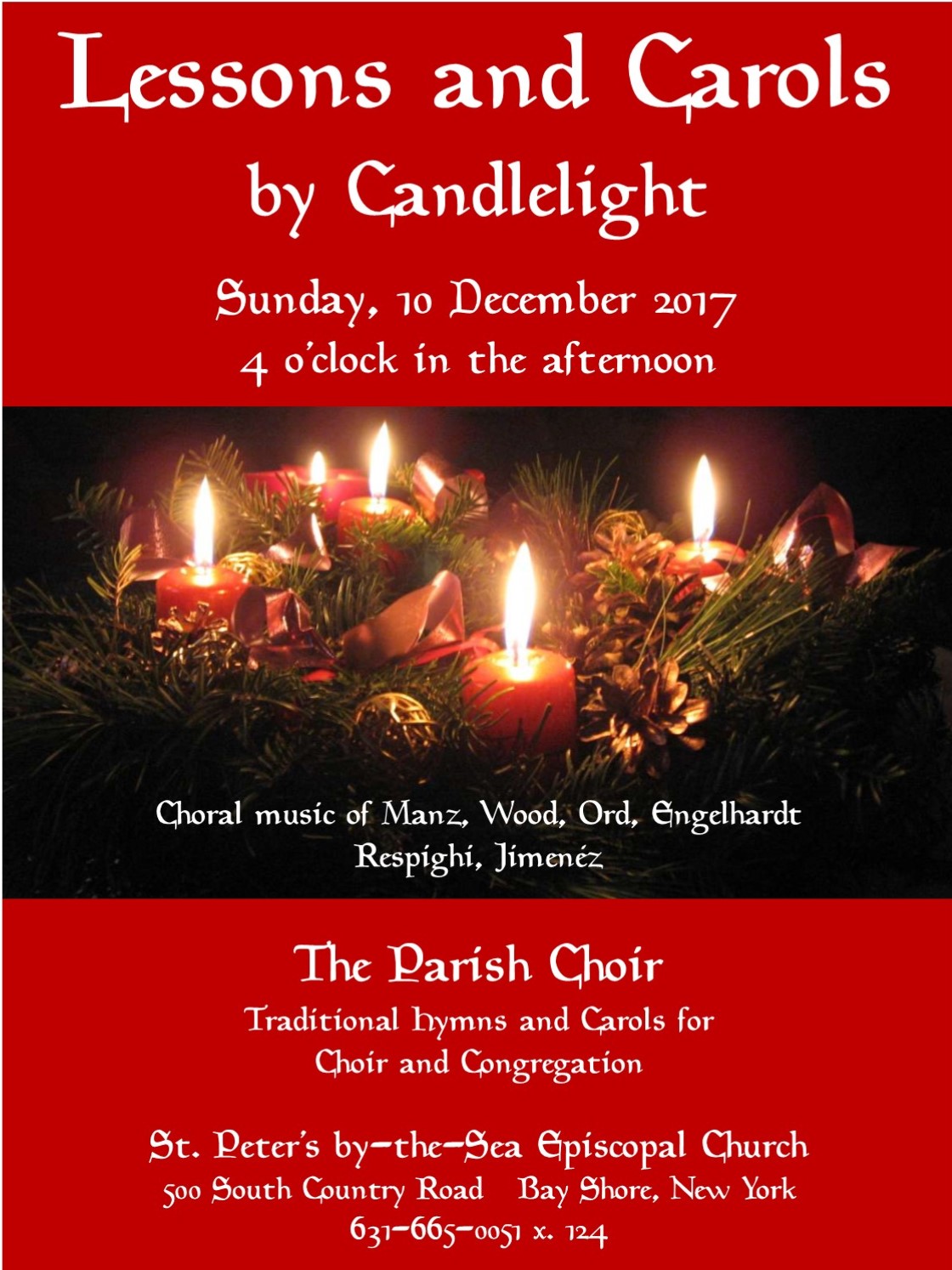 ---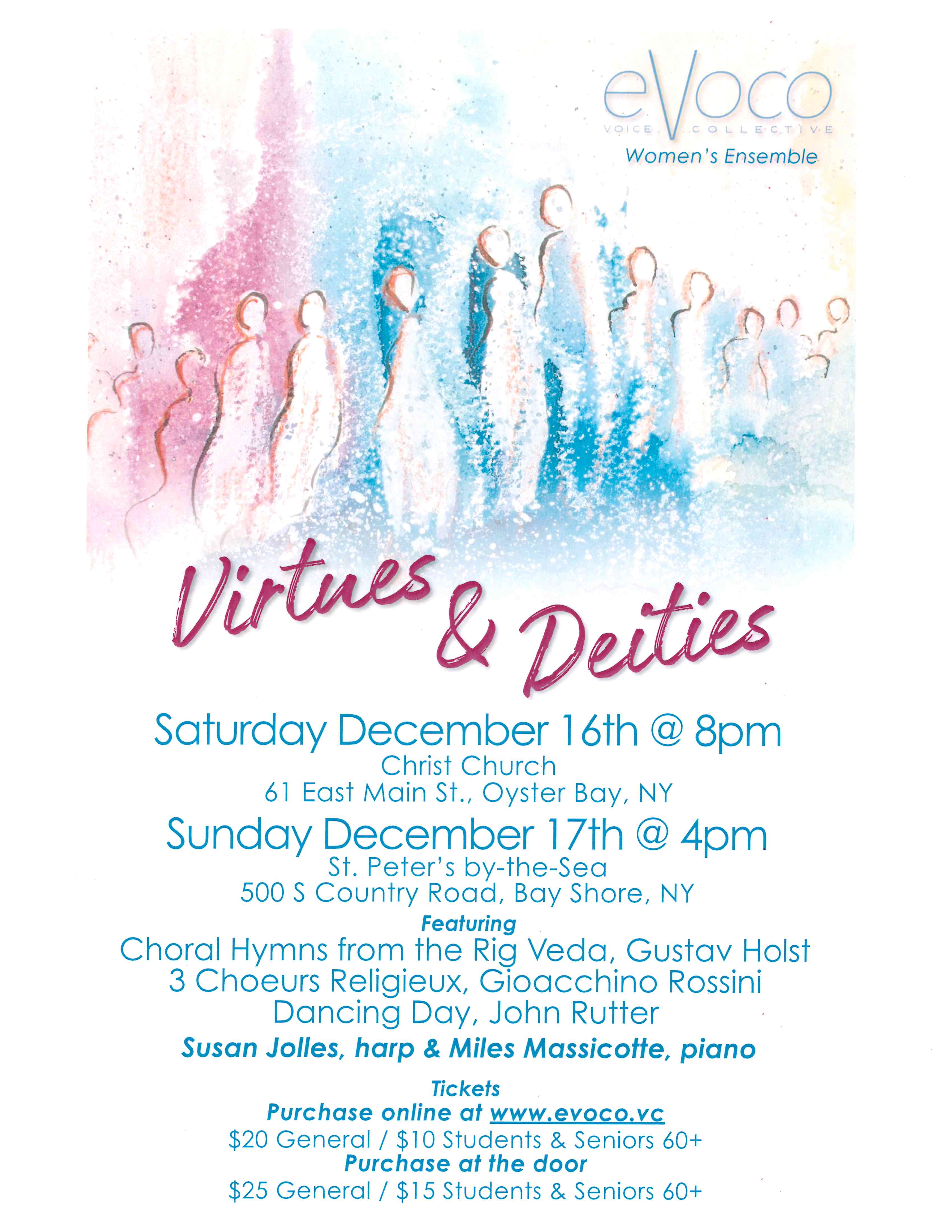 ---
Weekdays:


Bible Study: Tuesdays at 10:30 am

Parish Office is open Monday through Thursday 9:30 am until 2 pm.

A warm welcome will greet you at St. Peter's!
St. Peter's by-the-Sea Episcopal Church
500 South Country Road
Bay Shore, NY 11706
Phone: 631-665-0051
Fax: 631-665-0052
Join us on FACEBOOK

www.facebook.com/StPetersbytheSea
www.facebook.com/StPetersBytheseaEarlyChildhoodLearningCenter
https://www.facebook.com/centerforartstpeters
https://www.facebook.com/stpeterstreblechoir/
AND FOLLOW US ON TWITTER
https://twitter.com/stpetersbaysho1