The Last Sunday after Epiphany

Click on the picture to see the Service Booklet.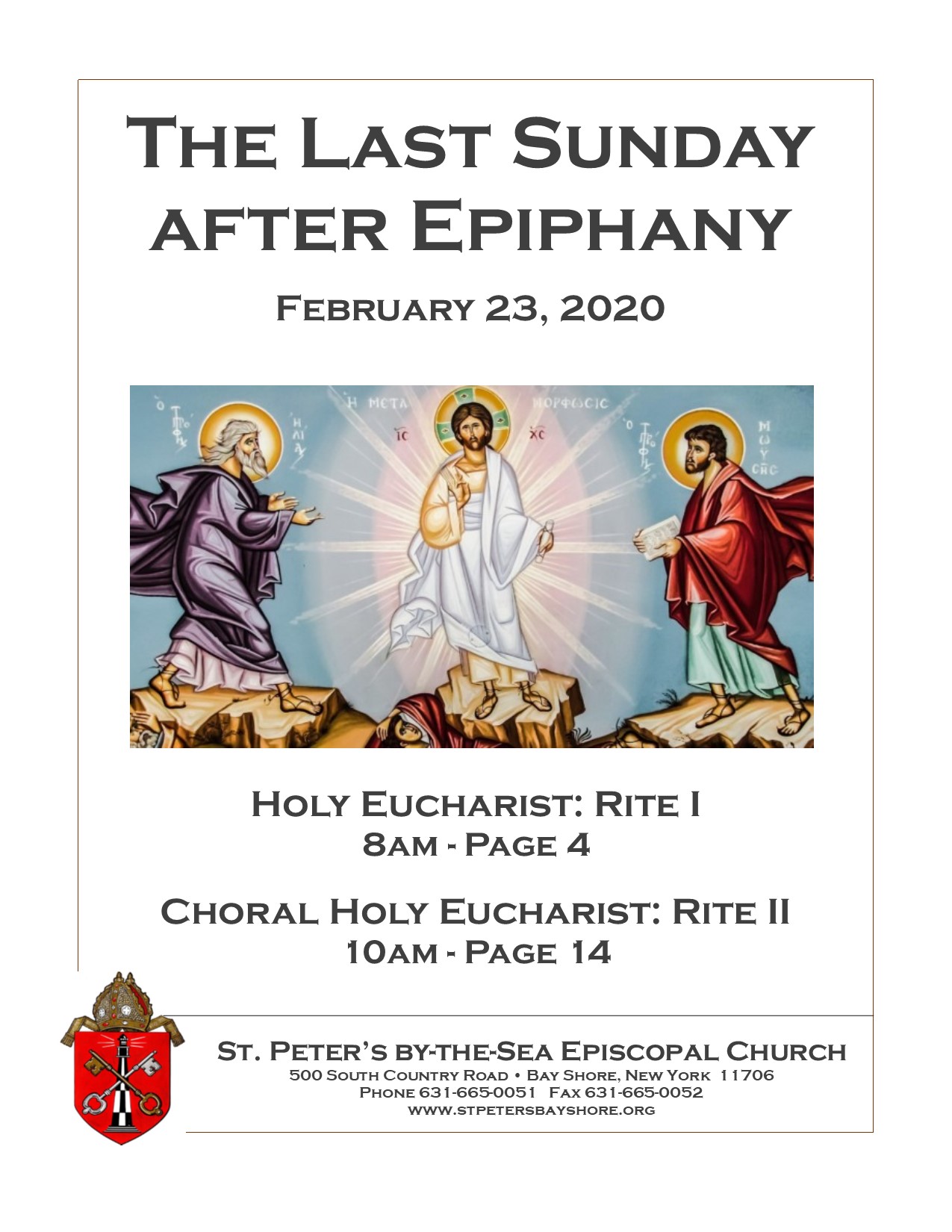 ---
— A Lenten Message from Bishop Itty —
My Dear Brothers and Sisters in Christ,
In a few days we will join together as a people of God to prepare our hearts and minds to begin our Lenten pilgrimage. For the next few weeks we have an opportunity to meditate on themes of repentance, reconciliation, and renewal as we remember the salvific grace and love of God, made known to us through Jesus Christ.
As we contemplate Jesus' life, suffering, death, and resurrection may we be mindful of this prayer from our Ash Wednesday liturgy:
"Almighty and everlasting God, who hatest nothing that thou hast made and dost forgive the sins of all those who are penitent: Create and make in us new and contrite hearts, that we, worthily lamenting our sins and acknowledging our wretchedness, may obtain of thee, the God of all mercy, perfect remission and forgiveness; through Jesus Christ our Lord, who liveth and reigneth with thee and the Holy Spirit, one God, for ever and ever. Amen." (BCP p.166)
These words remind us all of our personal and collective call to confession, repentance and amendment of life so that our hearts and minds can be more fully prepared to receive God's forgiveness. The prayers, scripture readings, music, and liturgies of the Church which we experience together during the holy season of Lent remind us all of our mortality, and our need to reconcile our hearts and minds with Almighty God. This season also affords us an opportunity to consider the virtues of simplicity, humility, and righteous living in the context of our personal lives and in our relationship with those around us. Indeed, this holy season prepares us all for a new beginning, and new life in Christ.
I pray that this holy Lenten season will bring to you and your love ones abiding peace and the opportunity to renew our faith and common commitment to the discipleship of our Lord Jesus Christ.
May the peace of Christ abide with you always.
I remain, faithfully yours in Christ,
Bishop Johncy Itty
"…Return to the Lord your God, for he is gracious and merciful, slow to anger and abounding in steadfast love..." (Joel: 2:13)
---
— Parish Notices —
Bible Study: Sundays between services and Tuesdays at 10:30am. All are invited!
The next Altar Guild meeting is scheduled for Sunday, March 1 in the Lounge at 9AM. New members are always invited!
Ash Wednesday, the beginning of Lent, this coming Wednesday, FEBRUARY 26. There will be two services of Holy Eucharist, including the Distribution of Ashes: 9AM in St. Edmund's Chapel and 7:30 PM in the Church.
Join us for Clean Up day NEXT Saturday, February 29 from 9 to noon. There is a signup sheet in the Narthex.
Hosts for Coffee Hour! Please consider signing up to host a coffee hour after the 10am service. Hosts will be asked to make the coffee (a tutorial will be provided), and to provide the "goodies". Make it fun . . . as simple or as elaborate as you choose! This ministry of hospitality is an important opportunity for us to share fellowship and to welcome newcomers to the parish. A sign up sheet is in the narthex.
The Parish is Invited to plan now to see TWO members of our Parish Choir on stage soon:
Kristin Starkey,

our staff Alto, will be singing in the upcoming opera "Dialogues of the Carmelites" by Francis Poulenc at Stony Brook on Friday, February 28 at 8pm, and Sunday, March 1 at 3pm. Tickets are $10/$5 stu

dents and seniors.

Will Logan,

Choral Scholar and Acolyte, will be appearing in the musical "Cats" at Bay Shore High School Thursday, Friday, and Saturday March 19, 20, 21 at 7pm. Call 631-748-9098 for tickets or see Will Logan or

Lynn Hajek for information.
---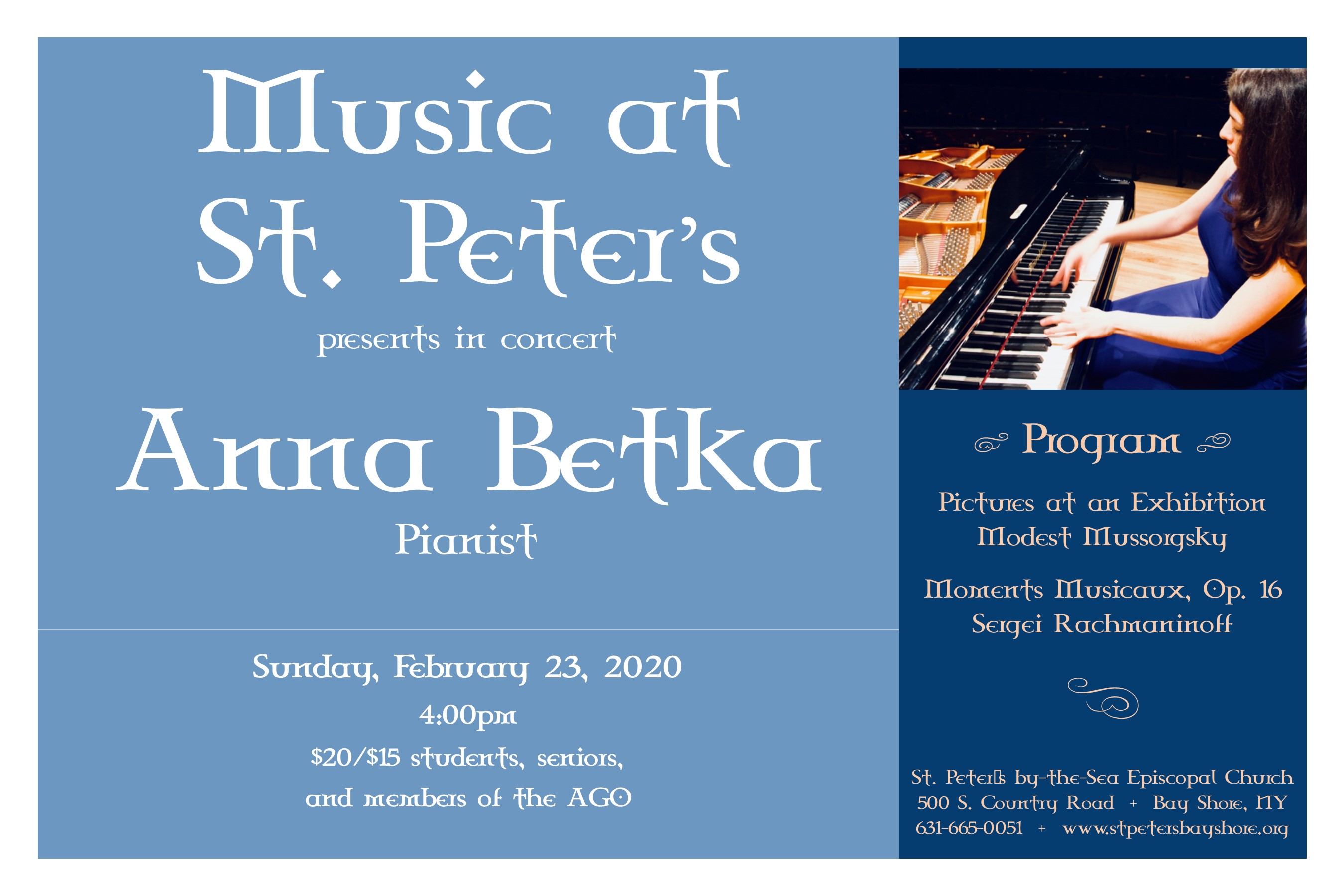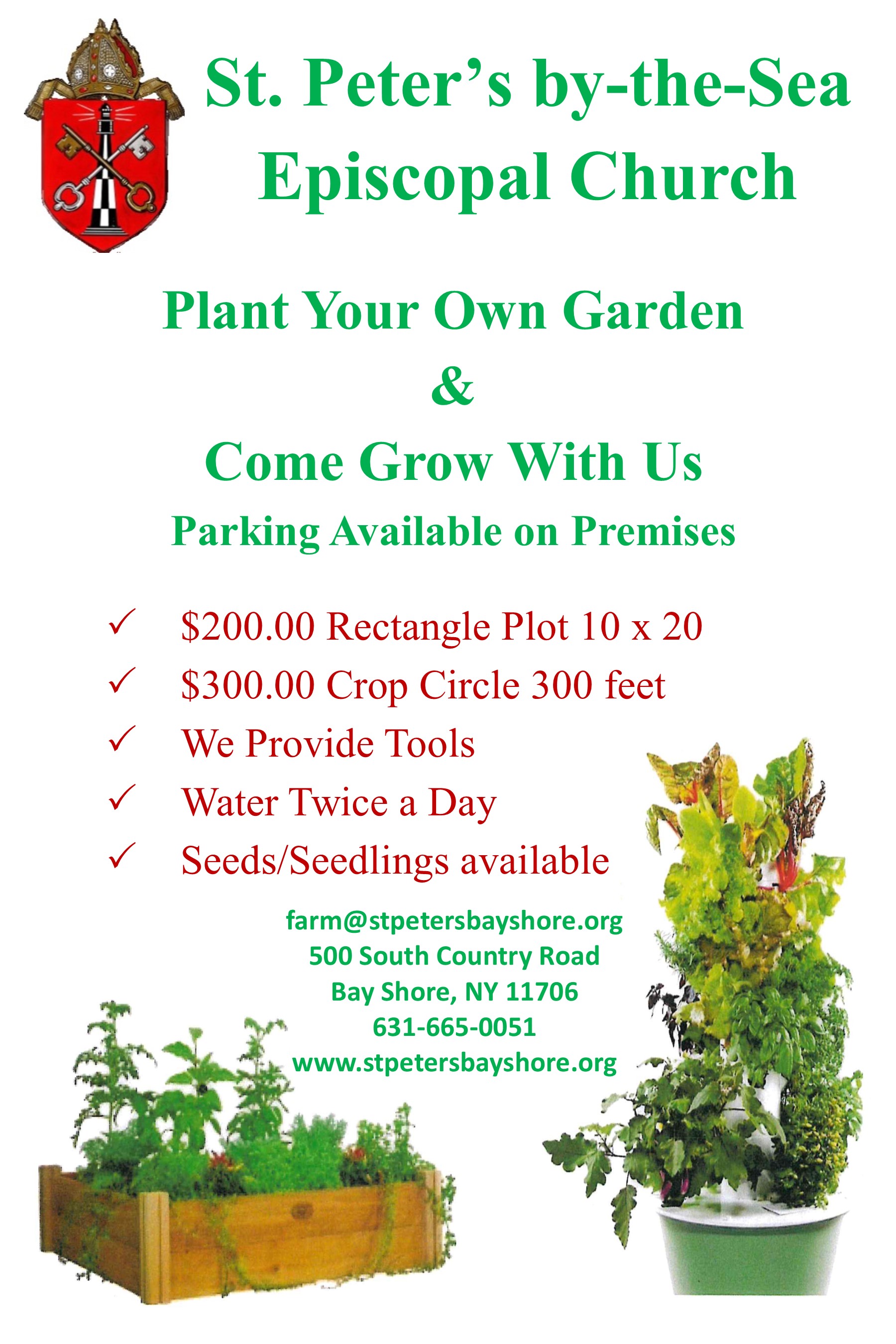 ---
Weekdays:


Bible Study: Tuesdays at 10:30 am
Sundays at 9:00 am
Parish Office is open Monday through Friday 9:30 am until 2 pm.
A warm welcome will greet you at St. Peter's!
St. Peter's by-the-Sea Episcopal Church
500 South Country Road
Bay Shore, NY 11706
Phone: 631-665-0051
Fax: 631-665-0052
Join us on FACEBOOK

www.facebook.com/StPetersbytheSea
https://www.facebook.com/stpetersmusic/
AND FOLLOW US ON TWITTER
https://twitter.com/stpetersbaysho1