Please click the picture below to see the service booklet for Sunday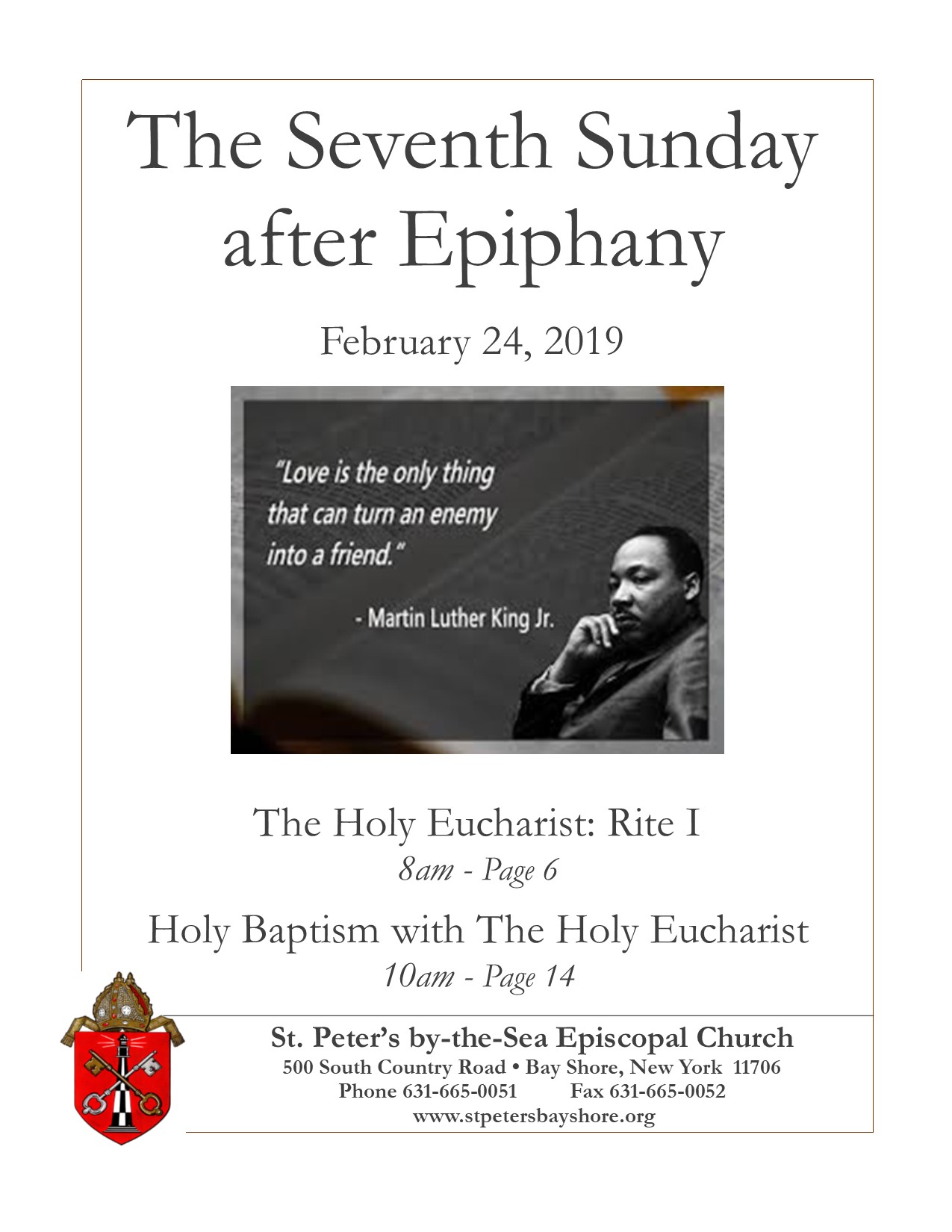 ---
— Parish Notices —
We welcome our newest Episcopalian, London Sage Esposito; her Parents, Avion and Christopher Esposito; Her Godparents Alfred Esposito III, and Terae Richardson; and all of her family and friends.
Bible Study continues on Tuesdays at 10:30am and Sundays at 9am. All are invited!
The "Art of Song" Concert originally scheduled for Today has been postponed until May 12. Stay tuned for details.
NEXT SUNDAY, March 3
Altar Guild meeting

- 9am in the Lounge

Potluck parish brunch hosted by the ECW

to conclude the Epiphany Season at 11:30am following the 10am Choral Eucharist Sign up sheets are in the narthex and in the hall outside St. Edmund's Chapel.
Ash Wednesday will be on March 6. Two services of the Holy Eucharist, including the Distribution of Ashes, will be offered on that Day. The 9am service will be in St. Edmund's Chapel, and the 7:30pm Choral Service will be in the Church.
Make your plans now to join the St. Peter's Parish Family for the Annual St. Patrick's Day Corned Beef Dinner on Saturday, March 9 from 5 - 8pm. Please see page 4 for details. Sign up sheet is in the narthex and in the hall outside the Chapel.
St. Peter's Church will be hosting the Atlantic Deanery Lenten Program this year. Beginning Wednesday, March 13 and continuing on the Wednesdays of Lent, the program will focus on the Presiding Bishop's program Embracing "Way of Love" to Open Up the Soul and Spirit. The programs will be on Wednesdays from 6 until 8:30 pm, and will include a Soup Supper each presented by the various organizations of the St. Peter's Parish. The schedule for hosting will be March 13 - Vestry; March 20 - Outreach (Sandwich Program); March 27 - Choir; April 3 - Altar Guild; April 10 - ECW. See page 5 for more details of the program.
The National Ovarian Cancer Coalition, Long Island Chapter will present a program to shed light on what every woman needs to know about ovarian cancer. The program will be at St. Peter's on Thursday, March 14 from 6:30pm - 8pm in the Lounge. Please see page 31 for details.
---
MUSIC AT ST. PETER'S CONCERTS 2018-2019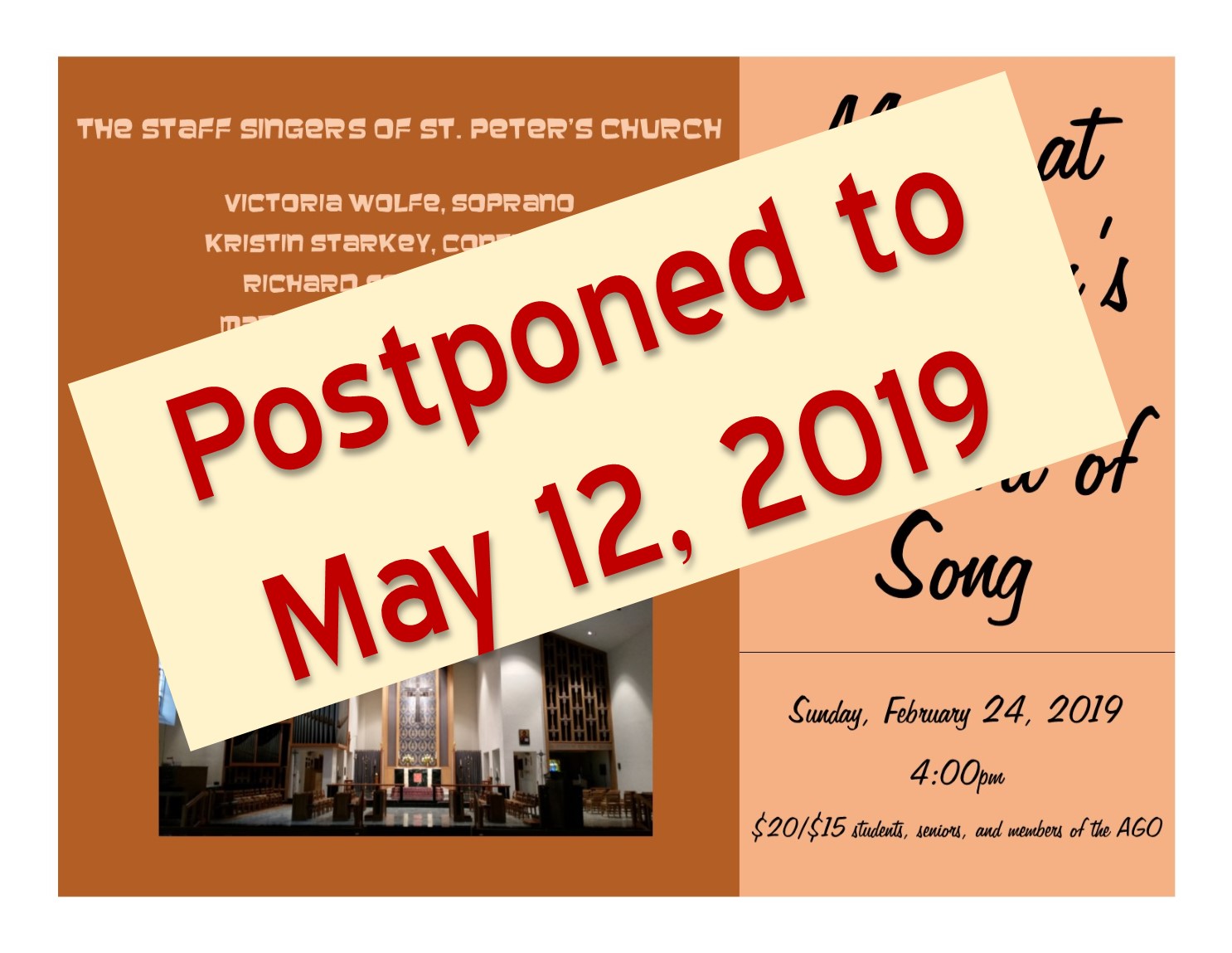 Click the Picture to see the Brochure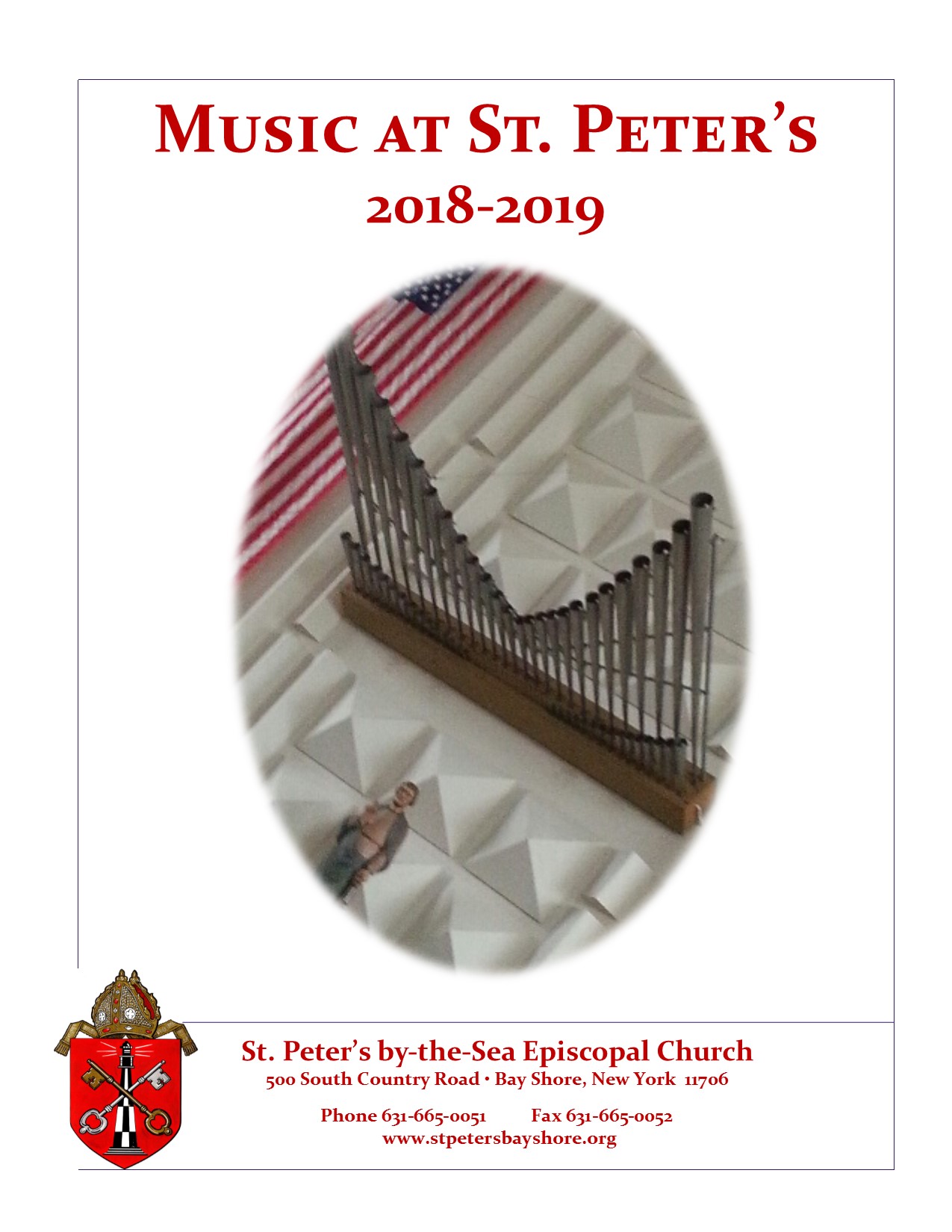 ---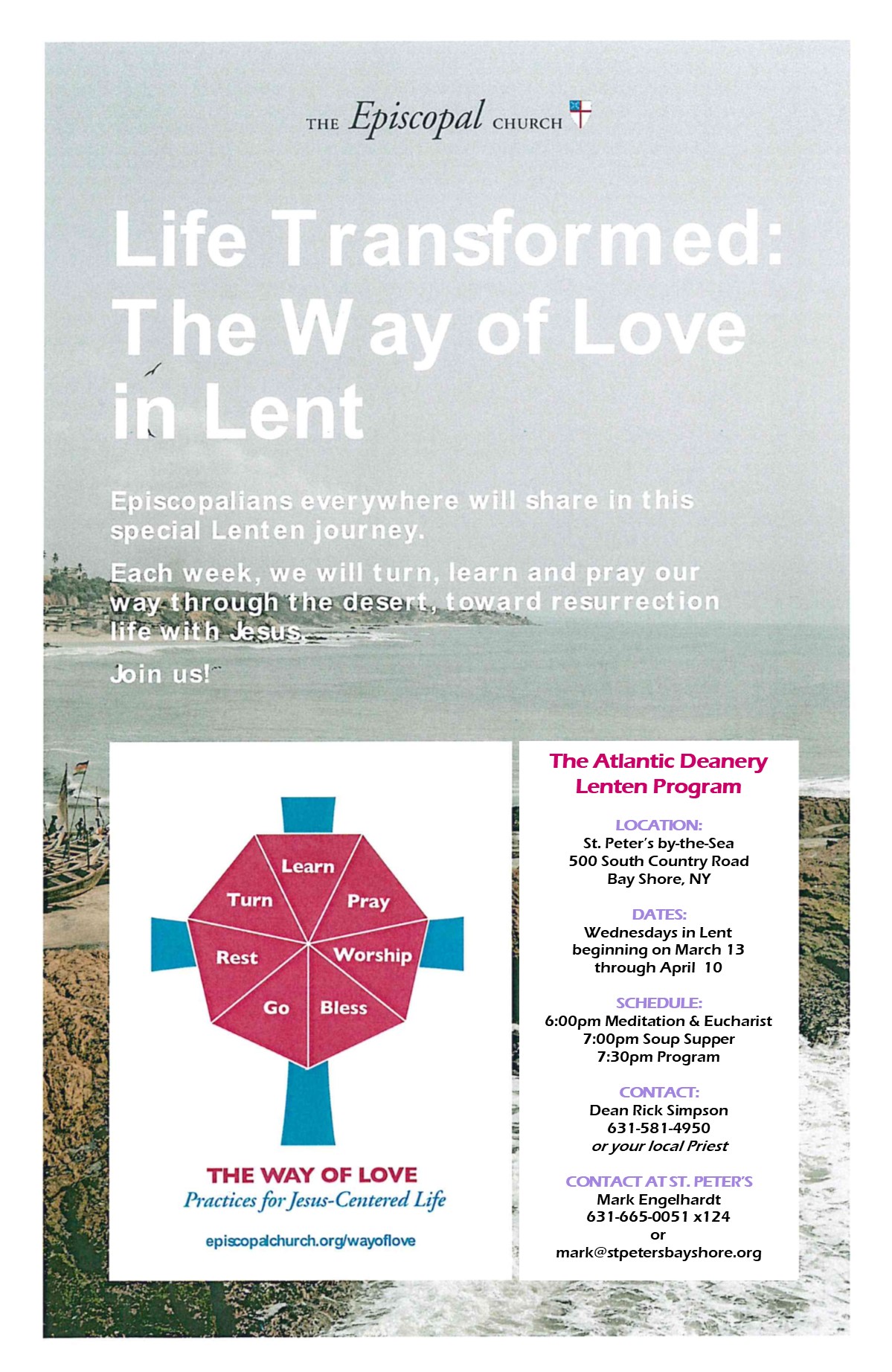 ---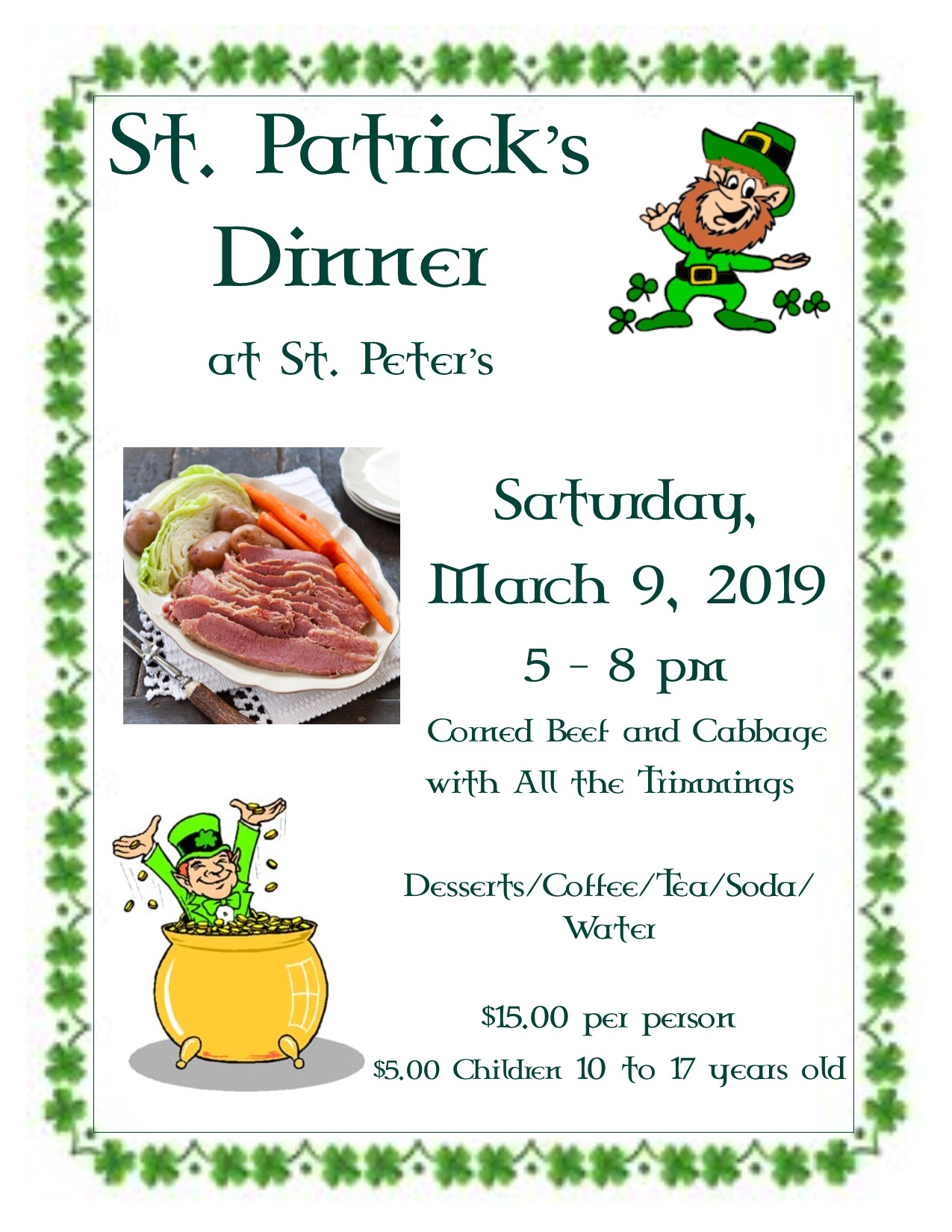 Weekdays:


Bible Study: Tuesdays at 10:30 am

Parish Office is open Monday through Friday 9:30 am until 2 pm.

A warm welcome will greet you at St. Peter's!
St. Peter's by-the-Sea Episcopal Church
500 South Country Road
Bay Shore, NY 11706
Phone: 631-665-0051
Fax: 631-665-0052
Join us on FACEBOOK

www.facebook.com/StPetersbytheSea
www.facebook.com/StPetersBytheseaEarlyChildhoodLearningCenter
https://www.facebook.com/stpeterstreblechoir/
AND FOLLOW US ON TWITTER
https://twitter.com/stpetersbaysho1