Holy Week and Easter at St. Peter's
Click on the pictures to see the leaflets for Maundy Thursday,
Good Friday and Easter Day services.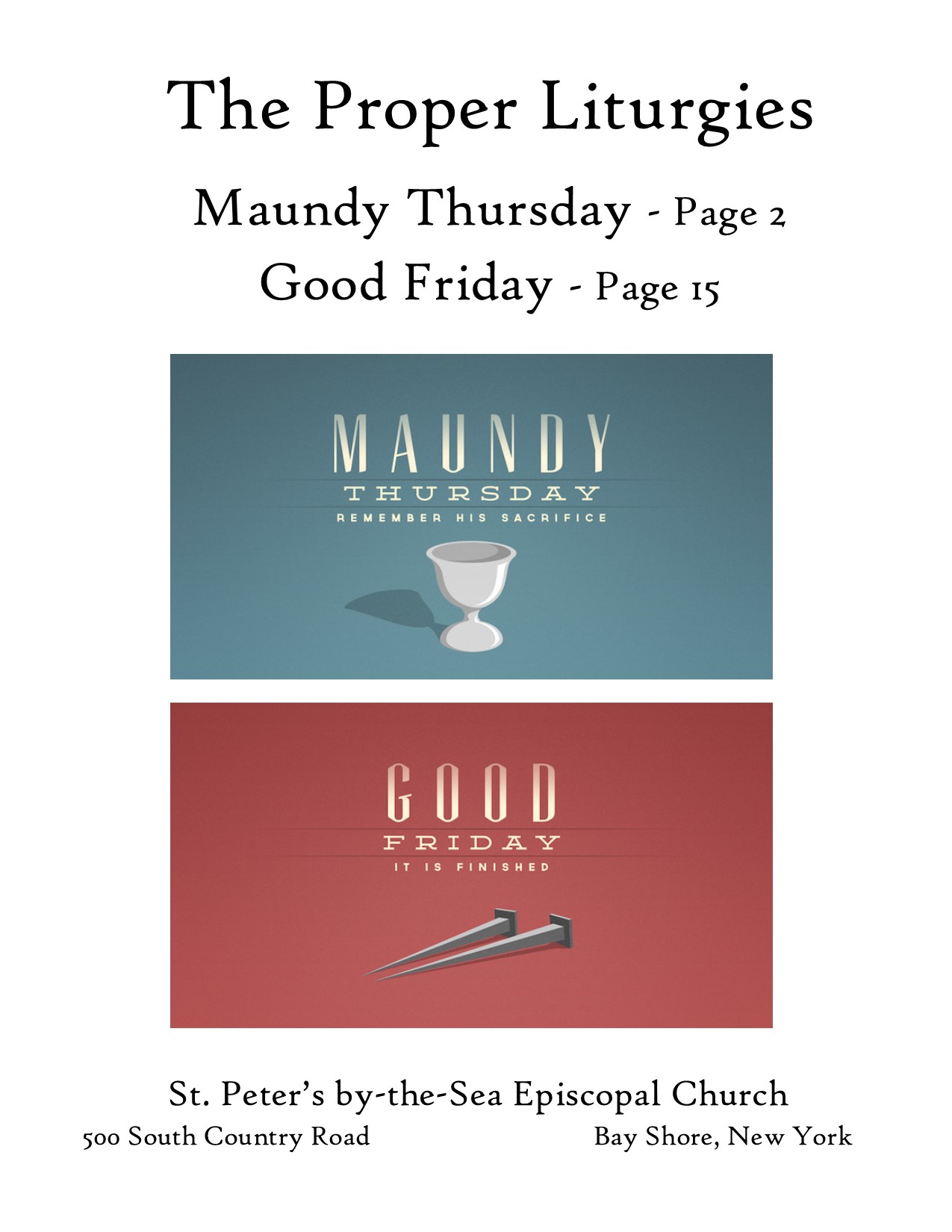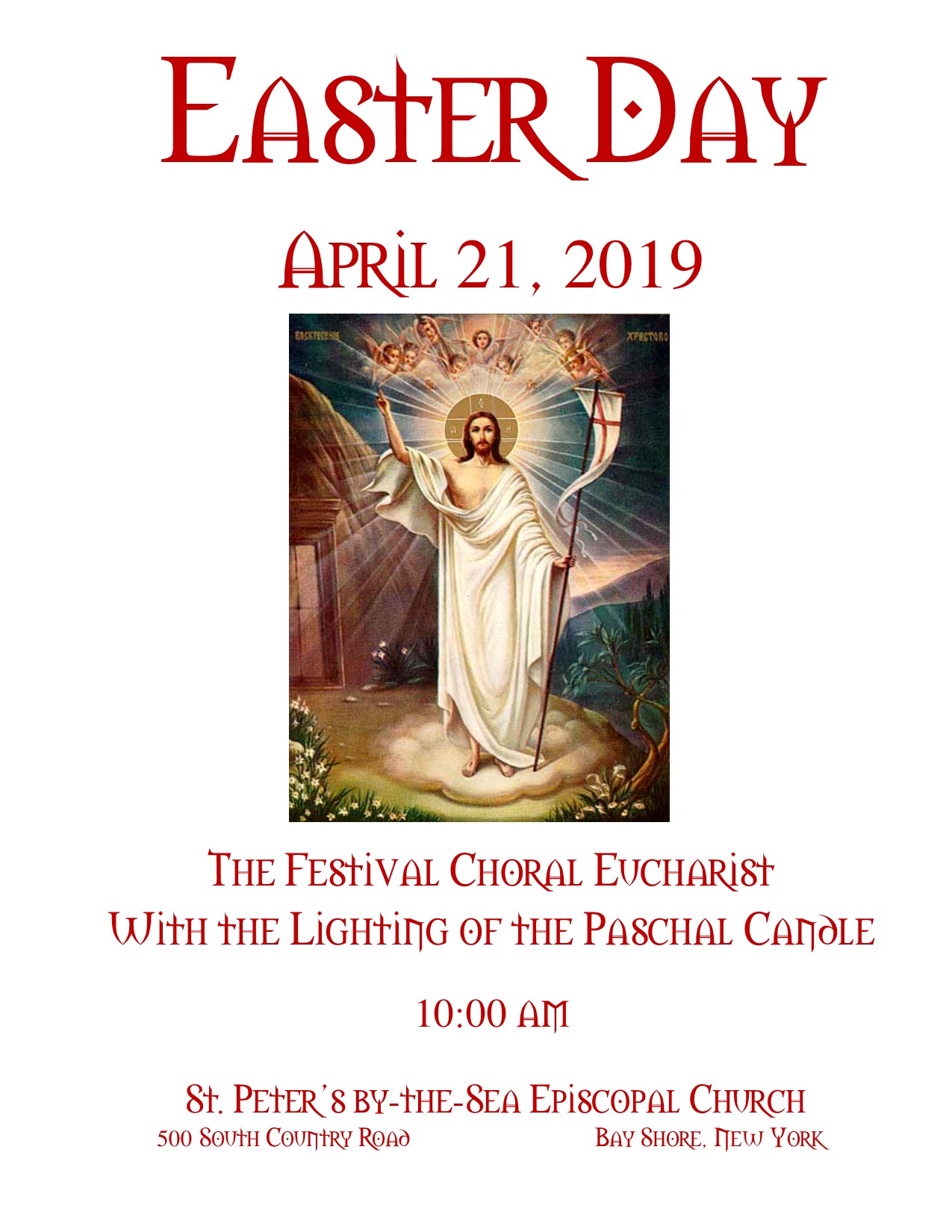 ---
— An Easter Greeting from Bishop Itty —
Alleluia, Christ is Risen! The Lord is Risen Indeed, Alleluia!
"The angel said to the women, "Do not be afraid, for I know that you are looking for Jesus, who was crucified. He is not here; he has risen, just as he said. Come and see the place where he lay. Then go quickly and tell his disciples: "He has risen from the dead and is going ahead of you into Galilee…" (Matthew 27:5-7)
These words of comfort from an angel of God reminded the women at the tomb, of the promise of new life in Jesus Christ, through the mystery and majesty of the Resurrection. Mary Magdalene and the other women at the tomb were overcome by fear as they tried to understand the fulfillment of ancient prophecy and to recall Jesus' words foretelling of his suffering, death and resurrection. Indeed, the early followers of Jesus demonstrated a deep and abiding faith in the power of God working in human life even at those times when they could not fully understand it.
The Resurrection of Jesus Christ is undeniably a profound and sacred mystery. Despite our inability to explain how and in what manner it occurred, this momentous event has forever changed the course of human history. It has revealed the full depth and breadth of God's love for us all; and reminds us that as a people of faith we are called to the fulness of everlasting life in the presence of God. The Resurrection reminds us that we will be reunited with those whom we love. The Resurrection reminds us of the power of God's grace working in each one of us, even at those times when we are not deserving. And indeed, the mystery of the Resurrection promises us new life in Christ and the opportunity for new beginning and a fresh start in our pilgrimage of faith.
I pray that the mystery and majesty of the Resurrection of Jesus Christ will fill you with a new sense of awe and wonder, an appreciation of the ongoing mystery of life and creation, and will inspire you to share your faith with others who are searching to experience God's presence in their life. I pray that the joy of the Resurrection will create within us, new hearts, minds, and a more loving and discerning spirit to be a faithful follower and disciple of Jesus Christ.
May this joyful Eastertide bring to you and to your family and loved ones, joy, peace, and happiness now and throughout this holy season.
In a spirit of joy and thanksgiving, I remain,
Faithfully Yours in the Risen Christ,
Bishop Johncy Itty
"Almighty God, who through thine only-begotten Son Jesus Christ has overcome death and opened unto us the gate of everlasting life: Grant that we, who celebrate with joy the day of the Lord's resurrection, may be raised from the death of sin by thy life-giving Spirit; through the same Jesus Christ our Lord, who liveth and reigneth with thee and the same Spirit ever, one God, world without end. Amen. (BCP p. 170
---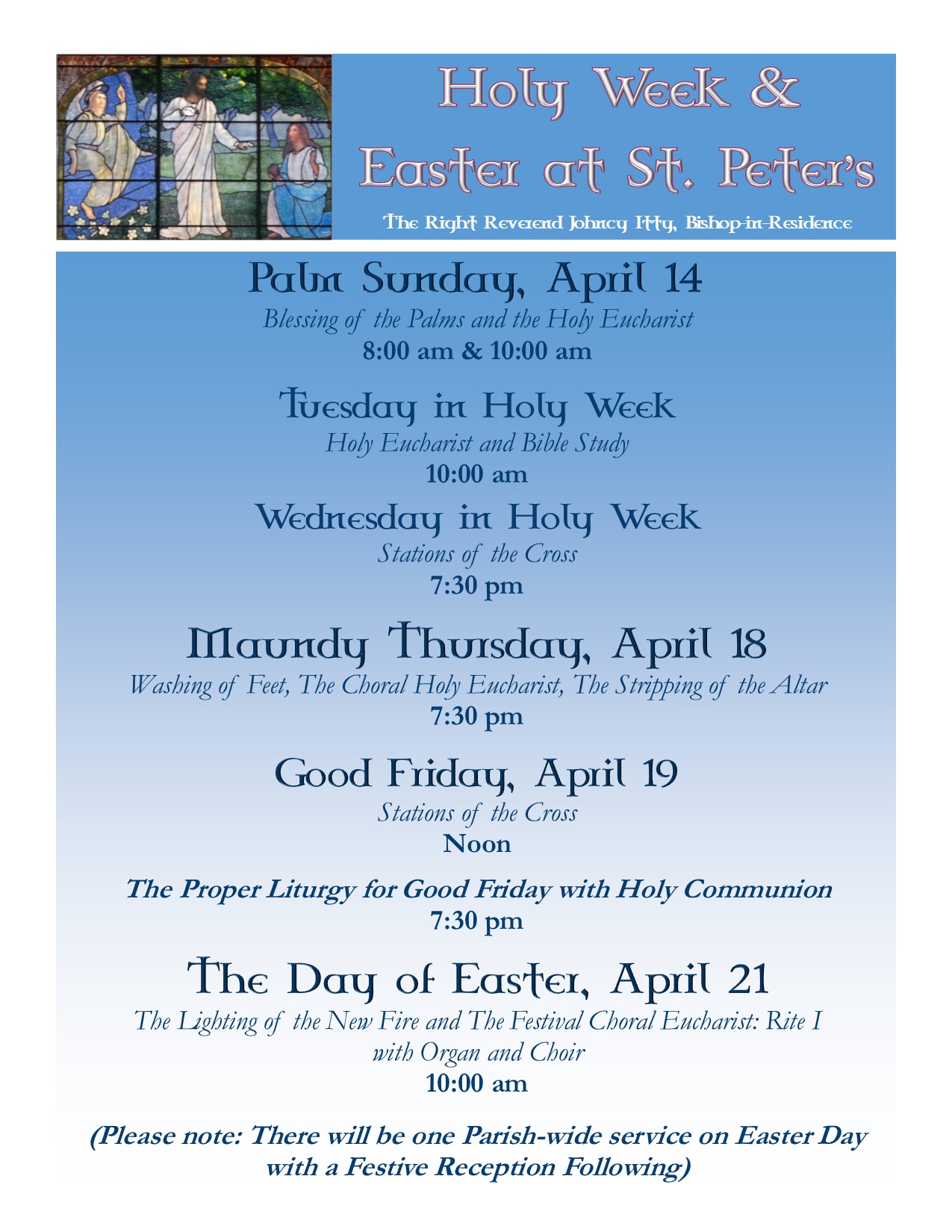 ---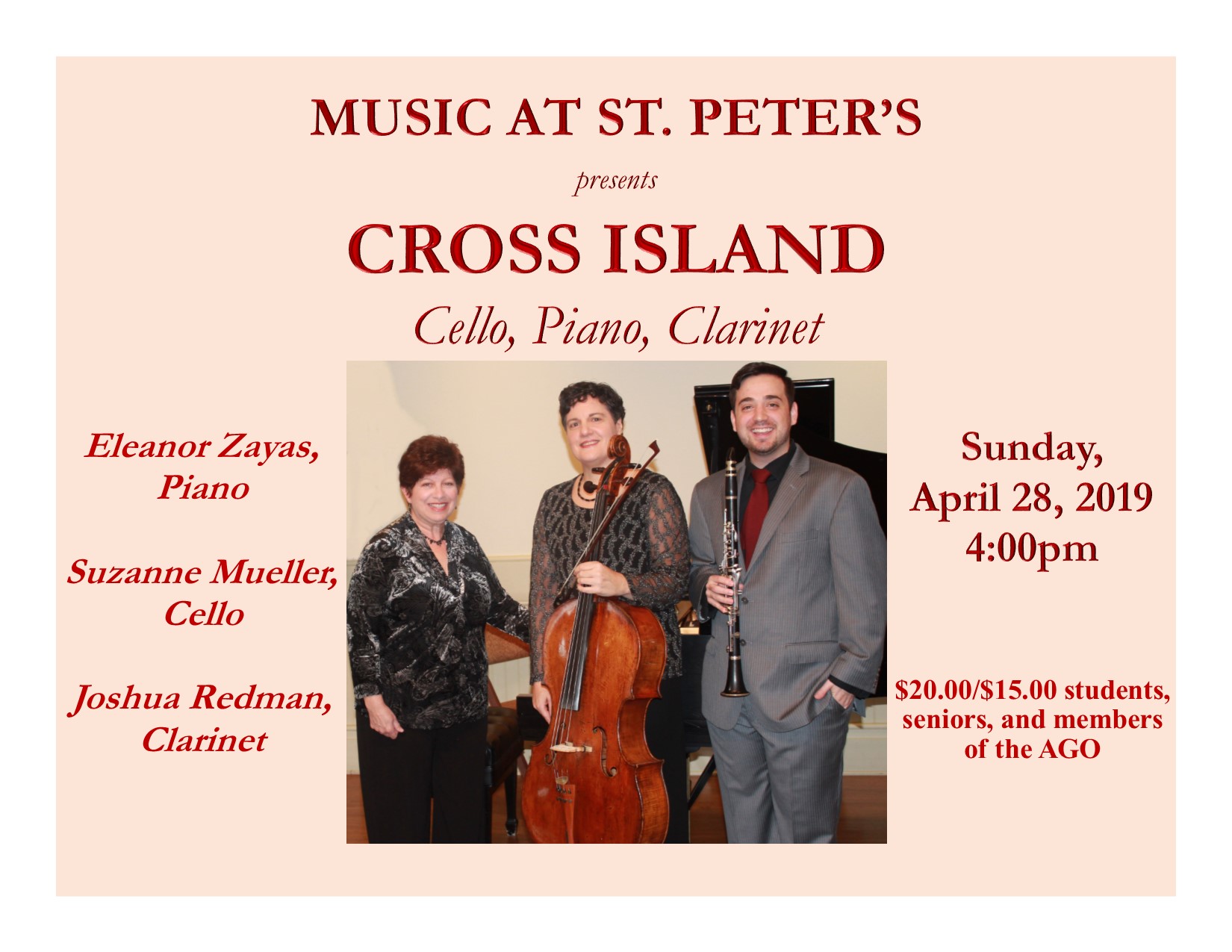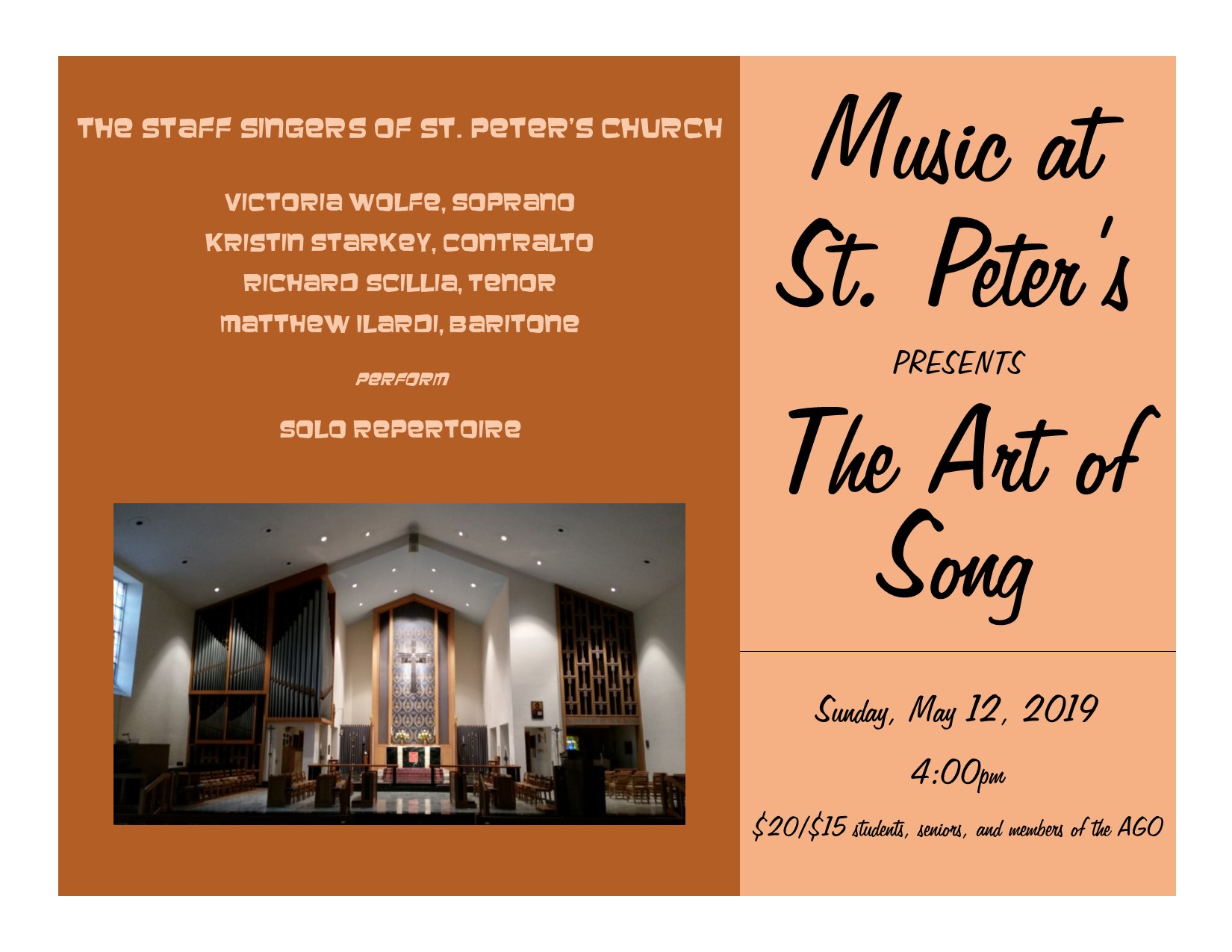 ---
Weekdays:


Bible Study: Tuesdays at 10:30 am
Sundays at 9:00 am

Parish Office is open Monday through Friday 9:30 am until 2 pm.

A warm welcome will greet you at St. Peter's!
St. Peter's by-the-Sea Episcopal Church
500 South Country Road
Bay Shore, NY 11706
Phone: 631-665-0051
Fax: 631-665-0052
Join us on FACEBOOK

www.facebook.com/StPetersbytheSea
www.facebook.com/StPetersBytheseaEarlyChildhoodLearningCenter
https://www.facebook.com/stpeterstreblechoir/
AND FOLLOW US ON TWITTER
https://twitter.com/stpetersbaysho1