Please click the picture below to see the service booklet.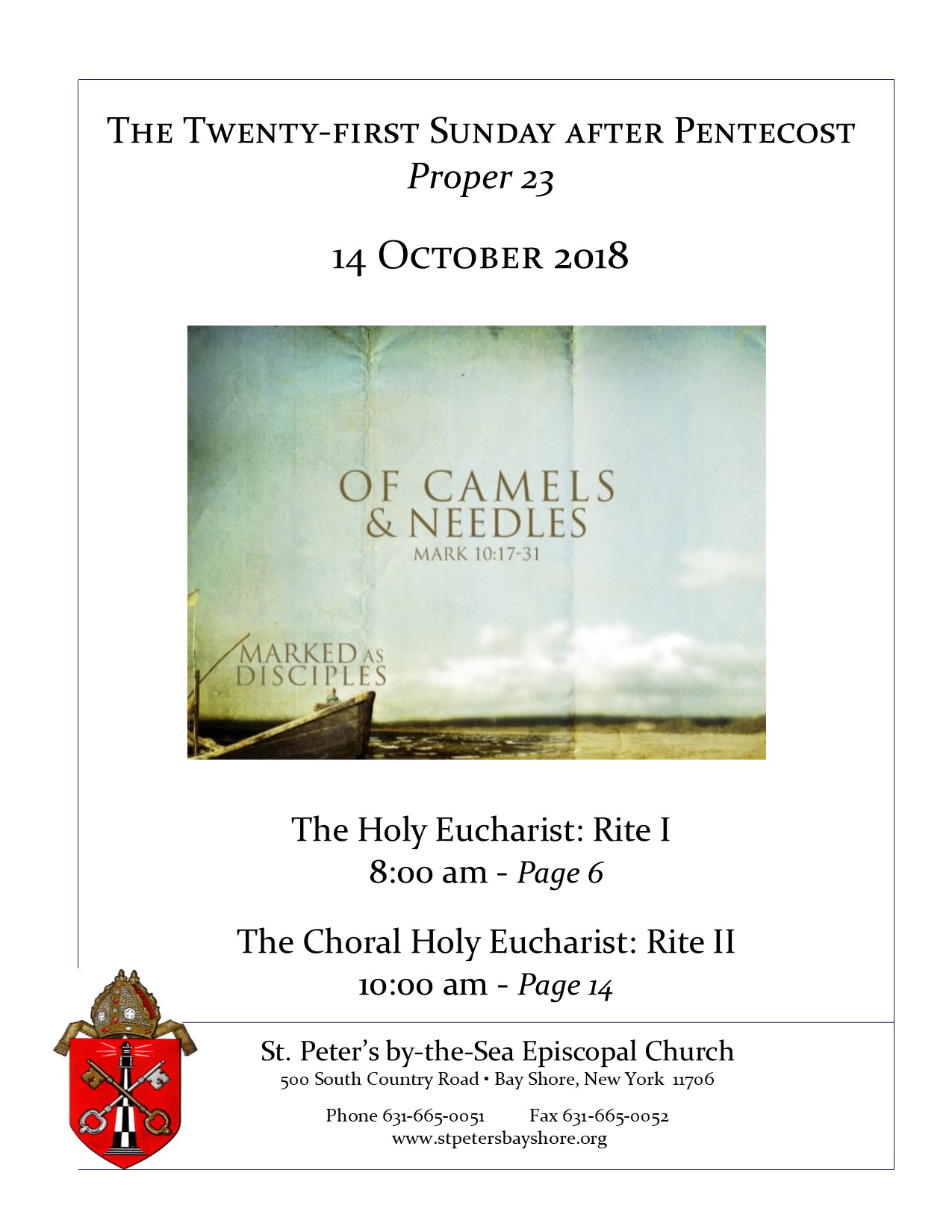 ---
—Parish Notices —
Bible Study continues on Sundays between services and on Tuesdays at 10:30am. All are invited!
Two Outstanding Concerts will be presented at St. Peter's This Month, and today's the day for:
¨ The Chenault Duo: Two organists - one console! 4pm, reception following
. . . and next week:
¨ Sunday, October 21: Jazz in the Parking Lot: "Misspending Youth" (West Islip High) and Bay Shore "Harmonaires" (Bay Shore High) 1pm,
Light Refreshments Served
The Food Pantry is in need of restocking! Items needed include peanut butter and jelly, canned corn and carrots, mac and cheese, ravioli, etc. in flip-top cans, and breakfast cold cereals. Your generosity is ALWAYS appreciated!
Save the Date! Mark your Calendars! Saturday, 1 December, ECW Christmas Fair, 10am - 3pm, Parish Hall, with a special visit from St. Nicholas!
The Diocesan Altar Guild will hold their Fall Meeting on Saturday, 27 October, at the Church of St. James the Less, Jamaica, beginning at 10:30am. The Right Reverend Johncy Itty will be the celebrant and guest speaker. For further details, see Joan Derle (631-499-8234).
The St. John's Episcopal Hospital Auxiliary "Adopt-a-Family for Christmas" program is currently seeking donors. The Donor registration form and the information letter may be found on pages 26 and 27 of the service booklet above. Please note that the Registration form is due in THIS Friday, October 19th.

---

Our stewardship theme for 2018 is rich with opportunity for broad conversations about generosity and transformation. In fact, it would be easy to include everything about our Christian faith under this topic. How would "generosity" be transformed if we remembered what Jesus is always calling us to do? We are indeed called to establish new priorities for ourselves and our communities of faith. (From a letter by Richard Felton, Executive Director and CEO of The Episcopal Network for Stewardship.) This week's meditation "Selling Everything for Freedom" is by Nick Cuccia, a former editor of the Los Angeles Times. It is available by clicking HERE.

---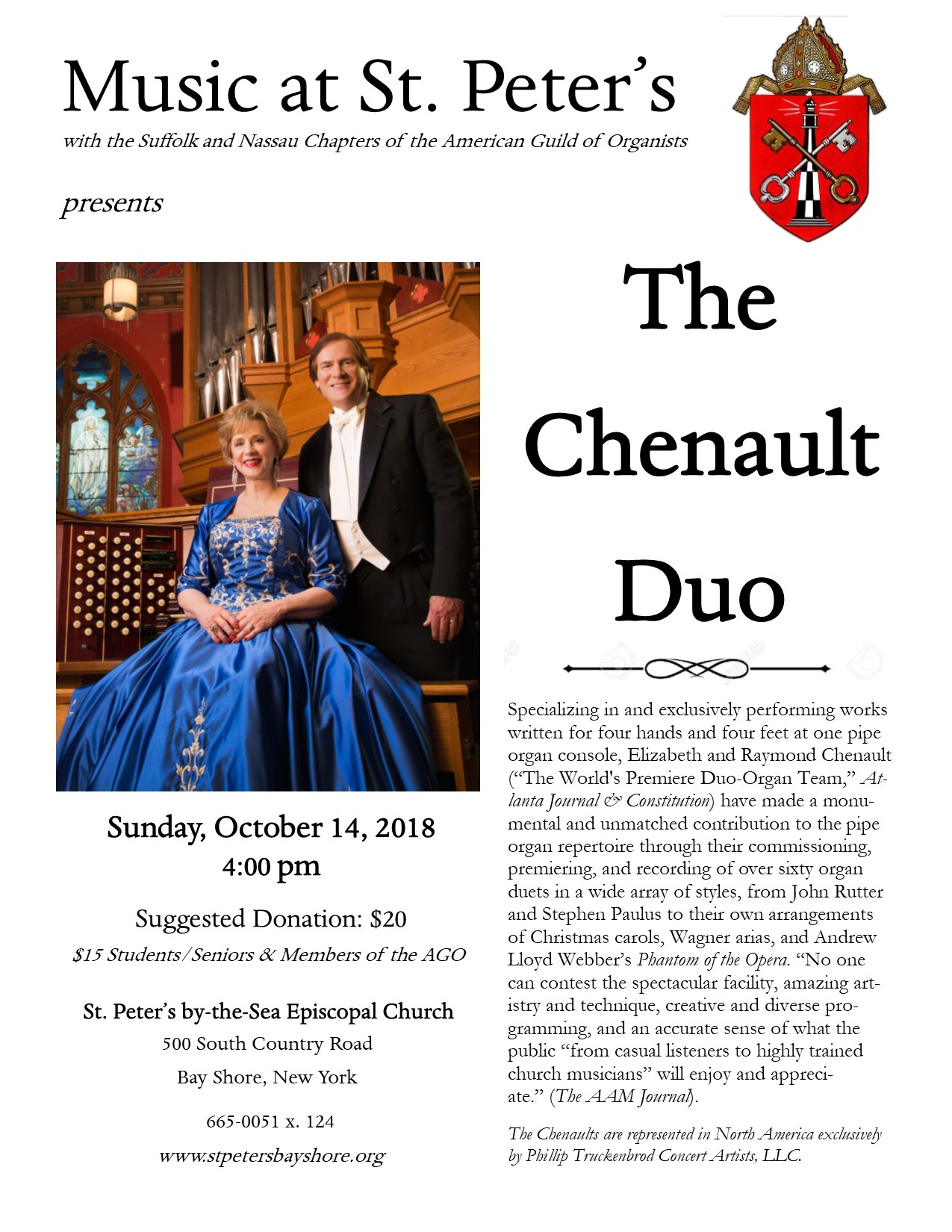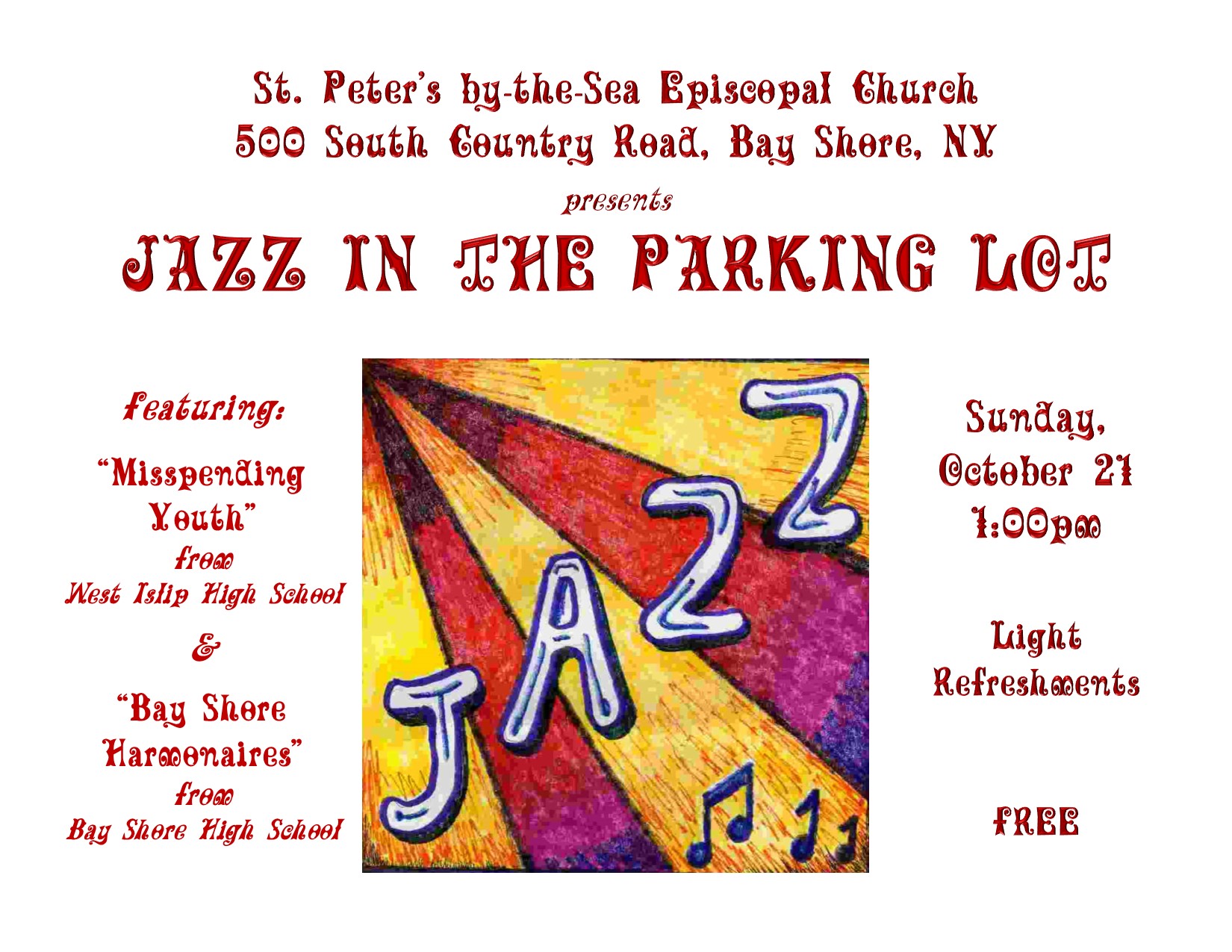 ---
MUSIC AT ST. PETER'S CONCERTS 2018-2019
Click the Picture to see the Brochure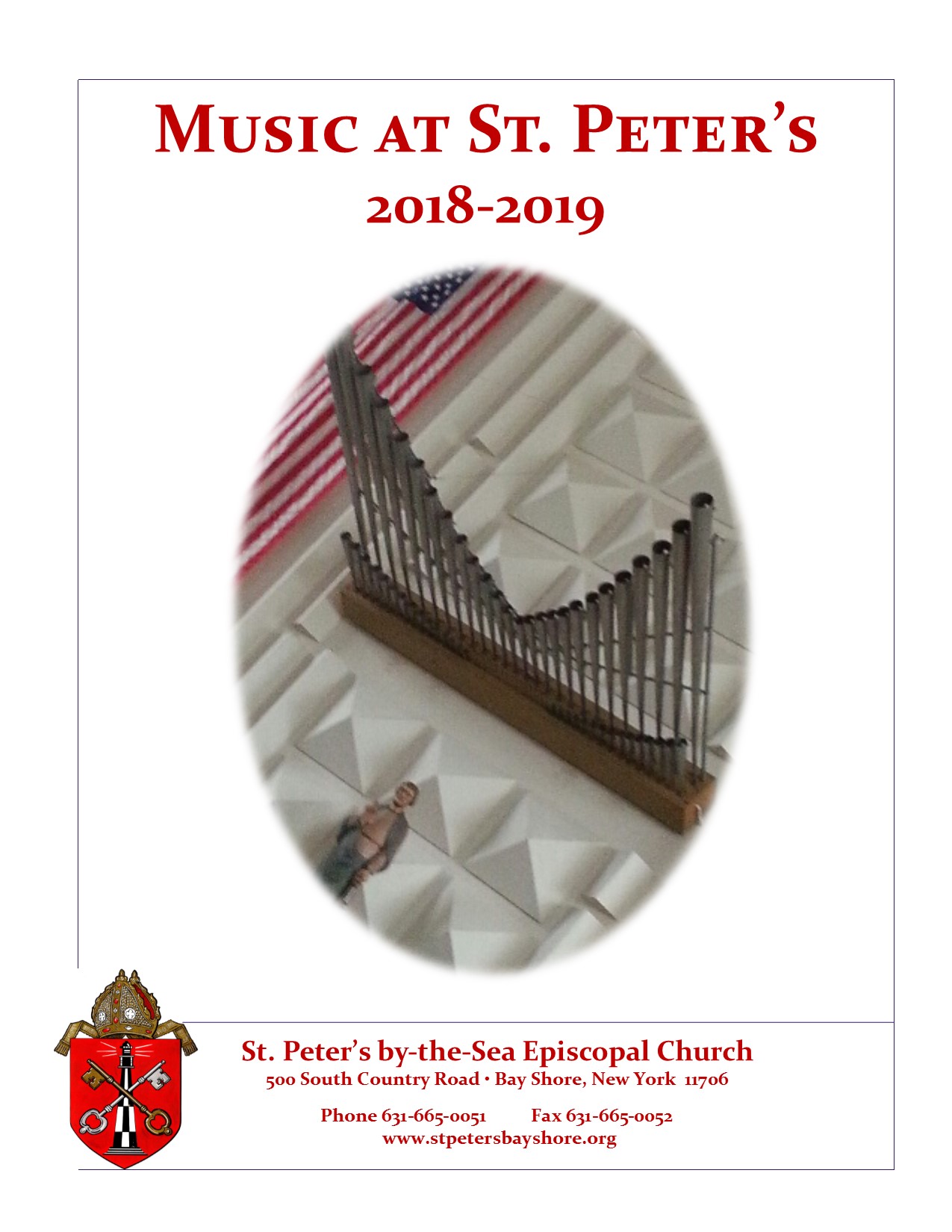 ---
Weekdays:


Bible Study: Tuesdays at 10:30 am

Parish Office is open Monday through Friday 9:30 am until 2 pm.

A warm welcome will greet you at St. Peter's!
St. Peter's by-the-Sea Episcopal Church
500 South Country Road
Bay Shore, NY 11706
Phone: 631-665-0051
Fax: 631-665-0052
Join us on FACEBOOK

www.facebook.com/StPetersbytheSea
www.facebook.com/StPetersBytheseaEarlyChildhoodLearningCenter
https://www.facebook.com/centerforartstpeters
https://www.facebook.com/stpeterstreblechoir/
AND FOLLOW US ON TWITTER
https://twitter.com/stpetersbaysho1