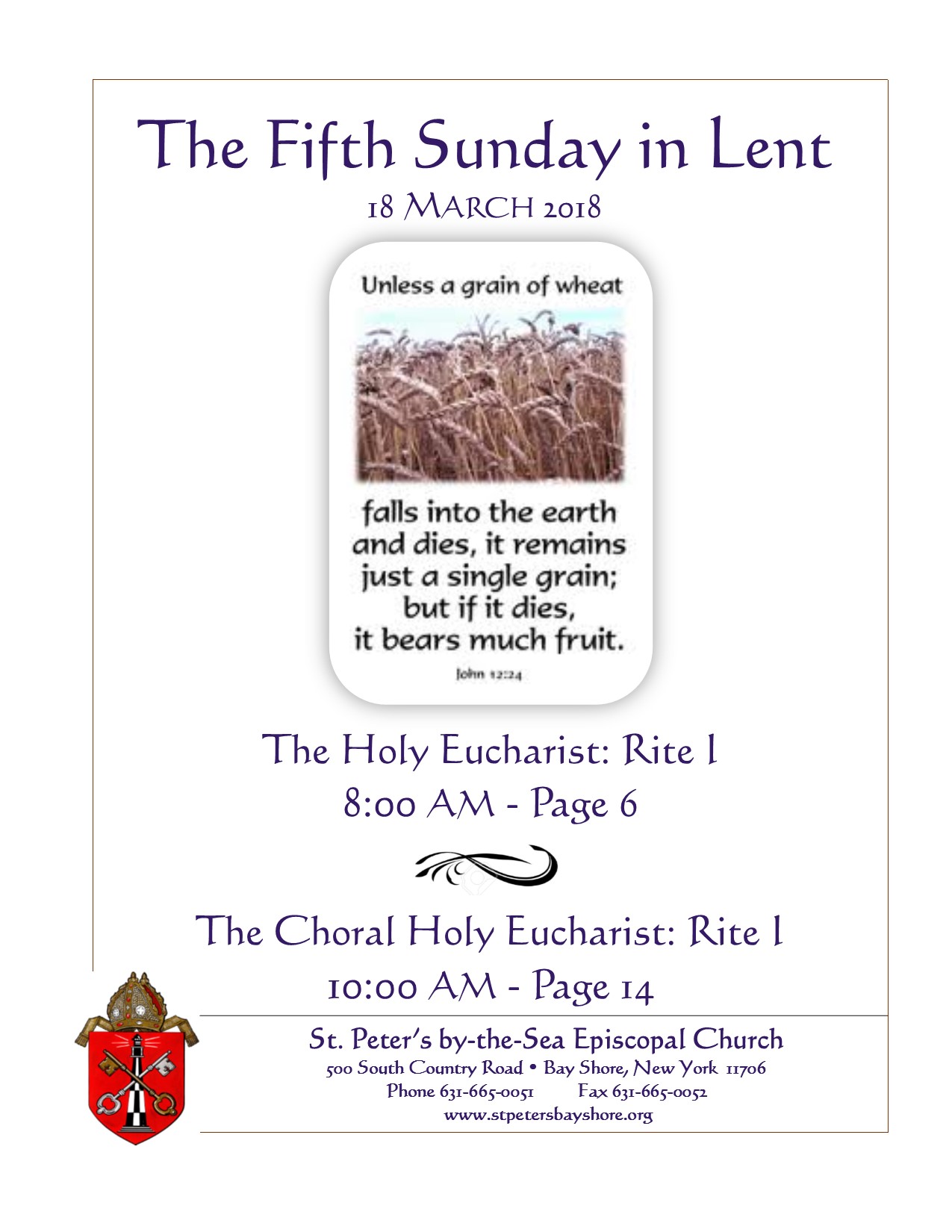 — Parish Notices —
The Fifth Sunday in lent:
"Passion Sunday" and the Prelude to Holy Week

Until the liturgical renewal movement which swept the Roman Catholic, Anglican, and Lutheran churches in the 1960's, the Fifth Sunday in Lent was called Passion Sunday. Vestments and hangings in the church were changed to red and the somber mood of Lent became even more so during this period of "Passiontide." Liturgical change removed the "Passion Sunday" designation for the Fifth Sunday, focusing instead on the continuing movement towards Holy Week. Palm Sunday is now called "The Sunday of the Passion: Palm Sunday." You will probably find Palm Sunday's services to be somewhat confusing. We begin with "Hosanna" as we remember Christ's triumphal entry into Jerusalem. Palms will be distributed to everyone, and we will sing the appropriately triumphant "All glory, laud, and honor," processing from the designated spaces for the Liturgy of the Palms into the Chapel (8am) or Church (10am). The service will then quickly change tone as we move to the Gospel which, this year, will be the Passion Gospel of St. Mark. Holy Week will have begun. Christians have observed the week before Easter as a time of special devotion from early times. By the late fourth century, many sacred places were sites for devotion and liturgy in the holy city of Jerusalem. Pilgrims followed the path of Jesus in his last days (Stations of the Cross), worshipped where Christ suffered and died, and venerated relics. The traditions of Holy Week evolved over the centuries to the rites we observe now on Palm Sunday, Maundy Thursday, Good Friday, and Holy Saturday.
ST. PETER'S PARISH AUCTION is scheduled for May 5! Auction-worthy items are now being received! Please speak with Sal if you have donations that you would like to make to our fund-raising Parish Auction.
Bible Study continues on Tuesdays at 10:30 in the Library and Sundays at 9am. All are invited.
DON'T FORGET THE FOOD PANTRY . . . currently needs Macaroni and Cheese.
---
St. Peter's by-the-Sea: A Glimpse Ahead
MARCH
Sunday, March 25 - PALM SUNDAY - 8 & 10 AM
Tuesday, March 27 - Holy Eucharist and Bible Study - 10AM
Wednesday, March 28 - Stations of the Cross - 7:30PM
Thursday, March 29 - MAUNDY THURSDAY - Service at 7:30PM
Friday, March 30 - GOOD FRIDAY
Stations of the Cross - Noon
Proper Liturgy for Good Friday - 7:30PM
APRIL
Sunday, April 1 - EASTER SUNDAY - FESTIVAL CHORAL EUCHARIST WITH BRASS, ORGAN, & CHOIR - 10AM (Please note that there will be only ONE service on Easter Day, followed by a festive reception and easter egg hunt)
Sunday, April 8 - Music at St. Peter's - Cross Island Ensemble - 4pm
Thursday, April 19 - ECW Luncheon and Meeting - 11:30am
MAY
Monday, May 1 - Lifeline Testing - 9am - 5pm
Friday, may 4 - AGO Organ Scholarship Auditions - 2 - 7pm
Saturday, May 5 - Parish Auction - 5pm - 7pm
Sunday, may 13 - Music at st. peter's - the art of song: 4th annual staff singers concert - 4pm
Thursday, may 17 - ECW Luncheon and Meeting - 11:30 am
JUNE
Sunday, June 3 - Music at St. Peter's - eVoco Voice Collective Women's Ensemble - 4pm
Sunday, June 10 - Music at St. Peter's - Zachary Schurman, Organ Scholar in Concert - 4pm
---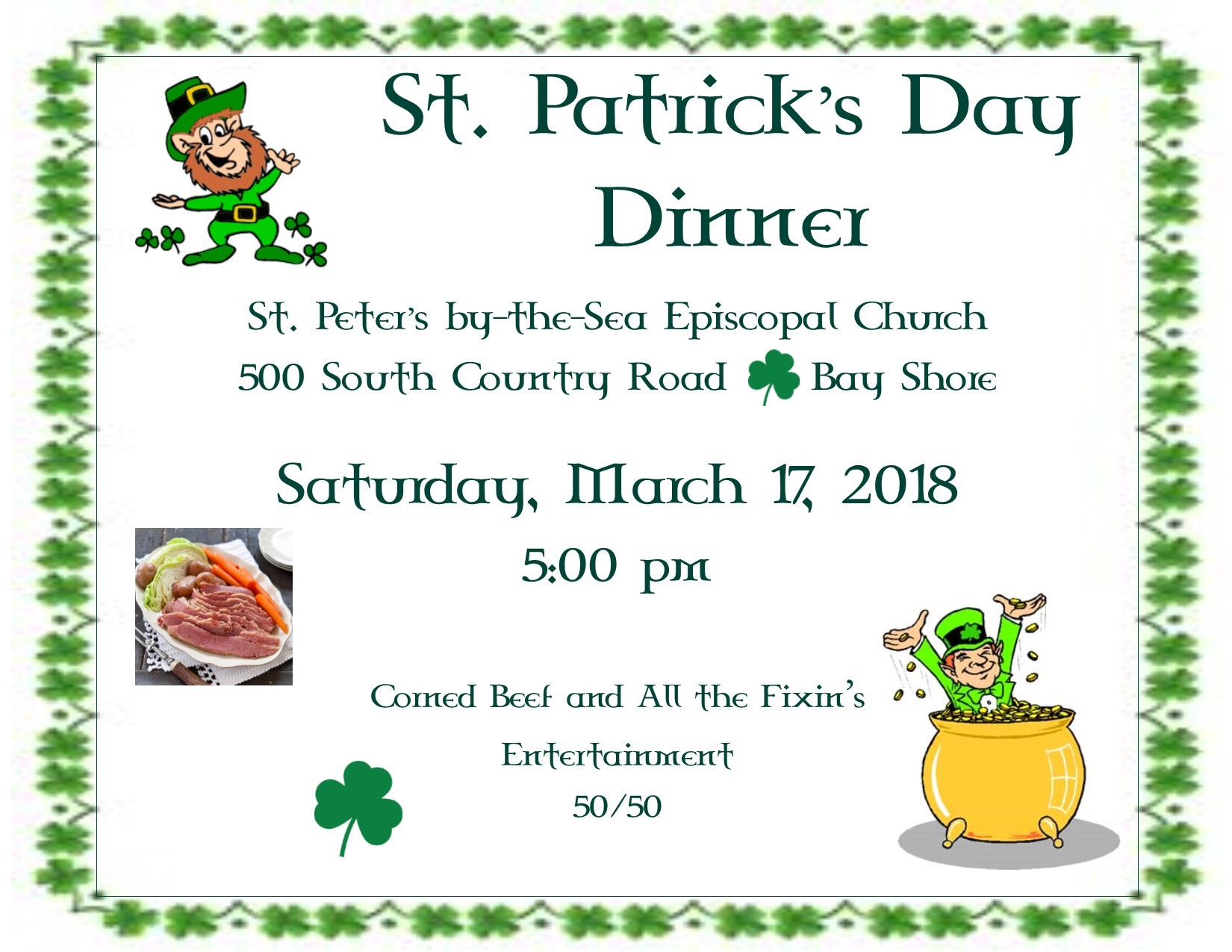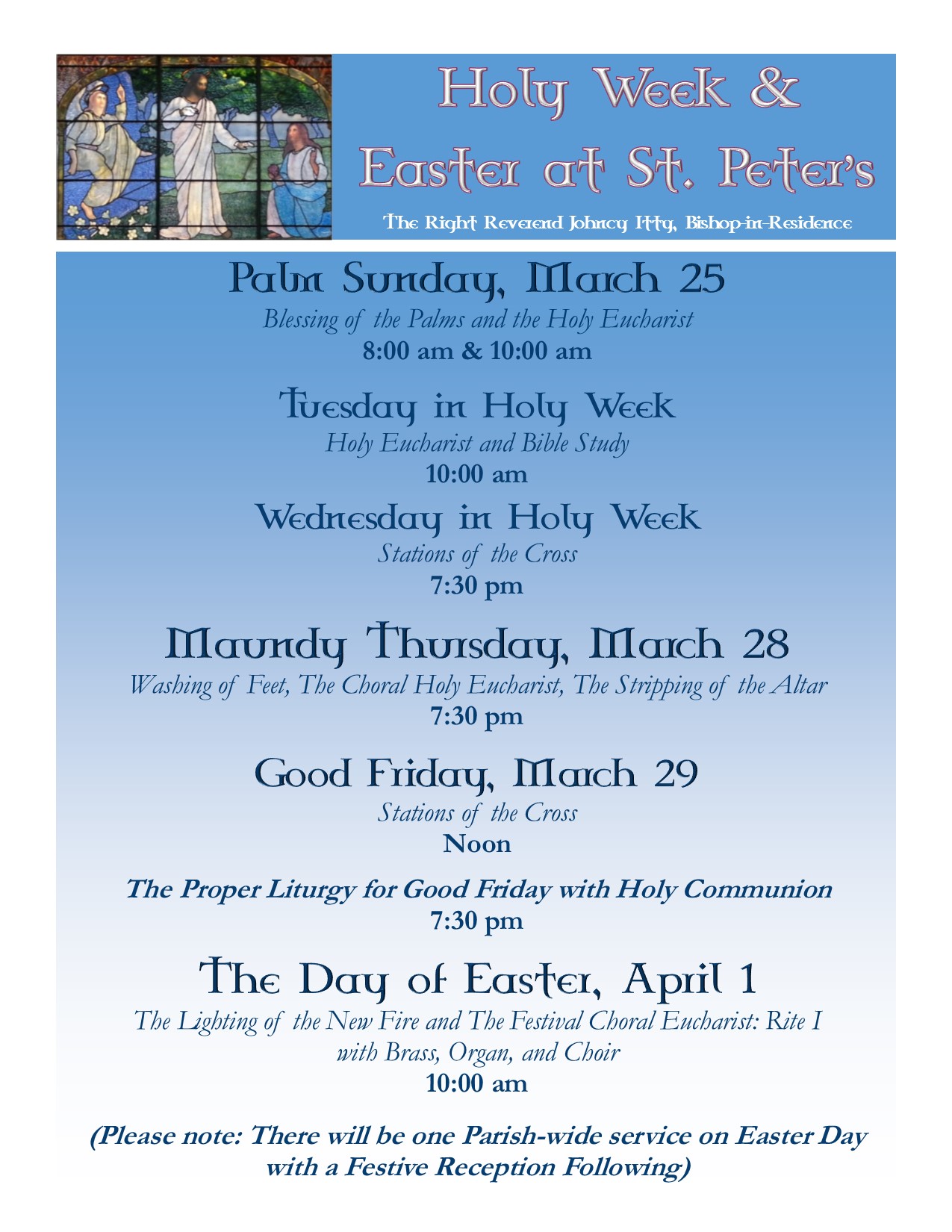 Weekdays:


Bible Study: Tuesdays at 10:30 am

Parish Office is open Monday through Thursday 9:30 am until 2 pm.

A warm welcome will greet you at St. Peter's!
St. Peter's by-the-Sea Episcopal Church
500 South Country Road
Bay Shore, NY 11706
Phone: 631-665-0051
Fax: 631-665-0052
Join us on FACEBOOK

www.facebook.com/StPetersbytheSea
www.facebook.com/StPetersBytheseaEarlyChildhoodLearningCenter
https://www.facebook.com/centerforartstpeters
https://www.facebook.com/stpeterstreblechoir/
AND FOLLOW US ON TWITTER
https://twitter.com/stpetersbaysho1