15 October 2017

The Nineteenth Sunday after Pentecost
(Proper 23A)

Click the picture to see the leaflet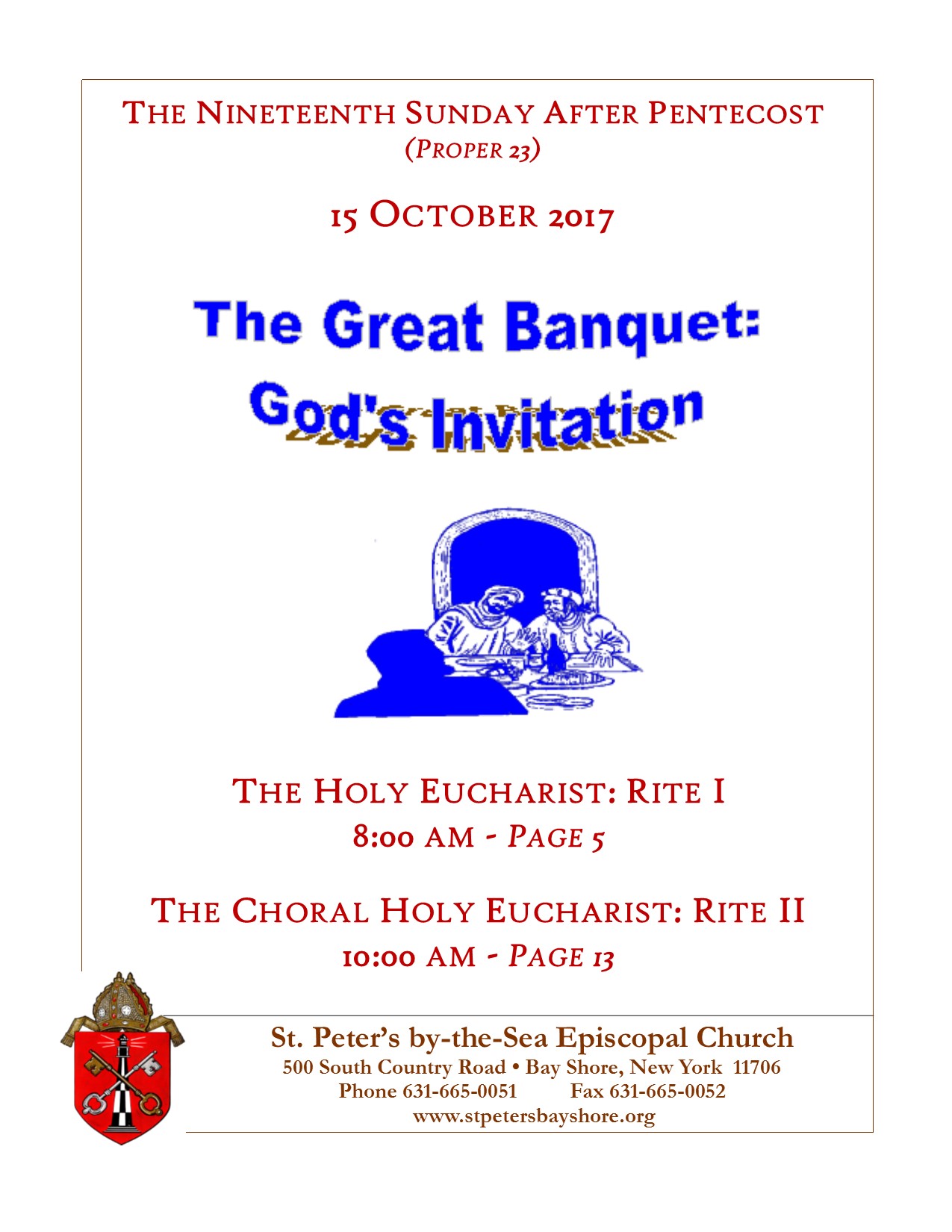 The Holy Eucharist: Rite I
8 AM

St. Edmund's Chapel
The Choral Eucharist: Rite II
10 AM
Church
The Right Reverend Johncy Itty
Celebrant and Preacher

Mark Engelhardt
Organist and Director of Music
---
— PARISH NOTICES —
Christian Education at St. Peter's: Bible Study continues at 9am on Sundays and 10:30am on Tuesdays. Newcomers are always invited!
St. Peter's Preschool is an important mission of St. Peter's Church. If you have not visited the school, Sara would be happy to give you a tour. If you would like to make a donation of supplies (the cost of which does NOT come from church funds), glue (big containers of Elmer's), colored construction paper and glue sticks are what are needed most. Please do your part in helping our children, our most precious resource.
Halloween is coming! Plan now to join us for St. Peter's OKTOBERFEST, Saturday, October 28 from 6pm to 10pm. We'll have a festive dinner with all the trimmings (plus dessert, coffee, tea, wine, beer, soda, water). $20.00 per person, $5.00 children 7 to 12 years; Free children under 7. Come in costume to liven the fun! A special feature of the evening will be a Spooktacular Organ Concert in the Church at 7:30 pm played by Mark Engelhardt. Admission to the concert will be free will offering for those attending the dinner and $10.00 for those attending only the concert.
The Food Pantry is low on Cereals, Pasta, Spaghetti Sauce, Tuna Fish, Soup, Beans, Mac&Cheese, Corned Beef Hash, Canned Chicken, Canned Ravioli, Spaghetti O's, Food Items that can be opened and eaten. Your kind donations are gratefully received.
November is National Diabetes Month Every 17 seconds someone is diagnosed with diabetes, a disease which kills more people each year than breast cancer and AIDS combined. The American Diabetes Association's website states that as many as 1 in 3 American adults will have diabetes in 2050 unless steps are taken to stop this disease. Early detection is critical. This is why St Peters by the Sea Episcopal Church is hosting Life Line Screening, the nation's leading provider of preventive health screenings on Friday, November 3, 2017. One of the tests is a simple blood test for glucose (sugar) which can determine if a person is at-risk of developing diabetes. Other screenings include tests to check for blocked carotid arteries, atrial fibrillation, and high blood pressure, which are the three leading risk factors for stroke. Nearly 800,000 strokes will occur this year, taking a life approximately every four minutes. There are also tests to check for abdominal aortic aneurysms and PAD, also called "hardening of the arteries" in the legs. Diabetes is a major risk factor for stroke and is directly related to Peripheral Arterial Disease. Recommendations for people with diabetes included a PAD test starting at age 50. Screening packages start at $139. Single tests cost around $70. For more information regarding the screenings or to schedule an appointment, call 1-888-653-6441 or go to www.lifelinescreening.com/communitycircle or text the word circle to 797979. Pre-registration is required.
St. Peter's Parish Auction will be held on Saturday, November 18. Any suitable items (antiques, art work, collectibles, small furniture pieces, etc.) you may wish to donate for the auction may be brought in now. Check with Sal for a convenient time for delivery.
Calling journalists and photographers . . . No, not necessarily the pros, but YOU. . . Beginning with the first issue in November, we will rejuvenate a monthly parish newsletter with advertisements of events to come, reviews and retrospectives of events just past, and opportunities for each organization of the parish to share what's going on in their corner. This will be in addition to the weekly E-News, but to be successful we need volunteers to snap pictures of events on cell phones, to write articles (100-500 words) about events, or reflections, or even spiritual reflections. The November and December issues will simply be called The Monthly Newsletter of St. Peter's Church giving you an opportunity to think up a permanent name to submit to a "Name the Newsletter" contest. So, jump on board, and let Mark know that you'll be "happy to help.
---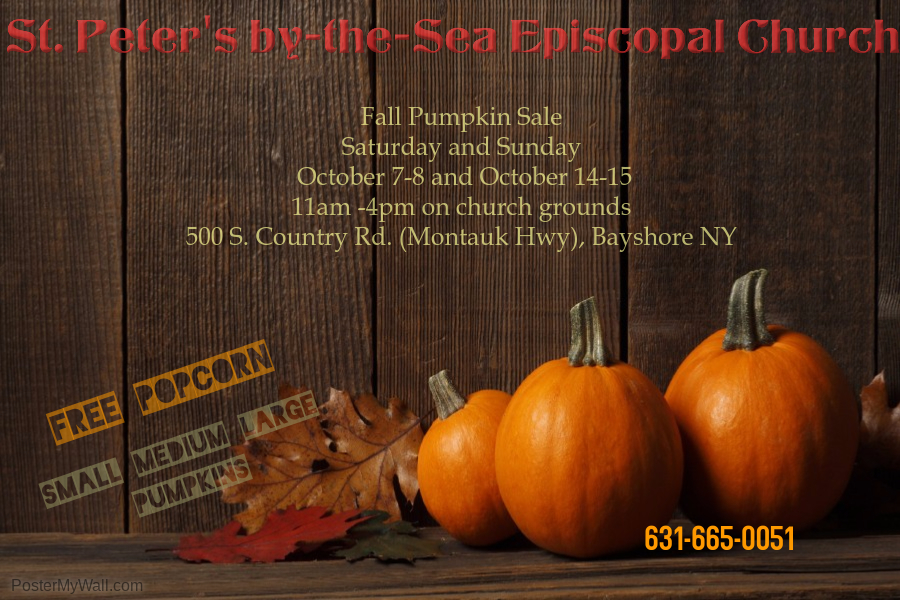 ---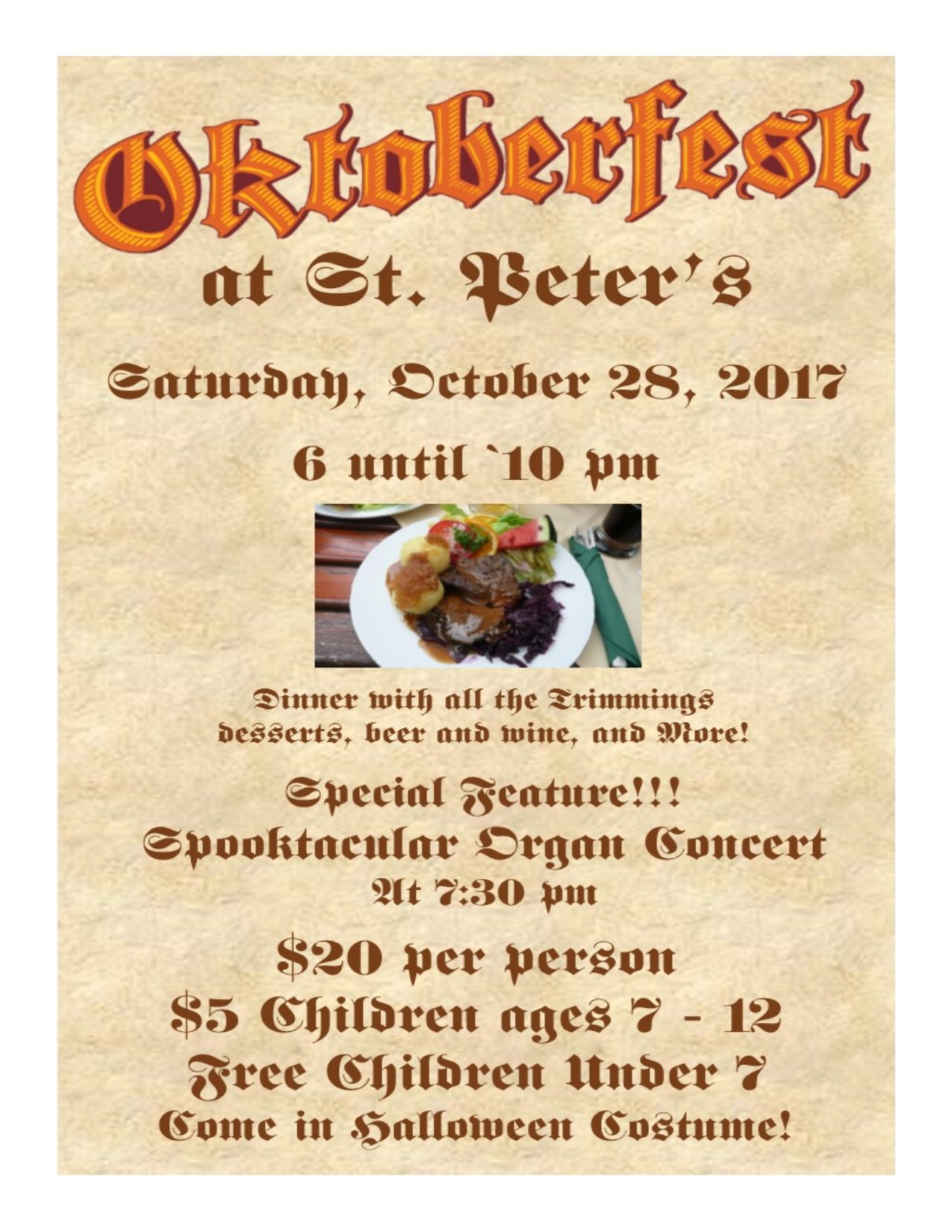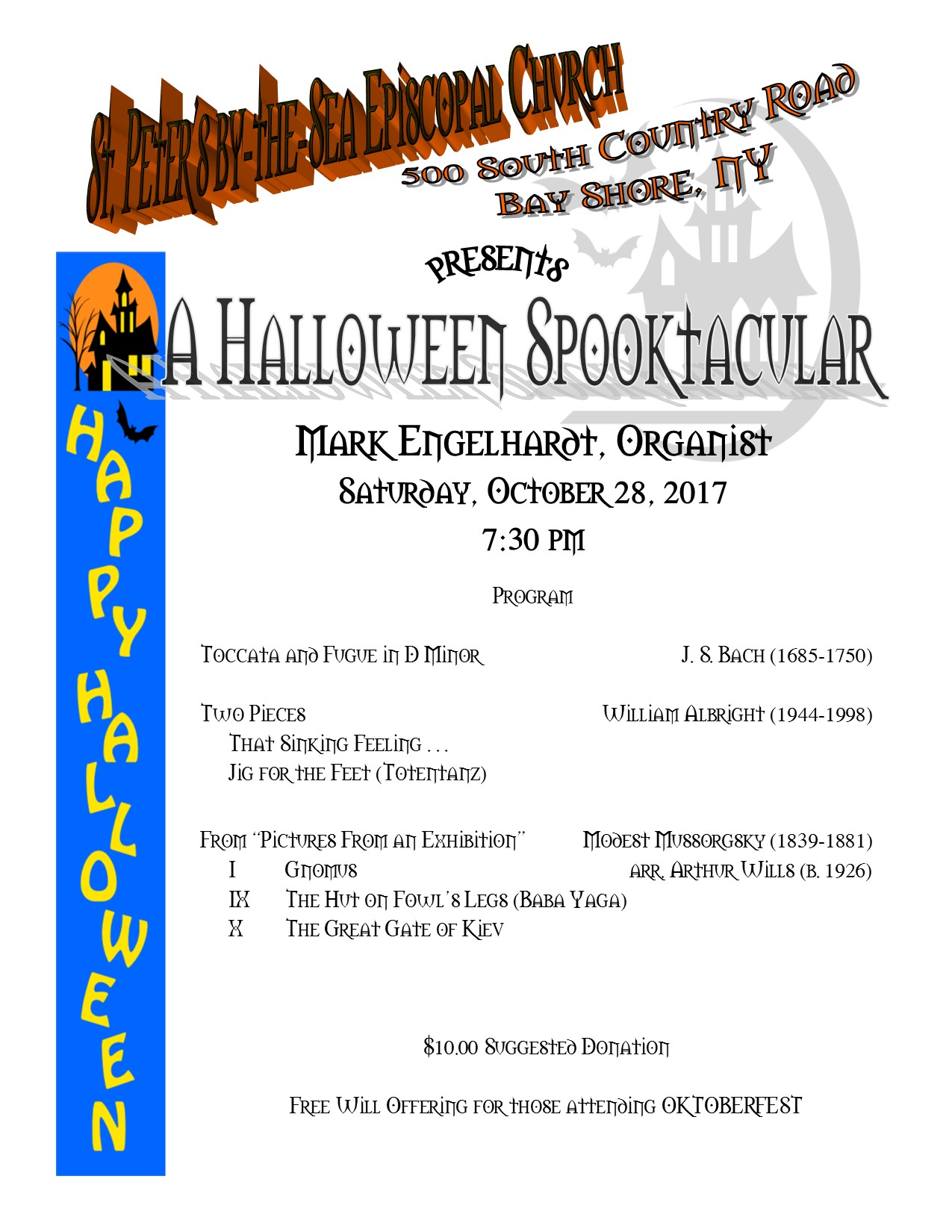 ---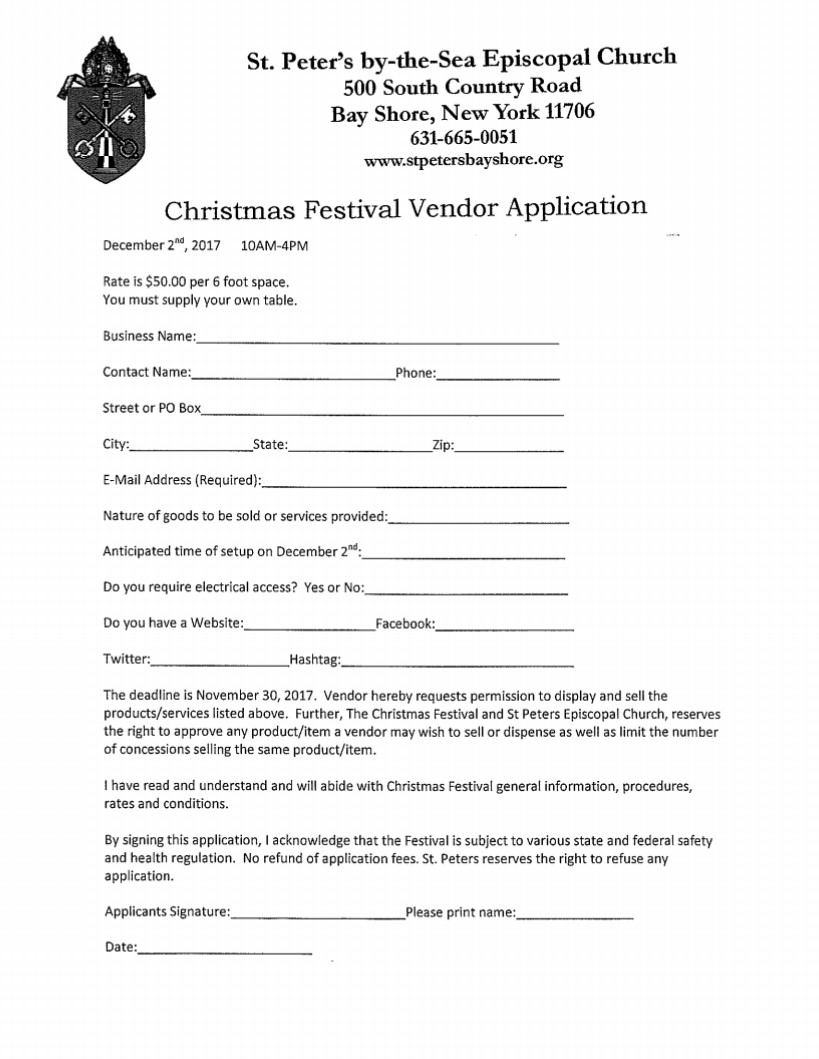 ADVANCE NOTICE: St. Peter's Christmas Fair is Not Too Far Away!!!
Saturday, December 2 is the date . . . Mark Your Calendars NOW!!
For a pdf copy of the Vendor Application, please click on the picture.
---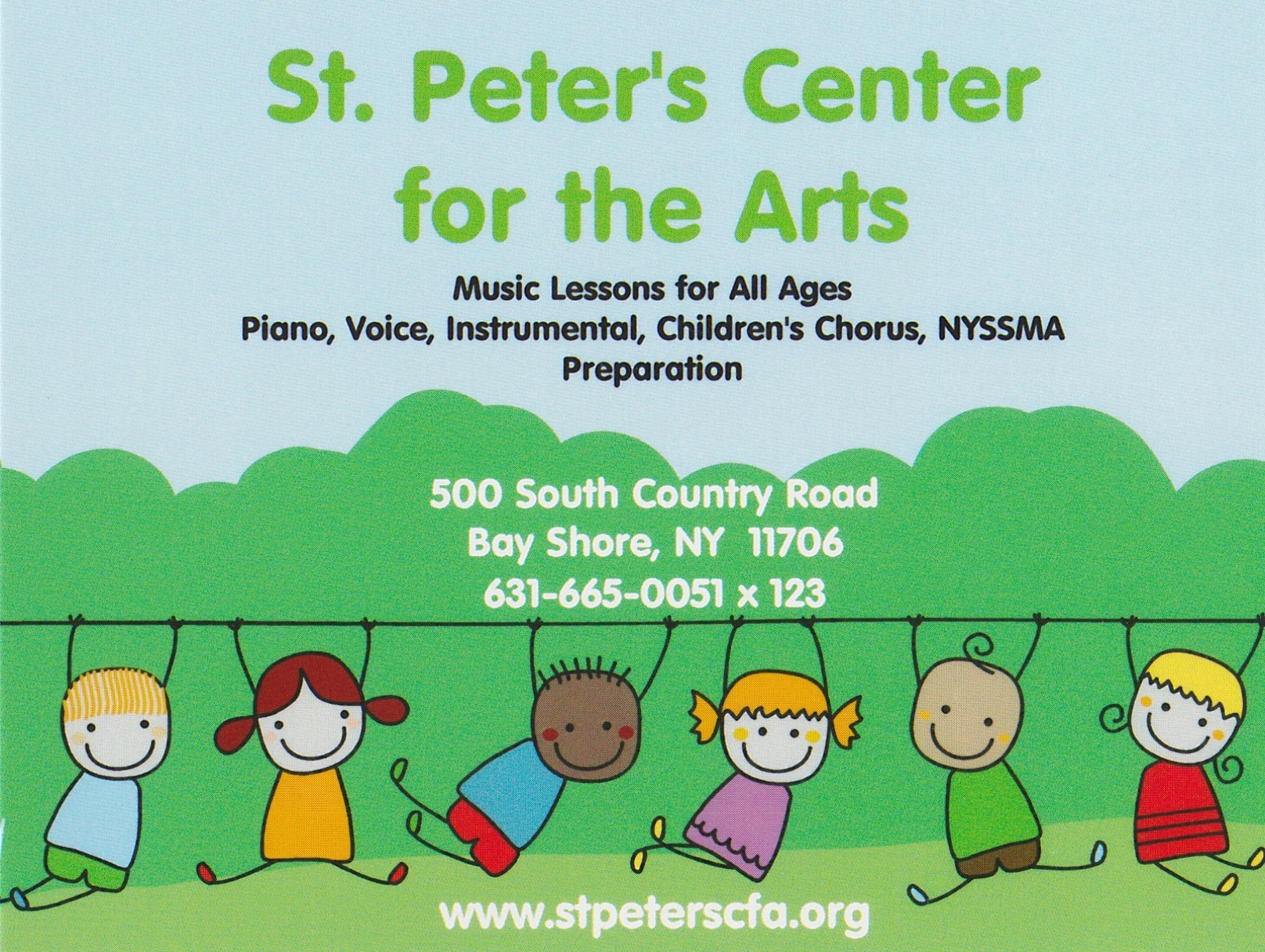 ---
Weekdays:


Bible Study: Tuesdays at 10:30 am

Parish Office is open Monday through Thursday 9:30 am until 2 pm.

A warm welcome will greet you at St. Peter's!
St. Peter's by-the-Sea Episcopal Church
500 South Country Road
Bay Shore, NY 11706
Phone: 631-665-0051
Fax: 631-665-0052
Join us on FACEBOOK

www.facebook.com/StPetersbytheSea
www.facebook.com/StPetersBytheseaEarlyChildhoodLearningCenter
https://www.facebook.com/centerforartstpeters
https://www.facebook.com/stpeterstreblechoir/
AND FOLLOW US ON TWITTER
https://twitter.com/stpetersbaysho1