The Funeral for former parishioner Emily Baird will be in St. Edmund's Chapel on Saturday, November 28 at 10:30 am. May light perpetual shine upon her!
---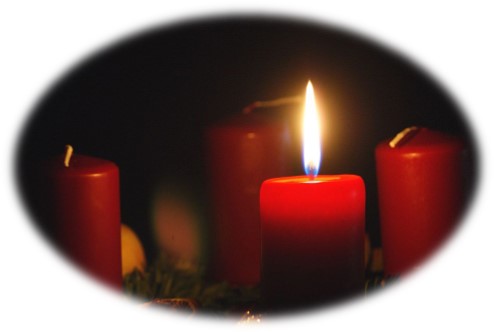 Sunday, November 29, 2015
The First Sunday of Advent
Year C

Click on the links below to see the leaflets
8:00 am
St. Edmund's Chapel
The Choral Holy Eucharist: Rite II
10:15 am
Church
The Right Reverend Johncy Itty, Celebrant
---
— Parish Notices For Sunday, November 29 —
The next Altar Guild Meeting is today at 9am in the Lounge.
Saturday, December 5 is Fall-Cleaning Day at St. Peter's! Beginning at 10am and continuing until work is done, we'll get our buildings spruced up for the holidays! We need volunteers . . . so sign up for any amount of time that you can spare on that day. Pizza and Soda for all volunteers!
NEXT Sunday, December 6, we will have only one service at 9:30 am. During the service we will recognize all ALTAR GUILD AND ECW MEMBERS, and their officers and committee chairs will be installed. We will also be graced with the presence of June Gerbracht, Diocesan ECW President. Please plan to attend this service honoring the loyal service and devotion to God and St. Peter's parish of ECW and Altar Guild members, past, present, and future!
The Boy Scouts Troop 43 will thank and honor retiring Troop leader Phil Jacobs on Boy Scout Sunday, February 7.
The Food Pantry is especially in need of Canned Chili, Ravioli, Beef Stew, Corned Beef and SPAM.
Upcoming Dates to Mark on Your Calendars:
Sunday, 11/29—Altar Guild Meeting (9 am)
Saturday, 12/5—Parish Clean-up Day
Sunday, 12/6—ONE SERVICE 9:30 am Altar Guild and Altar Guild Officers' Installation.

Sunday, 12/13—Lessons and Carols (4 pm)
Thursday, 12/17—ECW Meeting (11:30 am)
Sunday, 12/20—eVoco Women's Chorus Concert (4 pm)
Thursday, 12/24— CHRISTMAS EVE
Family Eucharist and Pageant—4:00 pm
Solemn Choral Eucharist—11:00 pm
Friday, 12/25—CHRISTMAS DAY EUCHARIST—10 am
Wednesday, 1/6—Feast of the Epiphany, Holy Eucharist (10 am)
Sunday,1/17—Patronal Festival
Monday, 1/18—Martin Luther King Day (Office Closed)
Thursday, 1/21—ECW Meeting (11:30 am)
Saturday, 1/24—Eagle Scout Ceremony (2 pm)
Tuesday, 2/2—Feast of the Presentation, Holy Eucharist (10 am)
Sunday, 2/7—Boy Scout Sunday
Wednesday, 2/10—Ash Wednesday
Sunday, 2/14—First Sunday in Lent

---
---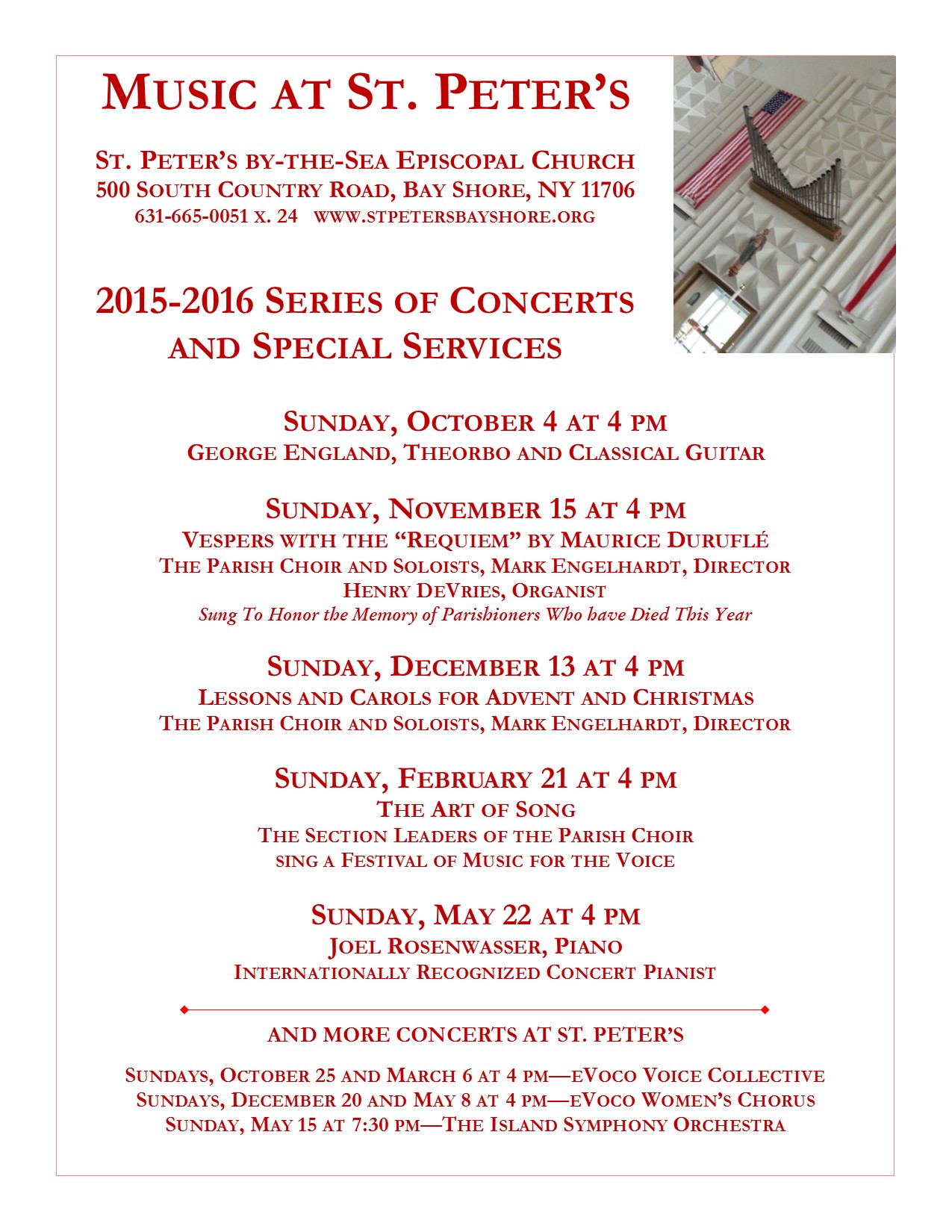 ---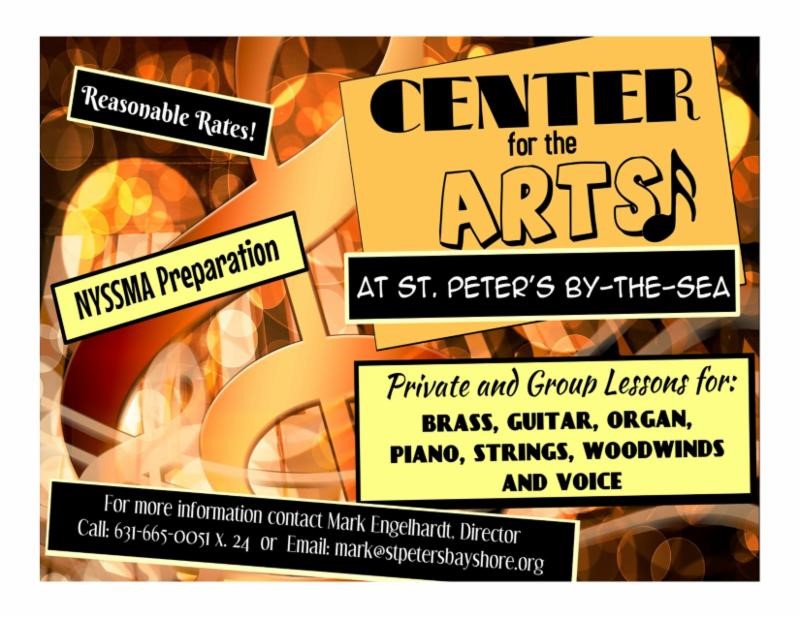 ---
Weekdays:
Morning Prayer is read Monday and Wednesday at 9 am.

A warm welcome will greet you at St. Peter's!
St. Peter's by-the-Sea Episcopal Church
500 South Country Road
Bay Shore, NY 11706
Phone: 631-665-0051
Fax: 631-665-0052
Join us on FACEBOOK

www.facebook.com/StPetersbytheSea
www.facebook.com/StPetersBytheseaEarlyChildhoodLearningCenter
https://www.facebook.com/centerforartstpeters
AND FOLLOW US ON TWITTER
https://twitter.com/stpetersbaysho1