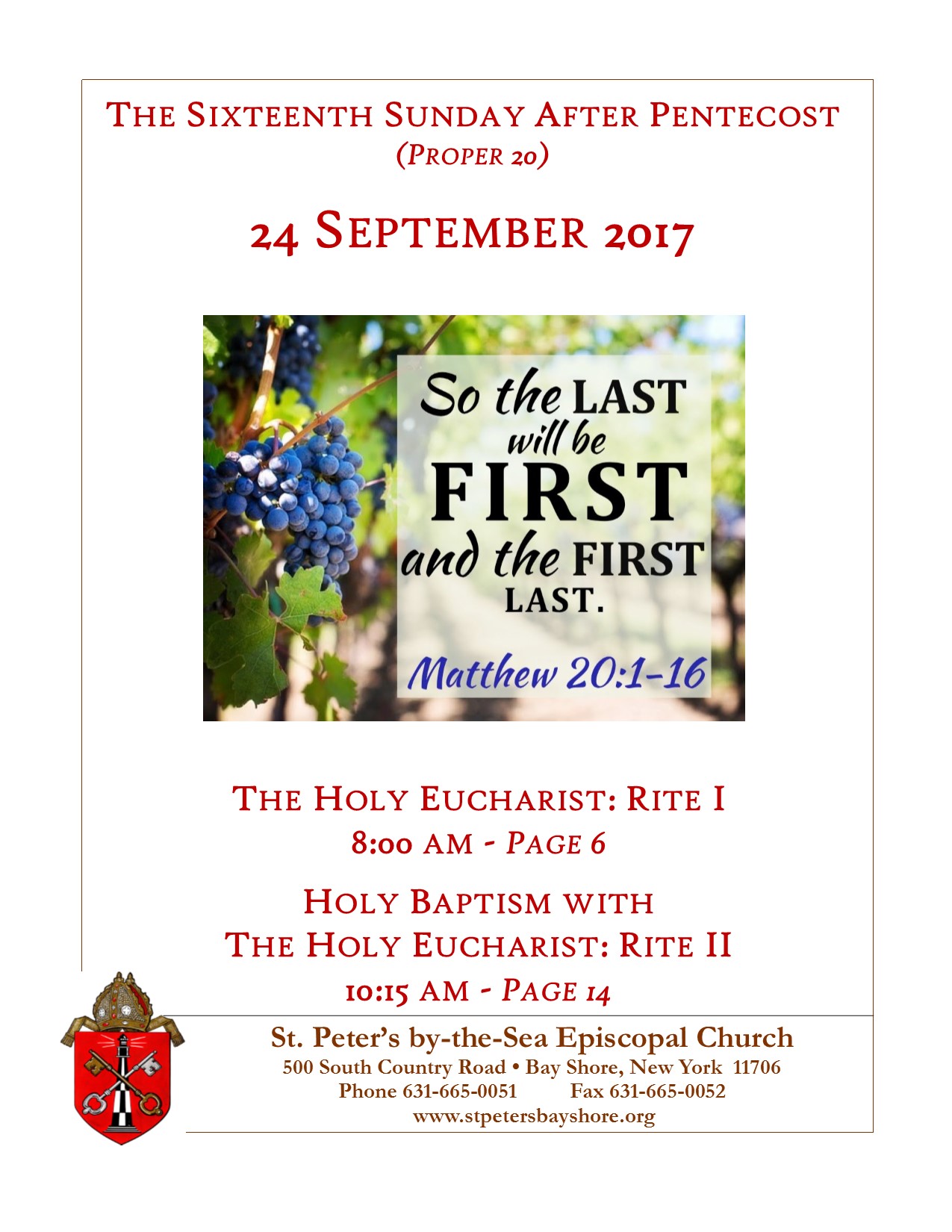 24 September 2017

The Sixteenth Sunday after Pentecost (Proper 20A)

The Holy Eucharist: Rite I
St. Edmund's Chapel
The Choral Eucharist: Rite II
Church

Click the picture to see the leaflet
The Right Reverend Johncy Itty
Celebrant and Preacher

Mark Engelhardt
Organist and Director of Music
---
— PARISH NOTICES —
We welcome our two newest Christians and their family and friends: twins Jackson Lucas Engler and Marley Jane Engler and their parents Jennifer and Adam Engler.
The Brunch scheduled for this morning by the ECW has been postponed. A rescheduled date will be announced.
Christian Education at St. Peter's: Sunday School and Treble Choir will resume next Sunday (NOT today as previously announced) at the 10AM Service. Bible Study continues at 9am on Sundays and 10:30am on Tuesdays. Newcomers are always invited!
LOOKING AHEAD TO NEXT WEEKEND:
Plan to come to St. Peter's Pumpkin Sale on September 30 and October 1 from 9am to 4pm.
BEGINNING NEXT SUNDAY, OCTOBER 1, the time for the Choral Eucharist will change from 10:15 am to 10 am.

This will be a permanent change.
Sunday School and Treble Choir resume at the 10 am service.
The Lady Chapel in the church

has been renewed and refreshed!

On Sunday, October 1,

it will be blessed and rededicated during the 10am service. On that day, we will also begin offering Healing after the Communion for any who would desire it.
The Parish Choir will sing Evensong for the Feast of St. Michael and All Angels

Sunday, October 1 at 4pm. Evensong, the "crown jewel" of the English reformation, is musically rich, providing a perfect opportunity for the worshipper to enter into prayer and praise by listening. Music will include a setting of the Canticles composed by Mark Engelhardt. A wine and cheese reception will follow. All are invited!
Congratulations to parishioners Betty Cochrane and Stewart McLaughlin who were honored at the recent Bay Shore Lions Club Centennial Honorees Brunch for their service to the community.
The Food Pantry is low on Cereals, Spaghetti and Spaghetti Sauce, and Tuna Fish. Your kind donations are gratefully received.
---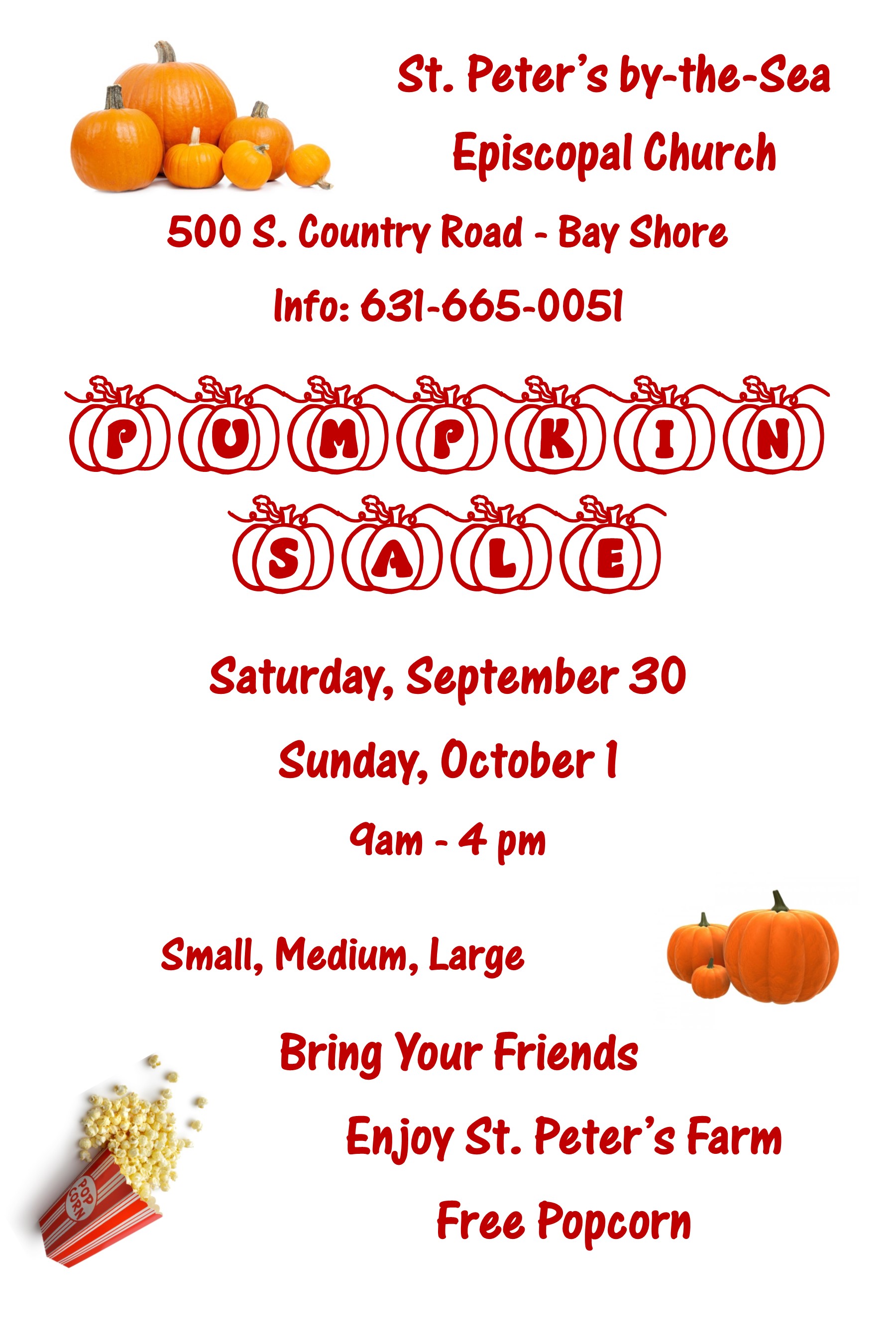 ---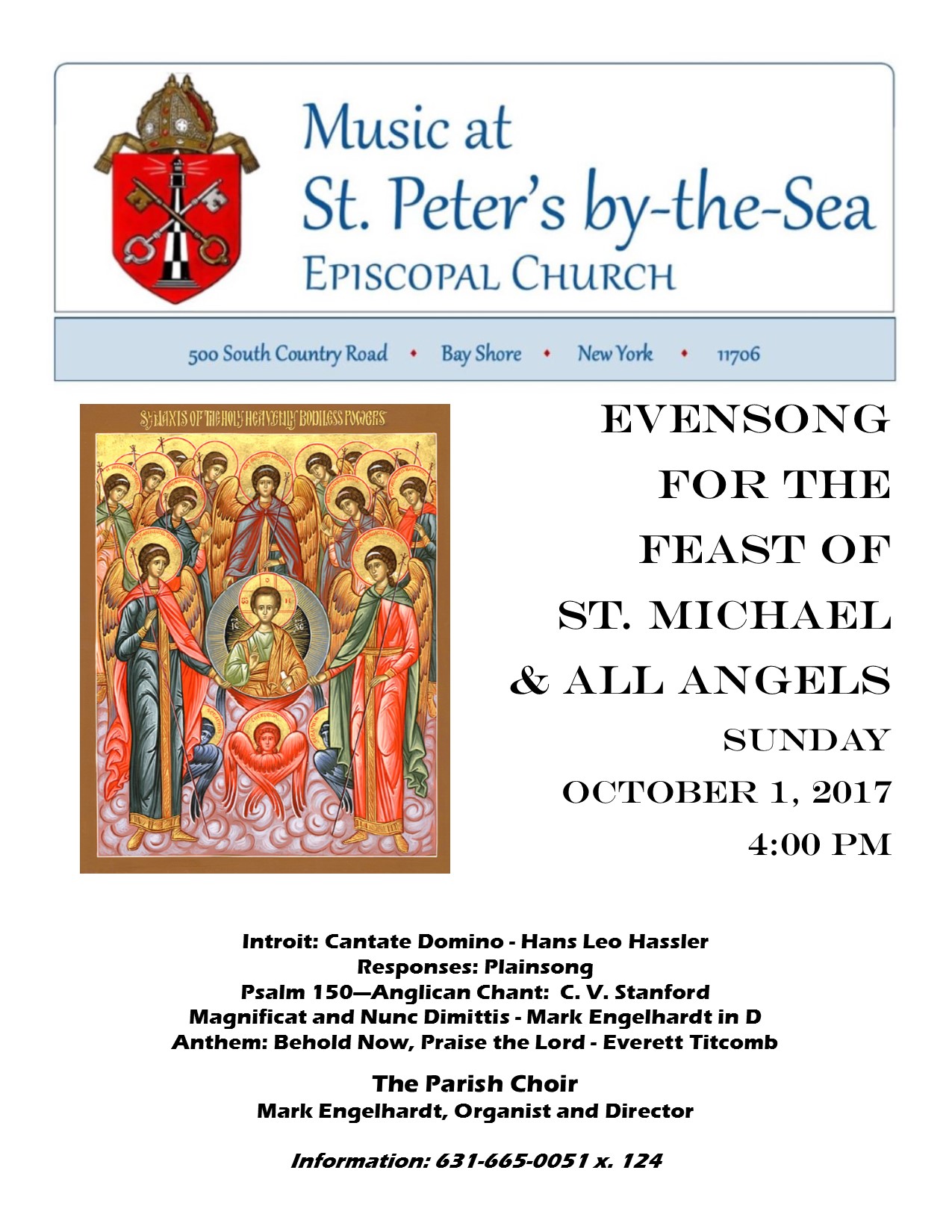 ---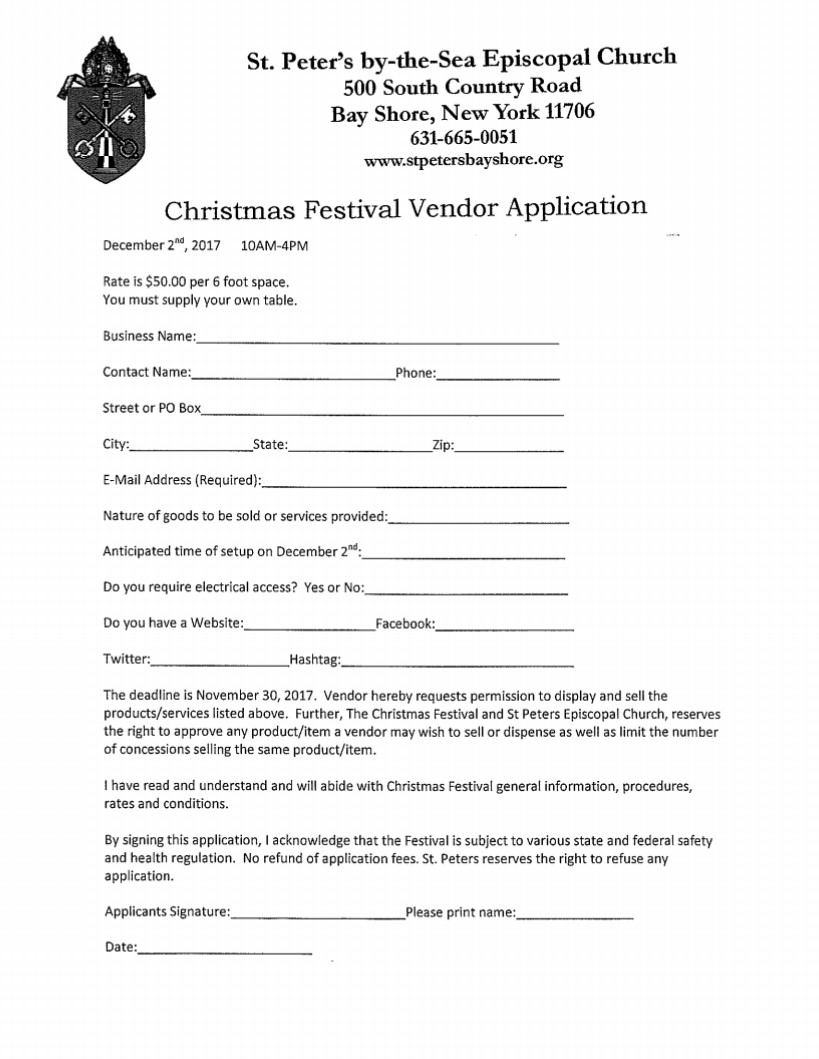 ADVANCE NOTICE: St. Peter's Christmas Fair is Not Too Far Away!!!
Saturday, December 2 is the date . . . Mark Your Calendars NOW!!
For a pdf copy of the Vendor Application, please click on the picture.
---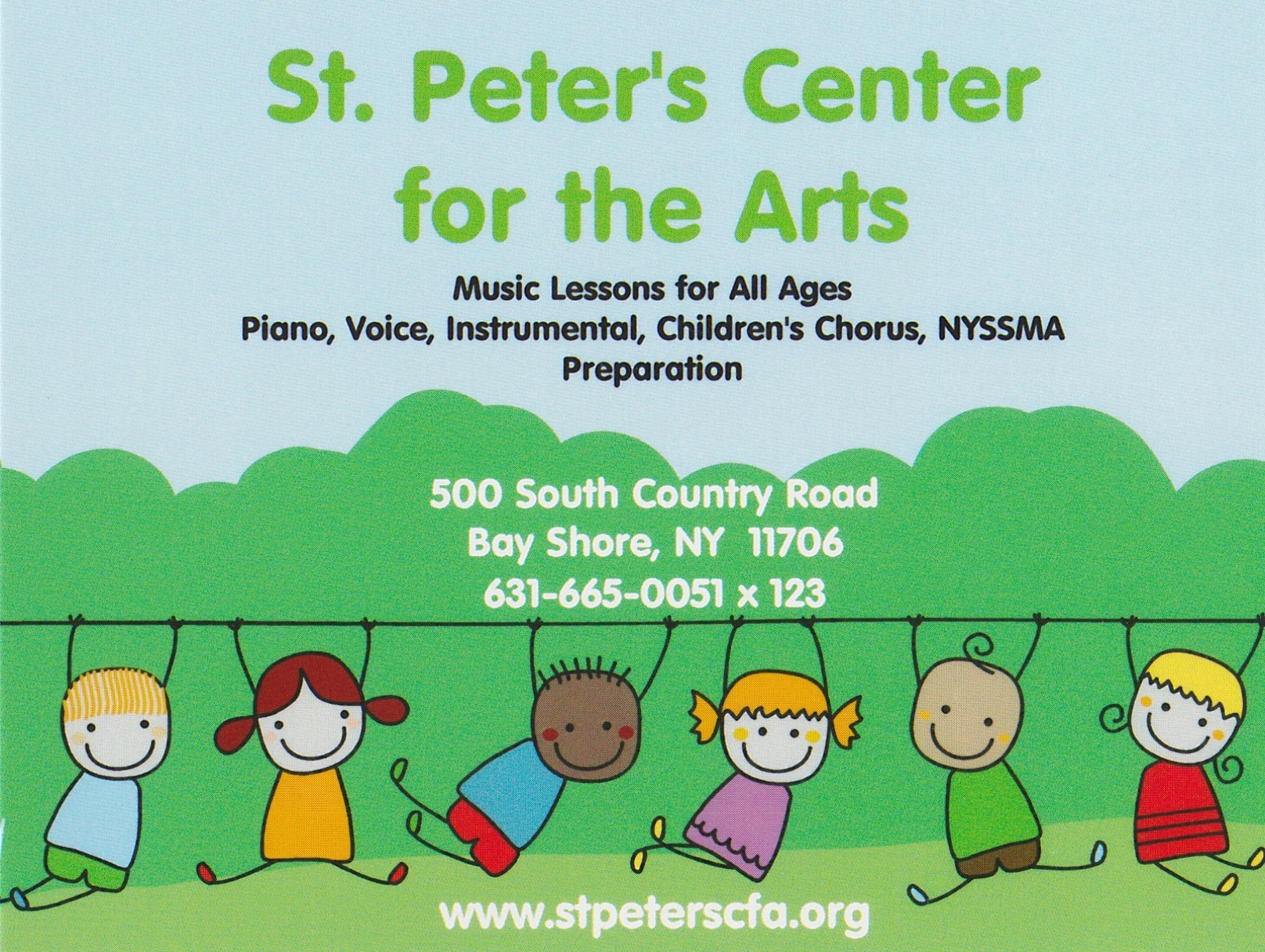 ---
Weekdays:


Bible Study: Tuesdays at 10:30 am

Parish Office is open Monday through Thursday 9:30 am until 2 pm.

A warm welcome will greet you at St. Peter's!
St. Peter's by-the-Sea Episcopal Church
500 South Country Road
Bay Shore, NY 11706
Phone: 631-665-0051
Fax: 631-665-0052
Join us on FACEBOOK

www.facebook.com/StPetersbytheSea
www.facebook.com/StPetersBytheseaEarlyChildhoodLearningCenter
https://www.facebook.com/centerforartstpeters
https://www.facebook.com/stpeterstreblechoir/
AND FOLLOW US ON TWITTER
https://twitter.com/stpetersbaysho1