Wednesday, February 10
ASH WEDNESDAY
Holy Eucharist with the Imposition of Ashes
9:00 am
St. Edmund's Chapel
and
The Choral Holy Eucharist with the Imposition of Ashes
7:30 pm
Church
See the leaflet for the services by clicking HERE
---
My Dear Brothers and Sisters in Christ,
In a few days we will begin the holy season of Lent with our Ash Wednesday liturgy.
Lent is a season of preparation, penitential reflection, repentance, forgiveness, and amendment of life. It is a season in which we ask God's forgiveness for our many shortcomings as human beings, and it is a time in which we work to be different and better than in times past. It is a season in which we are mindful of our own mortality as we embrace and await with promise, the celebration of Christ's Resurrection.
Lent is a time of re-prioritizing our own lives and activities so that the spiritual care of our lives takes precedence over many competing things that demand our attention. It is a season of deep, fervent, and intentional, intercessory prayer for ourselves, for those whom we love, and for those who are part of our wider human family. It is a chance for a fresh start, a new beginning, and a new relationship with our Lord and Savior, Jesus Christ.
As part of our common witness, during this special season, I invite you to join with us in observing a holy Lent. We may do so in part, by participating in regular worship, the daily reading of scripture, and strengthening our own personal discipline of regular prayer. Our attention to some of these spiritual disciplines can help us to better discern the ongoing gifts and work of God in our own lives.
Through the observance of Lent, we join with millions of Christians all around the world, in a beginning a holy pilgrimage of faith. Our journey together reminds us of God's reconciling and unconditional love for each one of us, and how we may, with penitent and contrite hearts, amend our lives to become instruments of Christ's love.
As you celebrate a holy Lent, I pray that the peace of Christ abides with you always.
Bishop Johncy Itty
Scripture Readings for Consideration:
(Source: Revised Common Lectionary, hyperlinks from Vanderbuilt Divinity Library)
(See also, Daily Office Readings, The Book of Common Prayer, pp.953,955,957)
---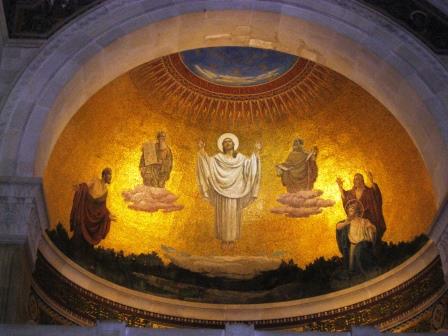 February 7, 2016

The Last Sunday after the Epiphany
Click below to see the service leaflets.
8:00 am
St. Edmund's Chapel

10:15 am

Church
Boy Scout Sunday

The Right Reverend Johncy Itty, Celebrant
Mark Engelhardt, Organist and Director of Music
---
— Parish Notices —
The Boy Scouts of America designates the Sunday that falls before February 8 (Scouting Anniversary Day) as Scout Sunday, which is the primary date to recognize the contributions of young people and adults to Scouting. As sponsor and host to Boy Scout Troop 43, and Cub Scout Pack 153, it is our pleasure to honor these young men and their families annually on this day.
Following the service, there will be a ceremony honoring retiring Scoutmaster Phil Jacobs and the installation of Ray Polk. The Scouts will be serving a buffet breakfast in the parish hall following the 10:15 service. All are invited!
Lent is upon us, and this Wednesday is Ash Wednesday! There will be two services of Holy Communion with the distribution of Ashes, 9:00 am in St. Edmund's Chapel, and the Choral Service at 7:30 pm.
St. Peter's Parish will be hosting the Deanery Lenten Program this year. Please join us on Tuesdays, beginning February 16 and continuing through March 15. The evenings begin with Eucharist at 6 pm, followed by a light supper of soup and salad and the program. This year's program is "The Christian Response to the Environment." There is a sign-up sheet in the narthex for volunteers to provide and serve the last soup supper on March 15. Please consider participating in our hospitality for this Deanery-wide event! See below for details.
"The Art of Song" will be the next offering in our Music at St. Peter's Concert Series on Sunday, February 21, at 4:00 pm. Please below for more details.
Lifeline Health Screenings will be available in the Parish Hall on Tuesday, March 15. For detailed information and registration information, please pick up a flyer available in the narthex and in the hallway opposite St. Edmund's Chapel. Please note that you may make reservations by calling 1-866-579-5069, and that there is no co-pay with Medicare Part B.
Camp DeWolfe 2016 registration is now open! Families interested in a wonderful camp session this summer may get information from the flyers available in the narthex or online at www.campdewolfe.org.
— COMING EVENTS —
Sunday, 2/7—Boy Scout Sunday

Wednesday, 2/10—Ash Wednesday (9am and 7:30 pm)

Sunday, 2/14—First Sunday in Lent

Tuesday, 2/16—Deanery Lenten Series begins (6 pm)

Tuesday, 3/15—Lifeline Health Screenings (8 am)
---
---
---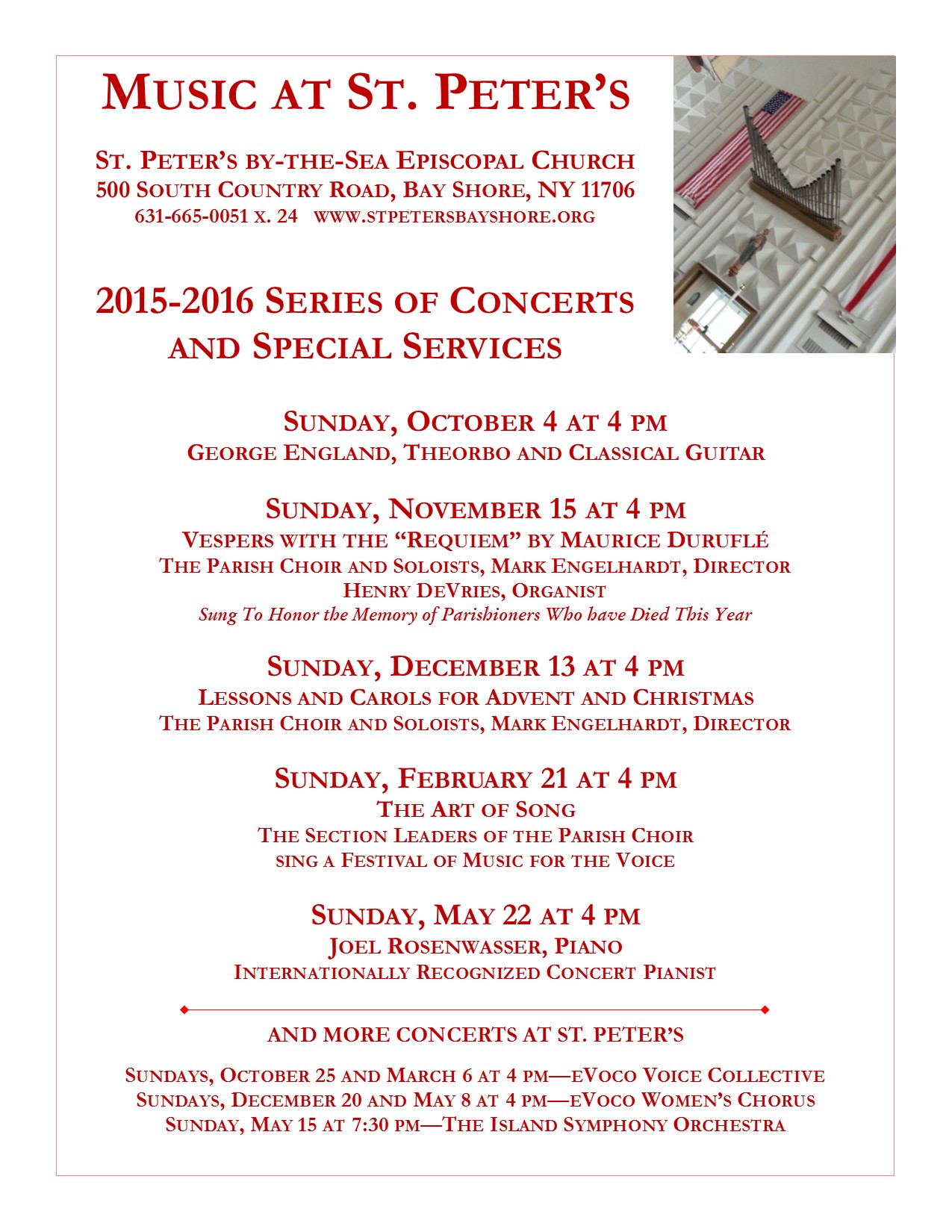 ---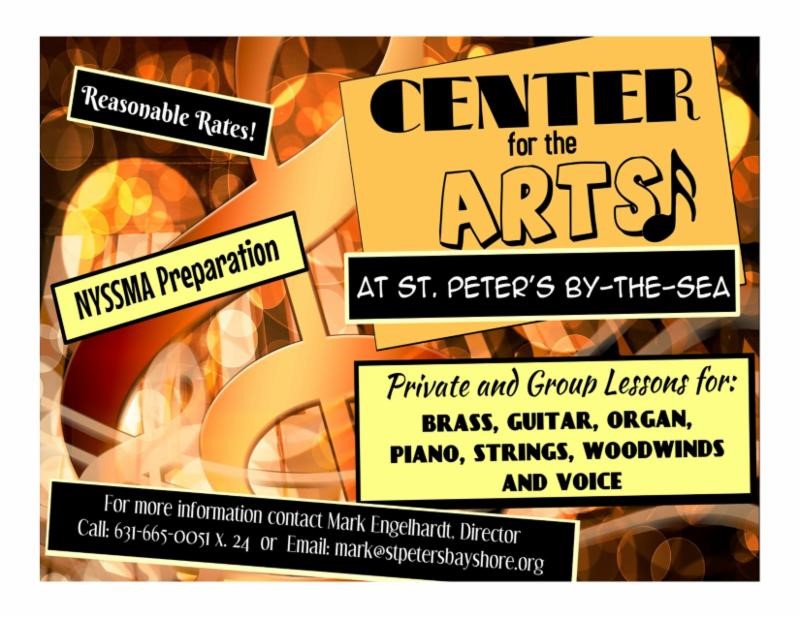 ---
Weekdays:
Morning Prayer is read Monday and Wednesday at 9 am.

A warm welcome will greet you at St. Peter's!
St. Peter's by-the-Sea Episcopal Church
500 South Country Road
Bay Shore, NY 11706
Phone: 631-665-0051
Fax: 631-665-0052
Join us on FACEBOOK

www.facebook.com/StPetersbytheSea
www.facebook.com/StPetersBytheseaEarlyChildhoodLearningCenter
https://www.facebook.com/centerforartstpeters
AND FOLLOW US ON TWITTER
https://twitter.com/stpetersbaysho1