October 2, 2016
Click the picture below to see the leaflet
The Right Reverend Johncy Itty
Celebrant and Preacher

Mark Engelhardt, Organist and Director of Music
---
— Parish Notices for the week of 18 September 2016 —

Top Ten Reasons Why We Sing Hymns in Church "It used to be a given" that everyone who came to church would pick up the hymnal at the appropriate times and sing with "mind, heart, and spirit" the words of our faith as found in the great hymns of the faith. In more recent years, that understanding has been lost, so for the next few weeks, this space will highlight the top ten reasons we sing hymns in church. Here's Number 1: The Greek word hymnos means "a song of praise." We sing to praise God, so even if you think you can't sing, open the hymnal and read the words to yourself with those who are singing. Next week: Theology in the hymnal? Say what???
Confirmation Classes for Youth and Adults will be Starting soon! Anyone in 8th grade or older (including adults) interested in preparation for Confirmation in the Spring of 2017 should speak with Mark Engelhardt who will be leading the sessions. He will be contacting interested families this week to set a date for the first meeting.
The 2016-2017 Music at St. Peter's Concert Series will begin Today, September 18 at 4:00 pm. See page 13 for details.
Sunday School Starts Next Sunday, September 25 at 10:15 am!
Also Next Sunday, the work of the Altar Guild will be highlighted during the 10:15 service. Following the service, a display of vestments and articles will be in the narthex. Plan to stay after the service and hear about the good work done by these dedicated people "sight unseen"!
Eucharistic Ministers are those who serve at the Altar by reading the Epistle and the Prayers of the People, and assisting at the Communion as Chalice Bearers. On Sunday, October 16, at 9 AM, there will be a training session for all those interested in becoming a Eucharistic Minister for either the 8 or 10:15 service. (Seasoned Eucharistic Ministers are invited, too!) Please speak with Bishop Itty or Joan Derle if you are interested in taking up this important ministry at St. Peter's.
Harvest Festival is fast approaching on Saturday, October 22! Vendors are currently signing up, and the forms are available on the parish website. Contact Mark Engelhardt in the office if you, or someone you know would like to participate.
And Christmas is not too far behind . . . The St. John's Hospital "Adopt-a-Family" program is underway. See pages 14 and 15 for information about this wonderful program so dependent upon the generosity of it's participants. Speak with Joan Derle for further information.
Food Pantry Needs: Canned soups, gravy, cereal; and money donations are always welcome!
— Prayers for the Week —
We pray for those seeking healing: Allan, Ann, Ann, Beryl, Betty, Bill, Bruce, Cathy, Chris, Christine, Connie, David, Deron, Elizabeth, Ellen, Emily, Gary, Gavin, Ginny, Jack, Jackie; LaJune, Lisa, Manuel, Meg,
Nancy, Peggy, Robert, Roger, Rosemarie, Sarah Grace, Susan, Susan W., Theo, Tom, and Vance;
We pray for those who have died,
We pray for those in military service, and especially for Eileen, John, Kyle, Robert, and Stephen;
We pray for the unemployed and underemployed; for all who suffer from addictions; for all who suffer chronic illness, and for all caregivers;
We pray for our companion dioceses of Torit & Ecuador-Central; and for mercy, peace, and justice among all peoples, especially those whose lives have been devastated by terrorism, war, famine, tyranny, or injustice;
In the Diocesan Cycle of Prayer we pray for St. James', Elmhurst; The Bishop of Long Island; St. George's, Flushing; St. John's, Flushing; St. Luke's, Forest Hills; Companion Diocese Committee, Deacons of the Diocese;
In the Anglican Cycle of Prayer we pray for the Episcopal Church, The Most Reverend Michael Curry, Presiding Bishop; and the Dioceses of Guyana (West Indies); Gwagwalada (Nigeria); Haiti (USA); Hanuato'o (Melanesia); Harare (Central Africa); Hawaii (USA).
---
---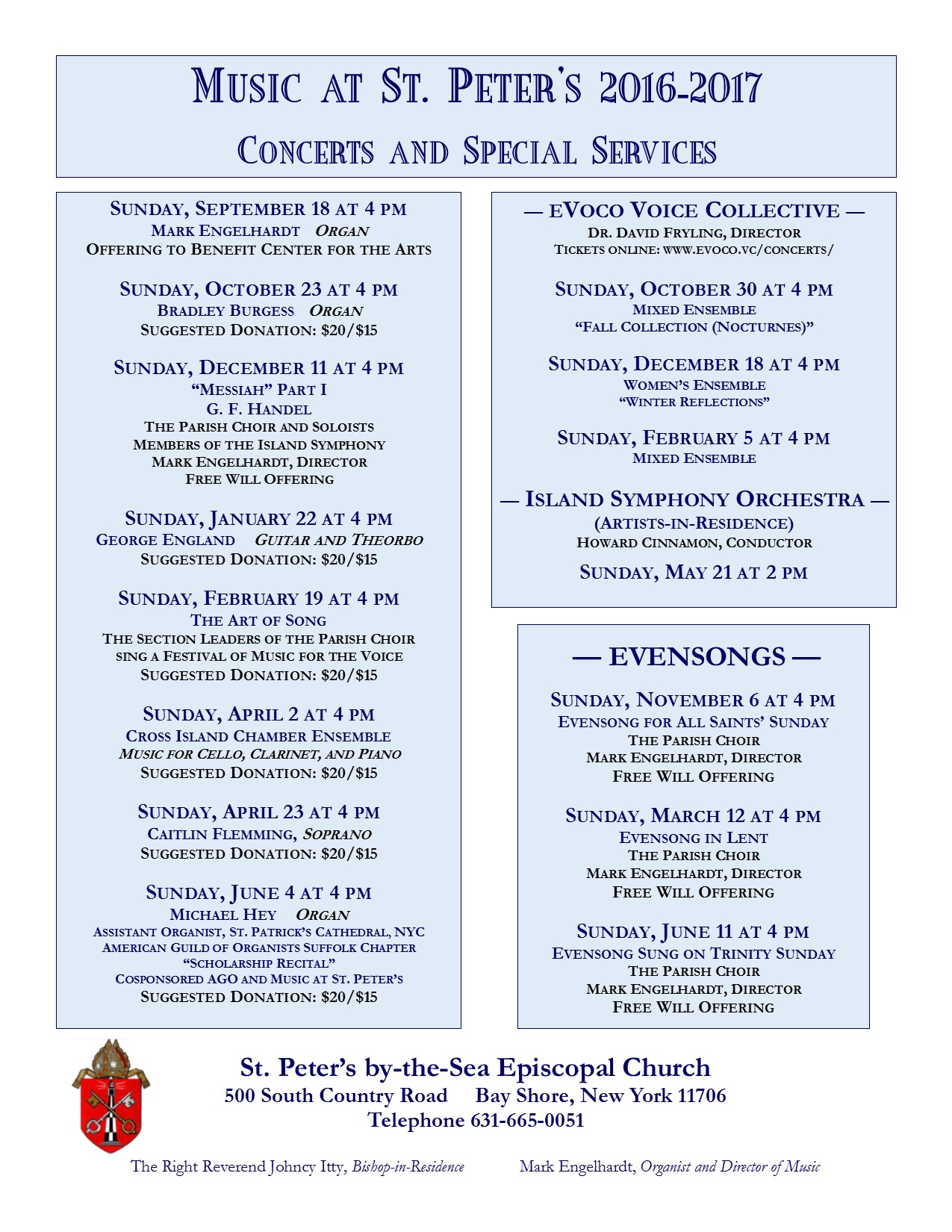 ---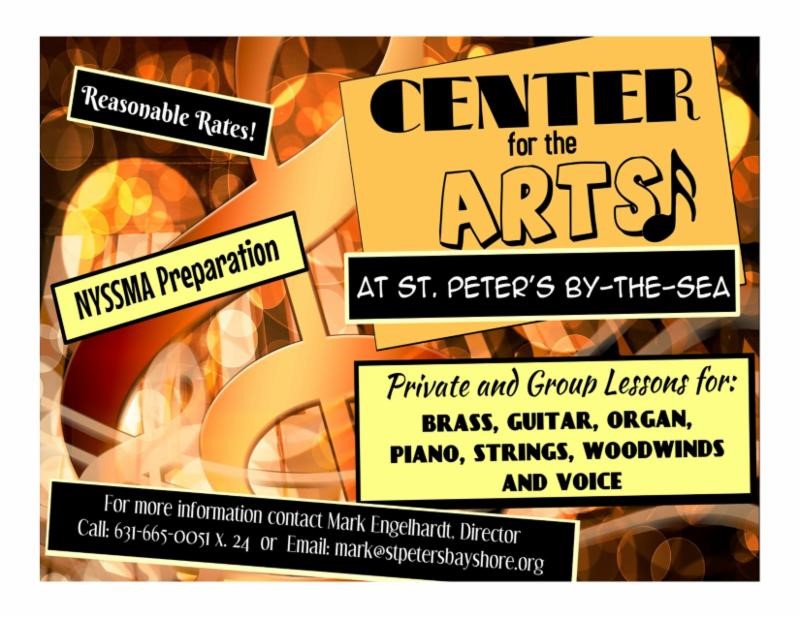 ---
Weekdays:
Morning Prayer is read Monday at 9 am.
Parish Office is open Monday through Thursday 9 am until 2 pm.

A warm welcome will greet you at St. Peter's!
St. Peter's by-the-Sea Episcopal Church
500 South Country Road
Bay Shore, NY 11706
Phone: 631-665-0051
Fax: 631-665-0052
Join us on FACEBOOK

www.facebook.com/StPetersbytheSea
www.facebook.com/StPetersBytheseaEarlyChildhoodLearningCenter
https://www.facebook.com/centerforartstpeters
https://www.facebook.com/stpeterstreblechoir/
AND FOLLOW US ON TWITTER
https://twitter.com/stpetersbaysho1