Please click the picture below to see the service booklet for Sunday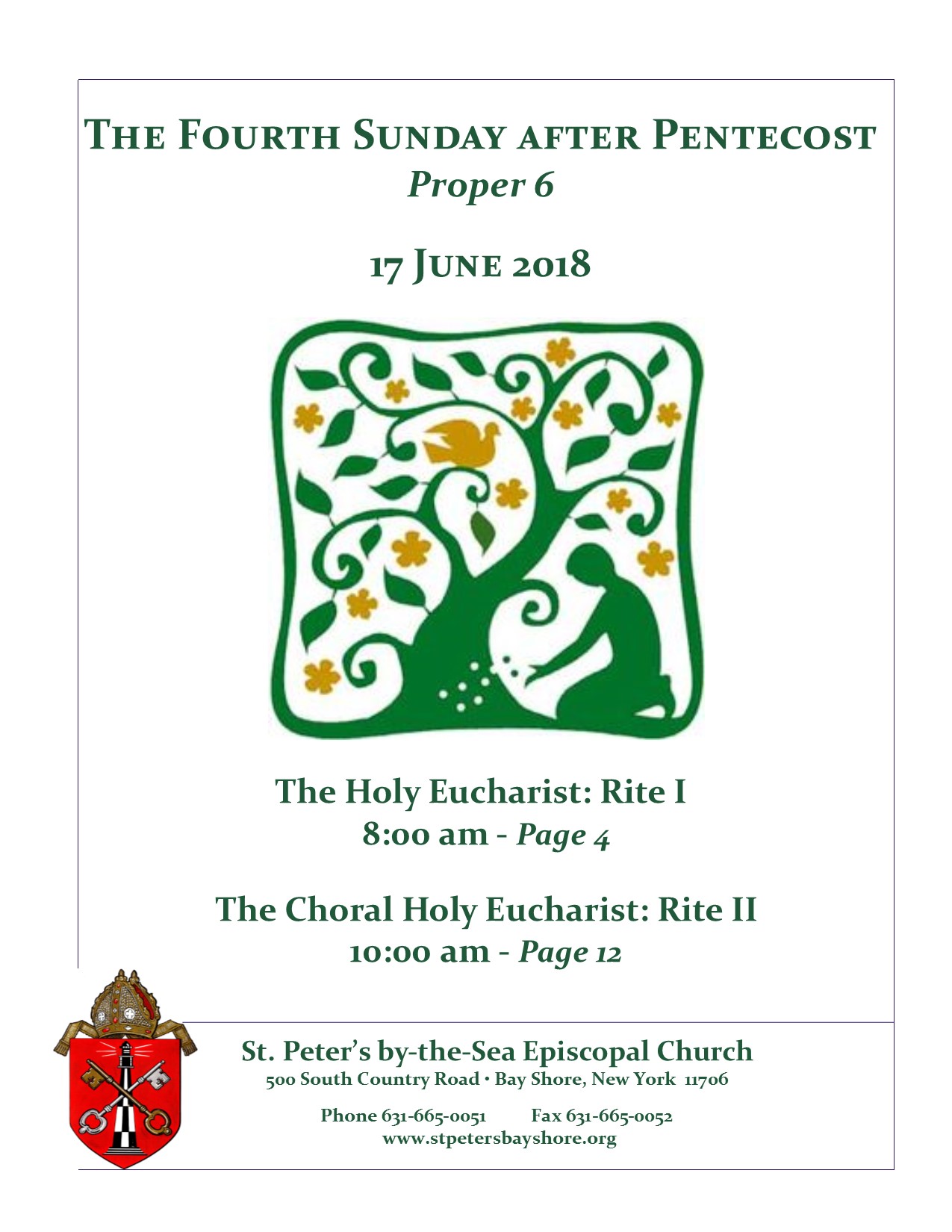 ---
— Parish Notices —
The ECW will have the final luncheon of the season at Tres Palms in Babylon on June 21. If you have not made your reservation yet, it must be made to Linda Brady by June 15!
Items for the Yard Sale are still being received. Don't forget to donate . . . and DO COME to the Parish Yard Sale on Saturday, June 23 from 10am until 3pm.
A Summer Issue of the Parish Newsletter will be issued Soon. Please submit items and pictures of interest to Mark, and remember that mobile phone camera pictures of events as they are happening are most welcome! (Make sure you have the permission of those being photographed before submitting them!)
Thank You for your generous donations to The Food Pantry! Think of us when you do your shopping, and add us to your list!
Sunday Services in June will follow the present schedule - 8am in the Chapel and 10am in the Church. Beginning on July 1, we will move to the summer schedule - one service at 9:30am in the air-conditioned Chapel. The regular service schedule will resume on September 9.
---
---
St. Peter's by-the-Sea: A Glimpse Ahead
JUNE
Thursday, June 21 - ECW Luncheon at Tres Palms, Babylon - 11:30am
Saturday, June 23 - St. Peter's Yard Sale - 10 - 3pm
JULY
Sunday, July 1 - Summer Service Schedule Begins - 9:30am - St. Edmund's Chapel
---
Weekdays:


Bible Study: Tuesdays at 10:30 am

Parish Office is open Monday through Friday 9:30 am until 2 pm.

A warm welcome will greet you at St. Peter's!
St. Peter's by-the-Sea Episcopal Church
500 South Country Road
Bay Shore, NY 11706
Phone: 631-665-0051
Fax: 631-665-0052
Join us on FACEBOOK

www.facebook.com/StPetersbytheSea
www.facebook.com/StPetersBytheseaEarlyChildhoodLearningCenter
https://www.facebook.com/centerforartstpeters
https://www.facebook.com/stpeterstreblechoir/
AND FOLLOW US ON TWITTER
https://twitter.com/stpetersbaysho1