Please click the picture below to see the service booklet.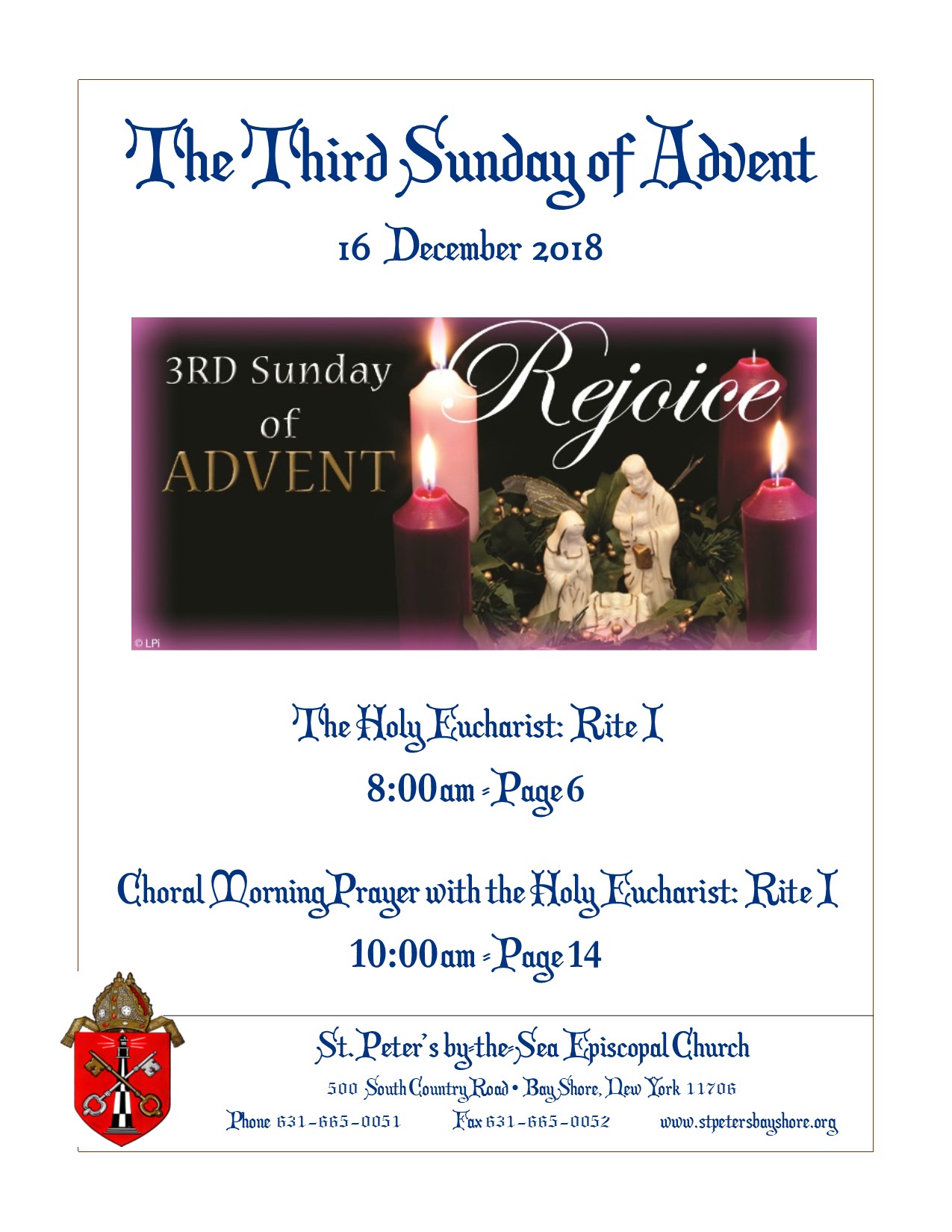 ---
—Parish Notices —
This morning, we will begin the 10am Eucharist with Choral Matins (Morning Prayer), a favorite service for many "Old Timers" Episcopalians! Next Sunday, we will begin with the Sunday School Christmas Pageant. Please note that we will NOT have a Family Service at 4pm on Christmas Eve, and the Festival Christmas Eve Eucharist will begin at 9pm. The full schedule of special services and concerts of the season is listed below.
The Parish Choir and Soloists with Orchestra will present G. F. Handel's "Messiah" This Afternoon, December 16 at 4pm. Suggested donation is $20/$15 students and seniors. All are invited to join us for this revered Christmas musical tradition.
The Ongoing Food Pantry Wish List for this week includes these items: Non-perishable foods that can be opened and eaten, especially cereal, tuna fish, soup beans, mac&cheese, corned beef hash, canned chicken, canned ravioli, spaghetti O's, etc.
The Angel Tree: Wrapped gifts for the Angel Tree should be here today. As always, thanks for your generosity!
Bible Study continues on Sundays between services and on Tuesdays at 10:30am. All are invited!
The Way of Love: As the Episcopal branch of the Jesus Movement, we follow the Way of Jesus. His way is the Way of Love, and that love has the power to change lives and change the world. How will you and your ministry grow more centered in Jesus and share his loving, liberating, life-giving way in the world? Presiding Bishop Michael Curry invites us to join him in THE WAY OF LOVE, Practices for Jesus-Centered Life. Please see pages 30 and 31 of this service book for more information, and more resources at www.episcopalchurch.org/wayoflove
ADVANCE NOTICES: On Sunday, January 6, The Feast of the Epiphany, the 10am service will begin with Lessons and Carols for Epiphany, identical in form to the service last week. This service will provide a "bookend" to the seasons of Advent and Christmas. The ANNUAL PARISH MEETING will be on Sunday, January 20. There will be only one service that day, beginning at 9am in the Church and concluding the meeting in the Parish Hall.
---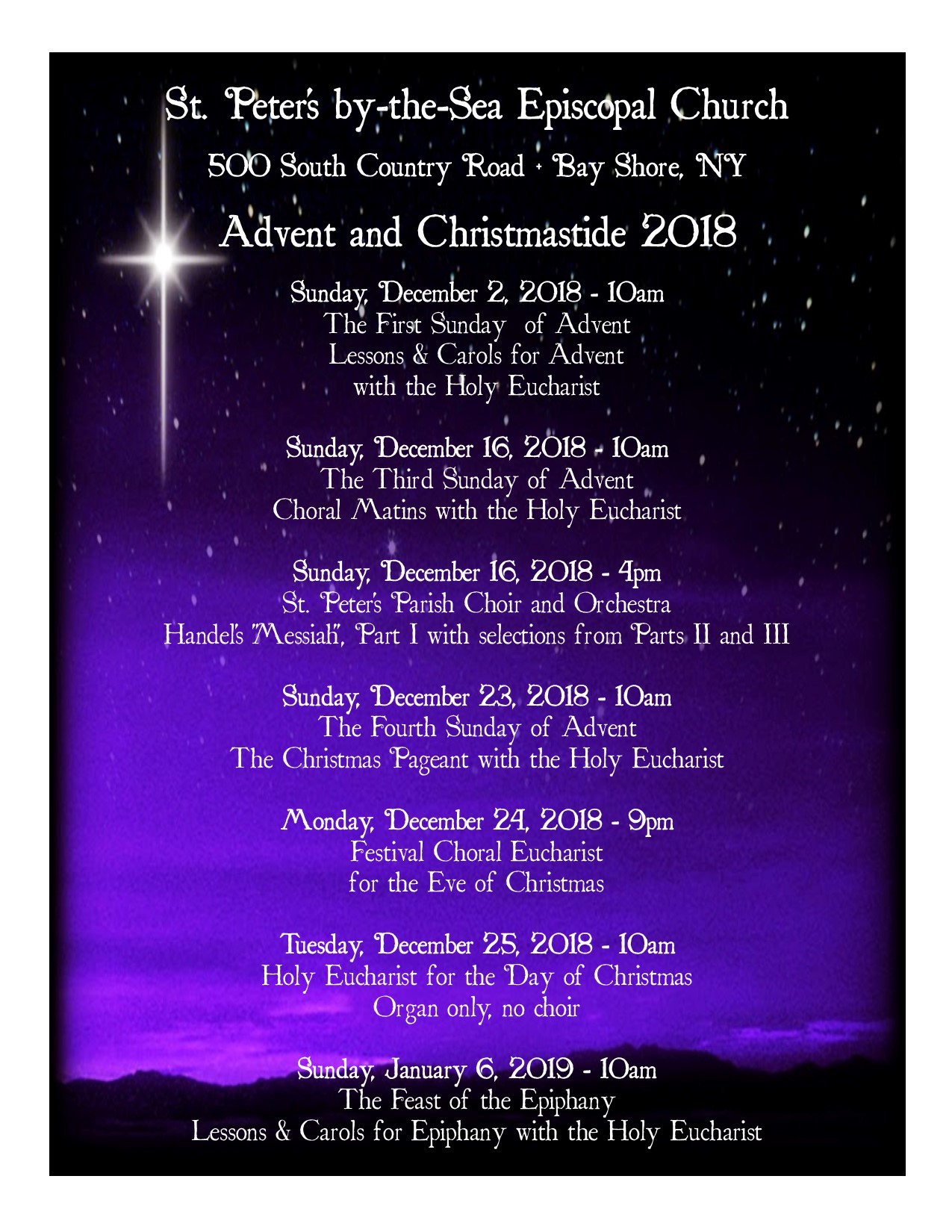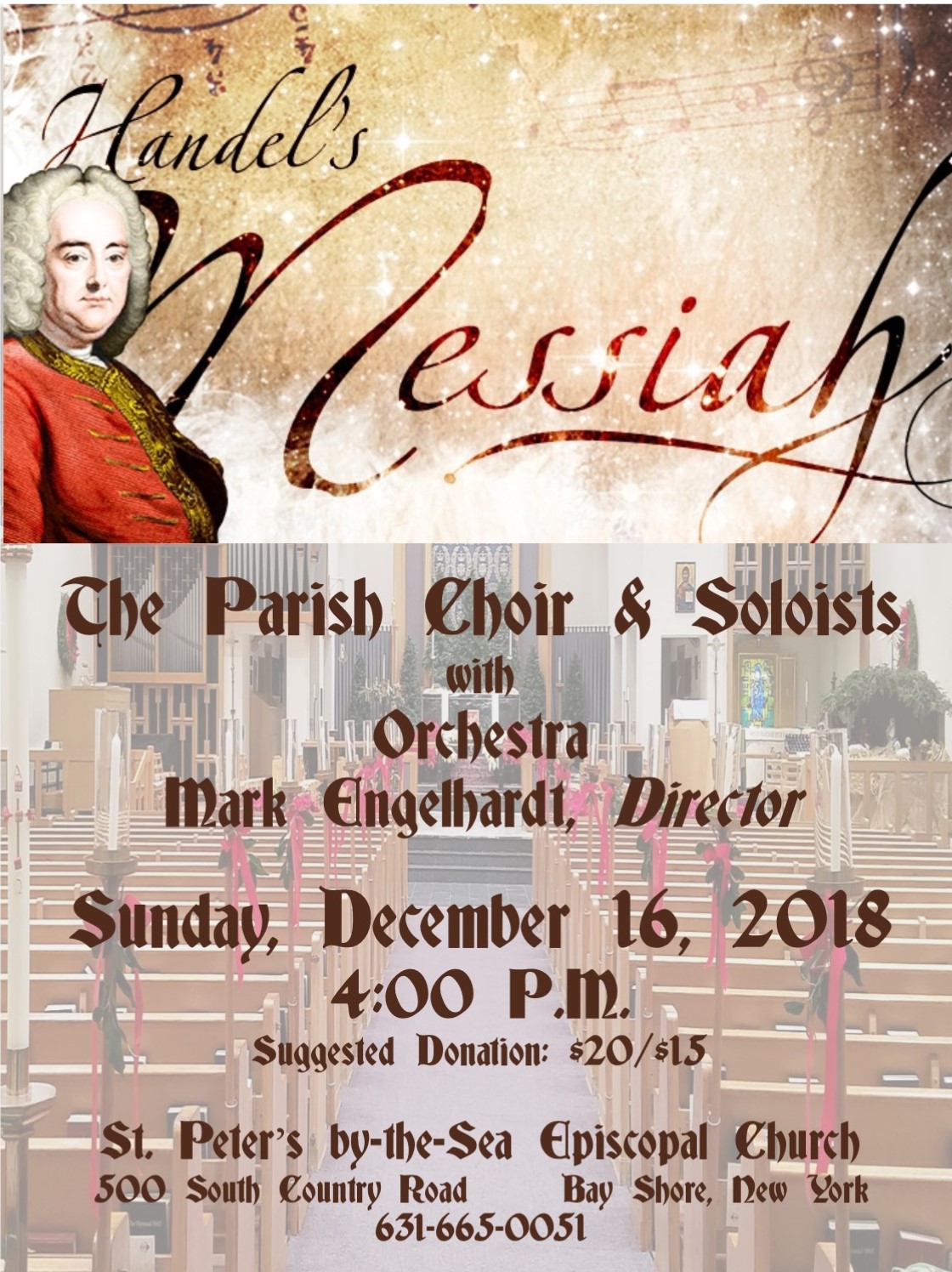 ---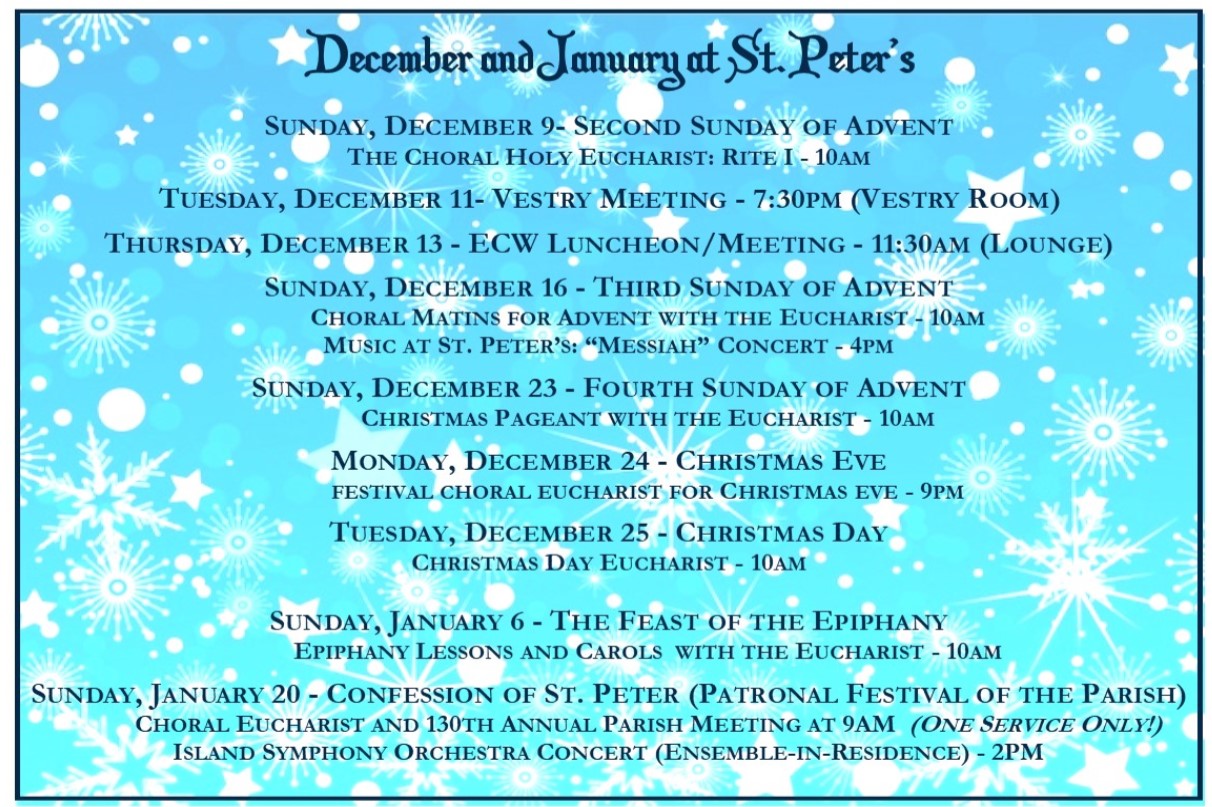 ---
MUSIC AT ST. PETER'S CONCERTS 2018-2019
Click the Picture to see the Brochure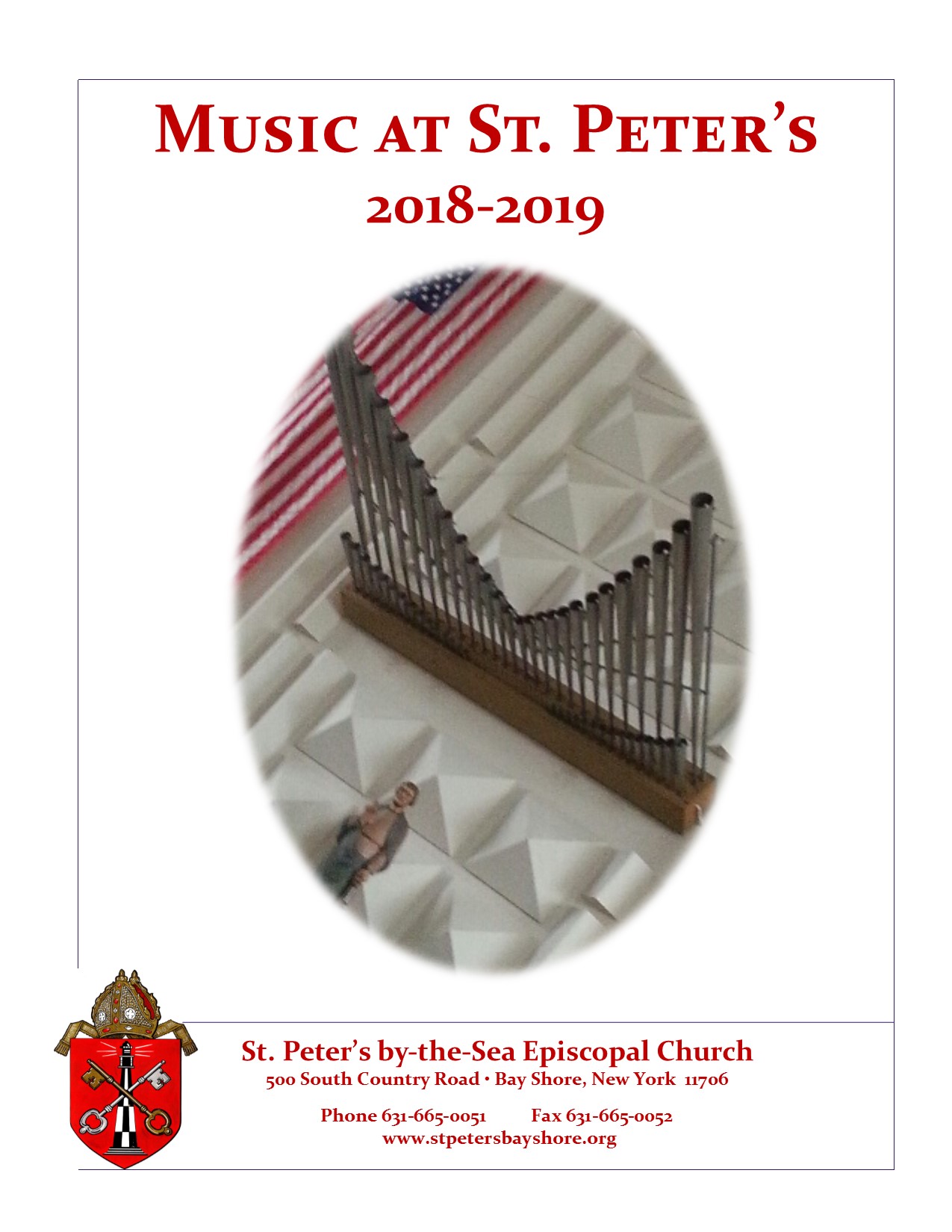 ---
Weekdays:


Bible Study: Tuesdays at 10:30 am

Parish Office is open Monday through Friday 9:30 am until 2 pm.

A warm welcome will greet you at St. Peter's!
St. Peter's by-the-Sea Episcopal Church
500 South Country Road
Bay Shore, NY 11706
Phone: 631-665-0051
Fax: 631-665-0052
Join us on FACEBOOK

www.facebook.com/StPetersbytheSea
www.facebook.com/StPetersBytheseaEarlyChildhoodLearningCenter
https://www.facebook.com/stpeterstreblechoir/
AND FOLLOW US ON TWITTER
https://twitter.com/stpetersbaysho1