Trinity Sunday

June 4, 2023
Click the picture below to see the leaflet for Sunday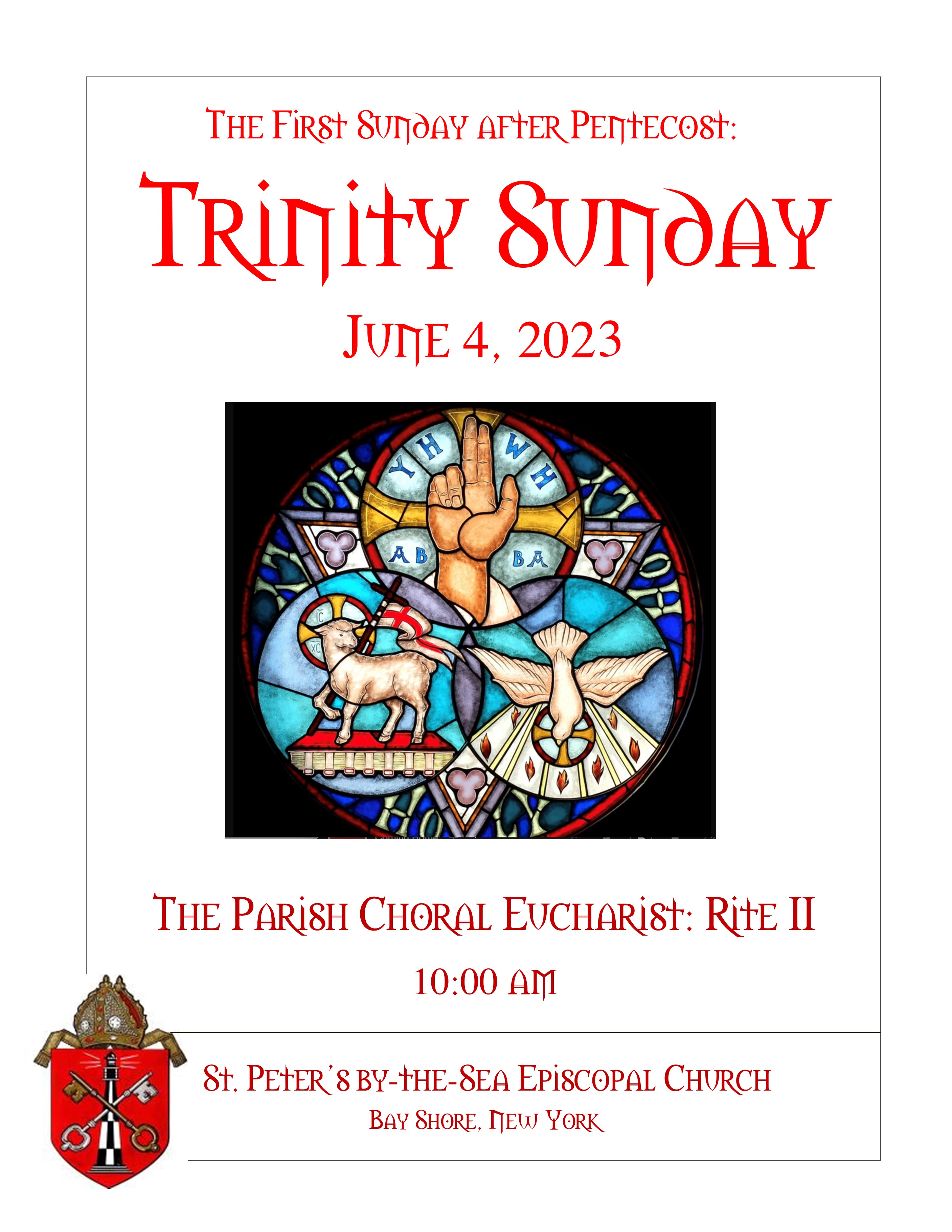 ---
— Parish Notices for June 4 —
The Parish Choir will be on summer holiday beginning next Sunday, and returning on the first Sunday after Labor Day. We wish to thank the dedicated service of our choir members for their outstanding leading of our music during the past year: Jean Gunn, Lynn Hajek, Nancy Maia, Robin Lombardo, Lois Baisley, Sue Peverley, Lee and Jeff Flemming, Rich Scillia, and Carl Struck.

Beginning next Sunday, June 11, our services will move to St. Edmund's Chapel for the summer. Summer services will be at 9AM. Next Sunday, in Mother Doyle's absence, the service will be Morning Prayer, not Holy Communion, Officiated by Susanne Smith.

It's Graduation Time: Eric Marsden, grandson of Jackie Marsden has graduated from SUNY Albany; Will Logan has completed his two year's course of musical theatre conservatory at the American Musical and Dramatic Academy in Manhattan; Brittney jahn, Granddaughter of Linda Ruhl has completed her Master's degree in Early Education at St. Joseph's College in Patchogue. CONGRATULATIONS, ALL!

The Altar Guild will meet today, June 4, in the Lounge beginning at 9am.

You Are Invited: JUNETEENTH JUBILEE Ceremony & Reception "This is my Story. This is my Song." Sunday, June 17 at 1 pm Cathedral of the Incarnation, Garden City. The Episcopal Diocese of Long Island invites you to celebrate Juneteenth, commemorating the end of slavery in the United States. As part of the ceremony, the Diocesan Reparations Committee will present awards to the sixteen students that have been selected as the 2023 Barbara C. Harris Scholars. This is the second year that scholarships will be awarded through the Barbara C. Harris Scholars Program, established last year by the Reparations Committee of the Diocese of Long Island. The event is open to the public, though registration is required. You may do so on the Diocesan website dioceseli.org/reparations.

The Babylon Chorale presents Out of the Darkness – See Your True Colors, a concert of pop, Broadway, and other works by LGBTQ+ composers and artists in recognition of National Pride Month. Saturday, June 10, 2023, at 7:30pm in St. Peter's By-The-Sea Episcopal Church, 500 South Country Rd., Bay Shore, NY . For more information and to purchase advance sale tickets online, go to our website at www.babylonchorale.org or email info@babylonchorale.org

Invite + Welcome + Connect is an intentional ministry to welcome, retain and include newcomers in a parish's ministry. We have a congregational opportunity to help grow St. Peter's ministry together, by attending a workshop with the Reverend Canon Claire Woodley, Canon for Ministry for the Episcopal Diocese of Long Island to be presented at St. Paul's Church in Patchogue on Sunday, June 25, beginning at 10:30am. Any member of our parish family who is interested in attending the workshop is invited to do so. Please let Mother Doyle know of your interest so that reservations may be made for St. Peter's attendees.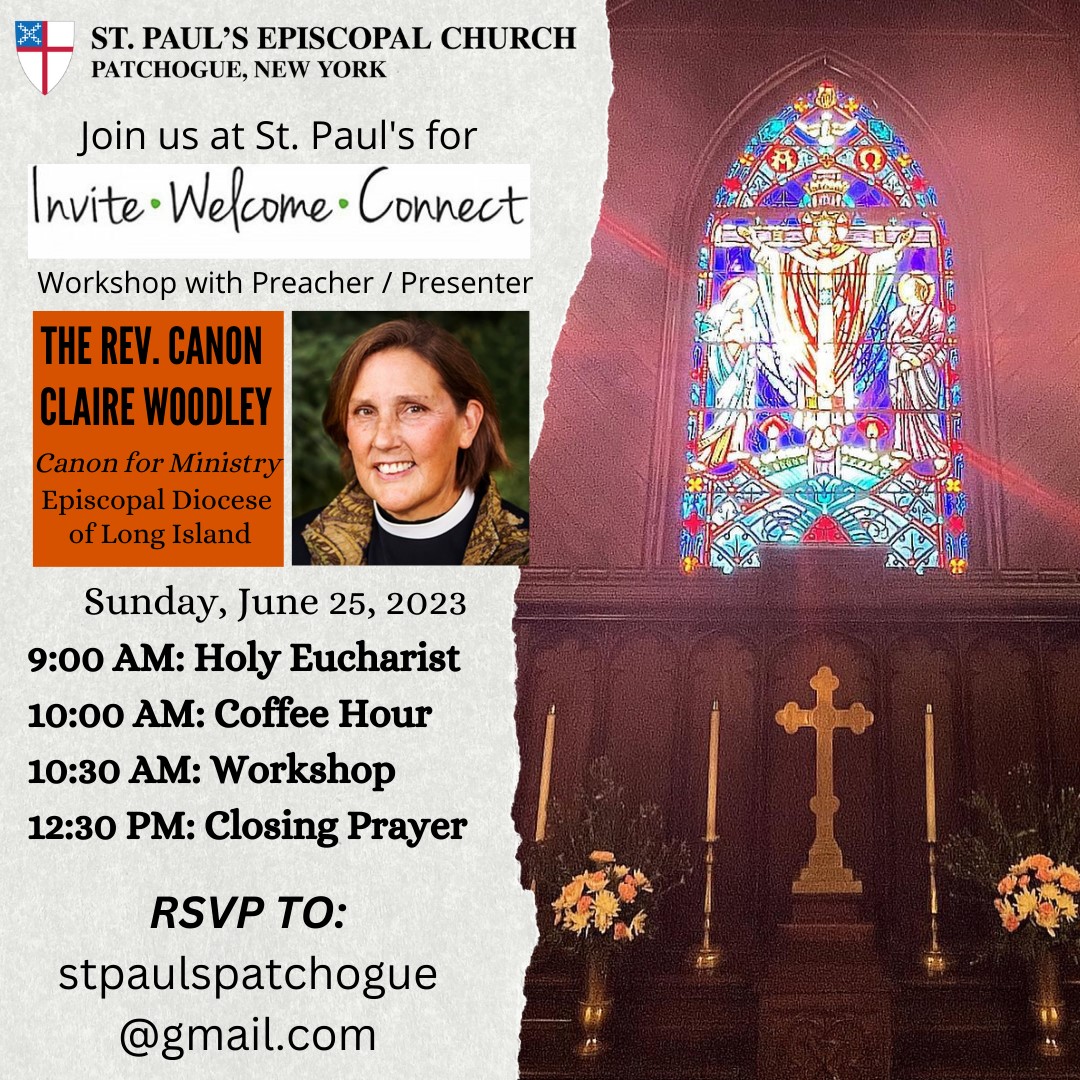 Weekdays:

Parish Office is open Tuesday through Thursday 9:00 am until 1:30 pm.
The Thrift Store is open Fridays and Saturdays from 10am until 2pm.
The Food Pantry is open Saturdays from 11am to 1:30pm.

A warm welcome will greet you at St. Peter's!
St. Peter's by-the-Sea Episcopal Church
500 South Country Road
Bay Shore, NY 11706
Phone: 631-665-0051
Fax: 631-665-0052
Join us on FACEBOOK

www.facebook.com/StPetersbytheSea
https://www.facebook.com/stpetersmusic/
AND FOLLOW US ON TWITTER
https://twitter.com/stpetersbaysho1