The First Sunday of Advent

Year B

November 29, 2020

Click on the picture to read the leaflet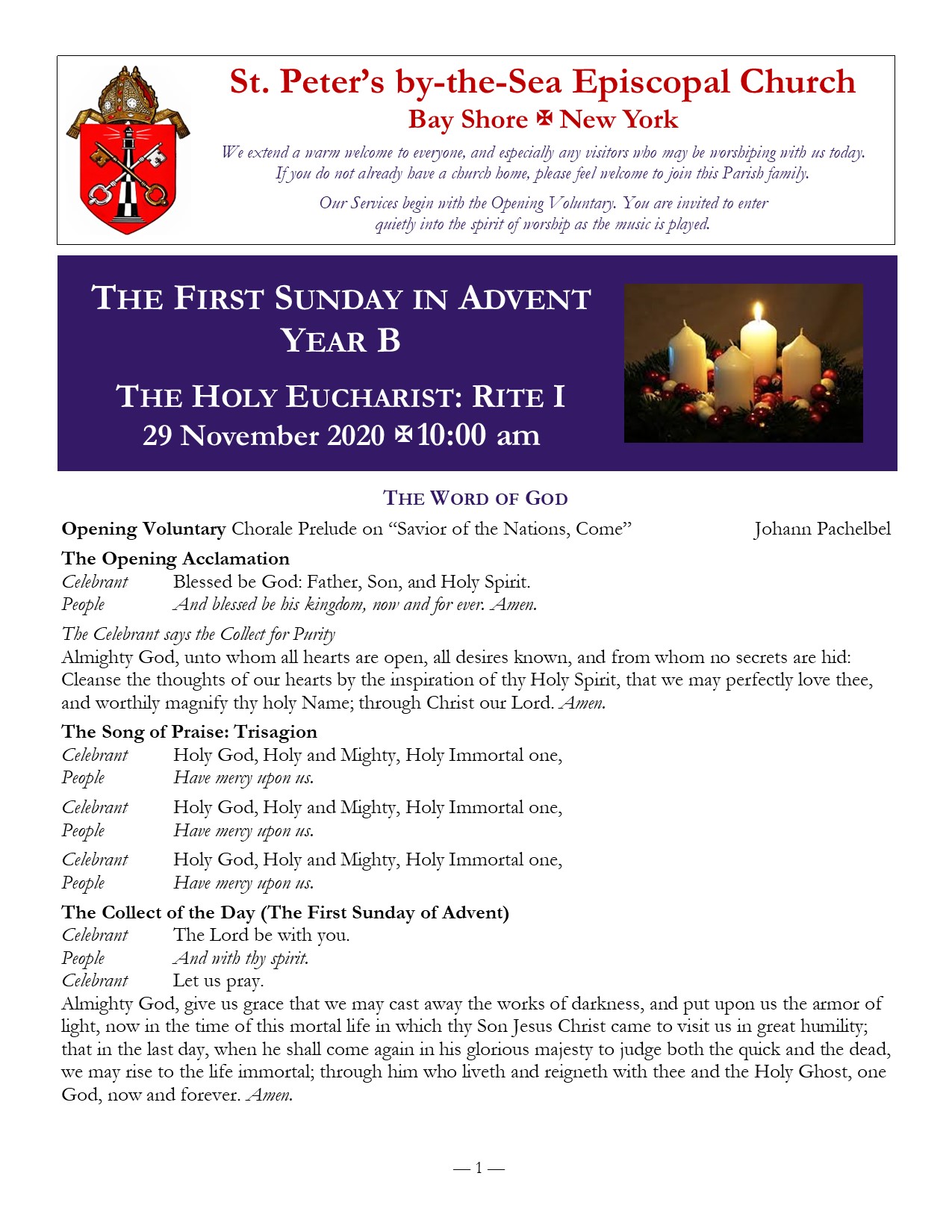 Welcome To St. Peter's!
FOR ALL SERVICES AT ST. PETER'S:

Diocesan and state health guidelines prevail. Please observe the procedures listed below, and as always, thank you for observing these protocols, which is an expression of your care for everyone in the Parish family.
AT THE TIME FOR COMMUNION:
¨ Only the Host (Bread) will be distributed; not wine
¨ Please approach the Altar in SINGLE FILE from the Center aisle only, not the side aisles
¨ Observe Social Distancing in the aisle by using the pew markers for vacant pews
¨ Communicants should sanitize their hands before receiving the host. You may use your own, or a bottle is placed at the head of the aisle
¨ The Host will be placed in the palm of each Communicant, not on the tongue
¨ Please return to your seat, by way of the side aisles
¨ Remove your mask to take the Host, then replace the mask for the remainder of the service
Please also remember, per the mandates of the State of New York and
The Episcopal Diocese of Long Island:
Face Masks are required to be worn by all in attendance at all times.

(We have a supply on hand, if you forgot yours.)
Physical Distancing of 6 feet must be maintained at all times, and pews are marked for that purpose.
Check in upon arrival, and if your name is not in the data base, please provide your NAME, E-MAIL ADDRESS, AND TELEPHONE NUMBER for Contact Tracing.



One-time use paper bulletins are provided, and must be taken away by the user.

Please be sure to take yours with you, and don't leave it behind in the pew or in the Narthex.
Please place your offering in one of the Offering Plates

near the Altar before the service begins. If you came in late, please place it in the plate immediately following the service.
Until further notice, all Day-by-Day booklets and sign-up sheets will be kept in the office. To pick up a tract, or sign up for anything, including memorial flowers, please ask Mark or Brian, or on Sundays, an usher.
---
— PARISH NOTICES —
Please place your offering in one of the Offering Plates near the Altar before the service begins. If you come in late, please place it in the plate immediately following the service.
The Altar Guild will meet NEXT Sunday, December 6, at 9am in the Lounge.
The Angel Tree 2020: Traditionally, we hold the annual ornament workshop at the start of Advent and proudly display our hand-made ornaments which are then printed with first names and Christmas wishes for a child and/or family in need. This year, for safety reasons, we will still be displaying our ornaments but instead have a sign up sheet available by the tree in the narthex so that members of the congregation can "adopt" and shop for a person in need. If you are unable to shop or would like to make a donation so that we can shop for you, please reach out to Anne Perry at 631-894-7806. Please arrange to have all gifts in gift bags labeled and back to the church by 12/20 so they can be safely delivered to those in need. Thank you for all of your support!
Christmas Pageant 2020 (Virtually!) Plans are underway for our first virtual Christmas Pageant! We are working on a safe, creative way to deliver the Gospel and wonderful news of Jesus' birth and are asking for children who are interested in participating with a small part from home to reach out to Anne Perry. The traditional script for our pageant will be shared amongst participants and pre-recorded, and Christmas Carols will be added with the assistance of Mark Engelhardt. Please let us know of your interest in participating by today, the First Sunday of Advent!
Bible Study Continues: Tuesdays at 10:30am in the Lounge and Sundays at 9am in the Lounge. Bring your bible and a mask! All are invited.
In recent times an average of 15% of American households do not have dependable or consistent access to food and healthy living. This is regarded as low food security and has been at its highest level since the mid 90's. If we can help please call St. Peter's Food Ministry 631-665-0051.
The ladies of the Thrift Cottage have asked that no Donations be made until further notice. They are in the midst of reorganizing for an opening at a later date.
St. Peter's is now hosting several Support Groups in addition to Volleyball Clubs and two Soccer Clinics. Our two long-standing AA groups continue to meet on Monday and Friday evenings. New groups now meeting are Al-Anon on Friday mornings at 10am and Sunday evenings at 7pm, and a new support group for heroin addiction, also meeting on Sunday evenings. Please contact Megan via the hotline: 631-210-6297 or www.halongisland.org if interested in joining the HA group. Call the parish office if interested in attending the AA or Al-Anon groups for contact information.
Coping With the Holidays—a Virtual Workshop - For Those Who Have Lost a Loved One Due to COVID-19: Good Shepherd Hospice is offering a free virtual workshop for those who are grieving a loss due to COVID-19. This workshop, which is facilitated by Bereavement Specialists, will offer support, education and strategies to cope with loss of a loved one during the holiday season. The workshop will be Thursday, 12/3/2020, from 7:00PM-8:30PM. To register, please call 631-465-6262 / 516-465-6262. **Zoom and email information required to participate.
Weekdays:

Parish Office is open Monday through Friday 9:30 am until 2 pm.
A warm welcome will greet you at St. Peter's!
St. Peter's by-the-Sea Episcopal Church
500 South Country Road
Bay Shore, NY 11706
Phone: 631-665-0051
Fax: 631-665-0052
Join us on FACEBOOK

www.facebook.com/StPetersbytheSea
https://www.facebook.com/stpetersmusic/
AND FOLLOW US ON TWITTER
https://twitter.com/stpetersbaysho1