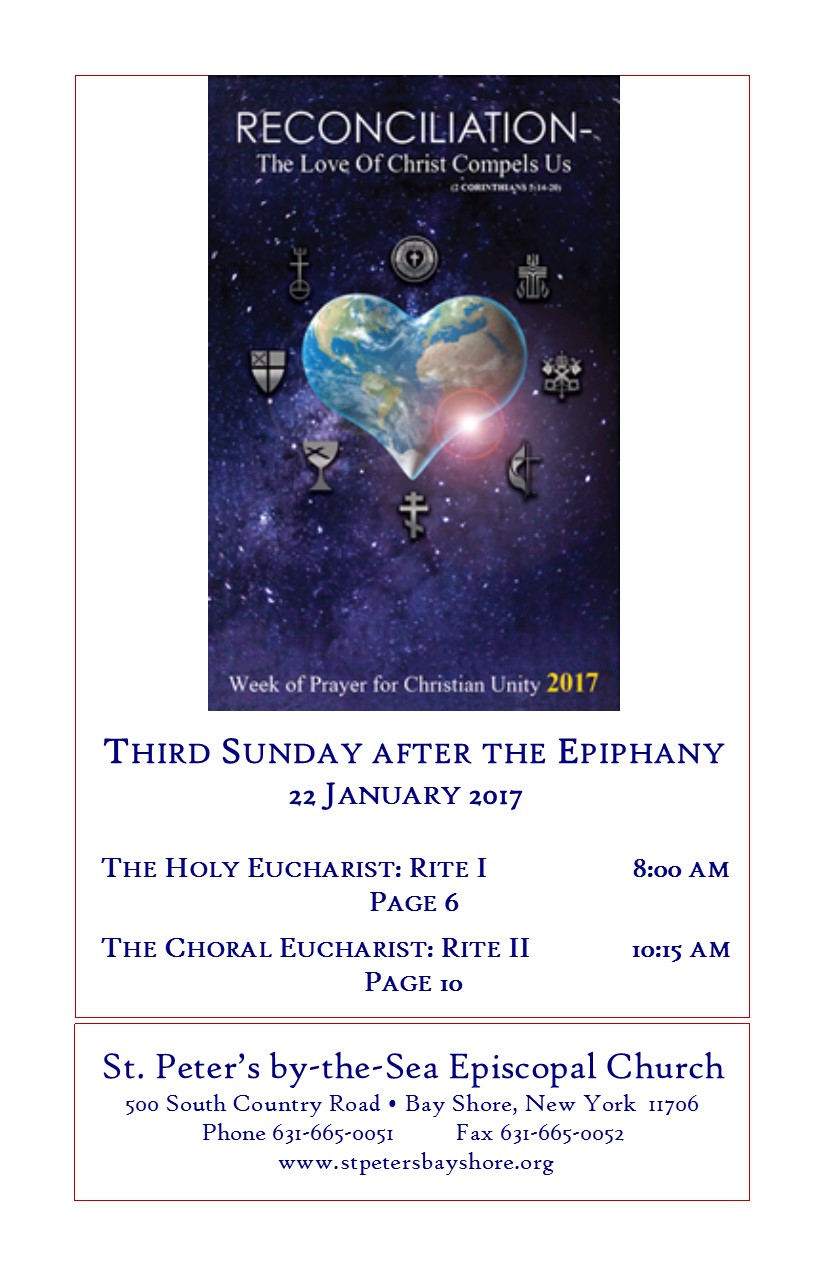 January 22, 2017
The Third Sunday after

Epiphany
Holy Eucharist: Rite I
8:00 am
(St. Edmund's Chapel)
Choral Holy Eucharist: Rite II
10:15 am
(Church)
Click the picture to see the leaflet
The Right Reverend Johncy Itty
Celebrant and Preacher

Mark Engelhardt, Organist and Director of Music
---
Parish Notices for the week of 22 January 2017
The week between January 18th, the Feast of the Confession of St. Peter (our Patronal Festival, incidentally), and January 25th, the Conversion of St. Paul, is observed around the world as the Week of Prayer for Christian Unity. This observance began on St. Peter's Day, June 29, 1900, when Spencer Jones, a Church of England priest, preached a sermon on closer relations with the Church of Rome. Jones urged that sermons be preached on St. Peter's Day emphasizing Rome as the center of unity. Paul James Wattson, an American Episcopal priest, suggested that this week should be a time of prayer for Christian unity. Church Unity Week was first observed in 1908, and later the name was changed to the Church Unity Octave by Wattson. In the 1930s, it was suggested by Abbé Paul Couturier, a Roman Catholic priest in France, that the basis for prayer be broadened to include all who desired unity in Jesus Christ, without reference to the Pope. Since 1966 the Faith and Order Commission of the World Council of Churches and the Vatican Secretariat for Promoting Christian Unity have worked together on common international texts for the Week of Prayer for Christian Unity.


This year, the 500th anniversary of the beginnings of the Reformation, the theme is "Reconciliation: the Love of Christ Compels Us." The Prayers of the People this morning include prayers from the resources for the international observance this year.
The Annual Meeting originally announced for this morning has been postponed. The date and time for the rescheduled meeting will be announced in a few weeks.
There will be another opportunity for Life Screening at St. Peter's on Friday, February 24. Posters are in the narthex.
— Upcoming Events —
Sun, 1/22, 4 pm - George England, Guitar Concert
Sat, 2/18, 5 pm - Mardi Gras Party/Dinner
Sun, 2/19, 4 pm - "Art of Song" Concert
Wed, 3/1 ASH WEDNESDAY
Services at 9 am & 7:30 pm
Sun, 3/5, 4 pm - eVoco Concert
Sat, 3/11, 10 am - Diocesan Altar Guild Service and Meeting
Sun, 3/12, 4 pm - Evensong in Lent
Sun, 3/18, 5 pm - St. Patrick's Day Dinner
---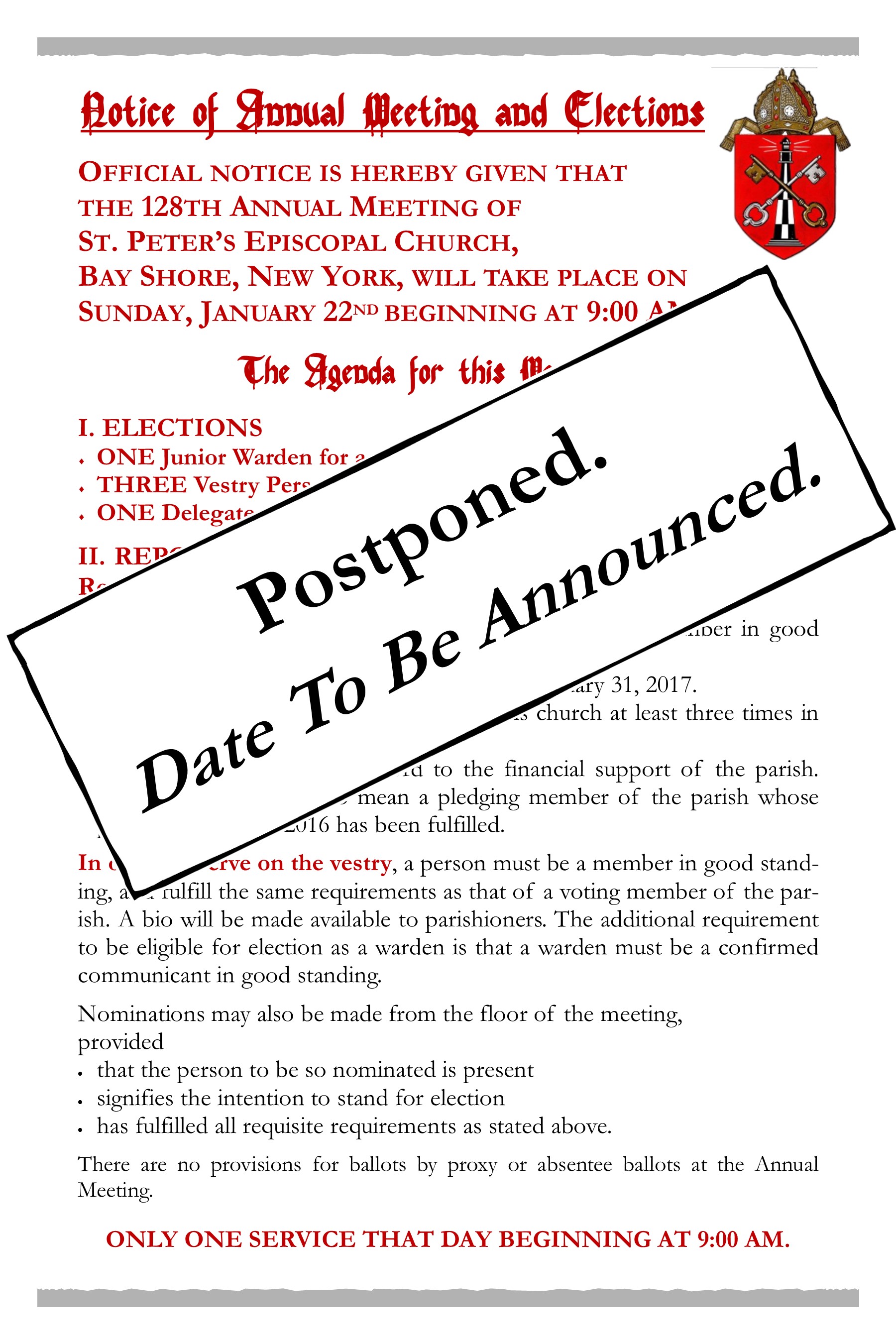 ---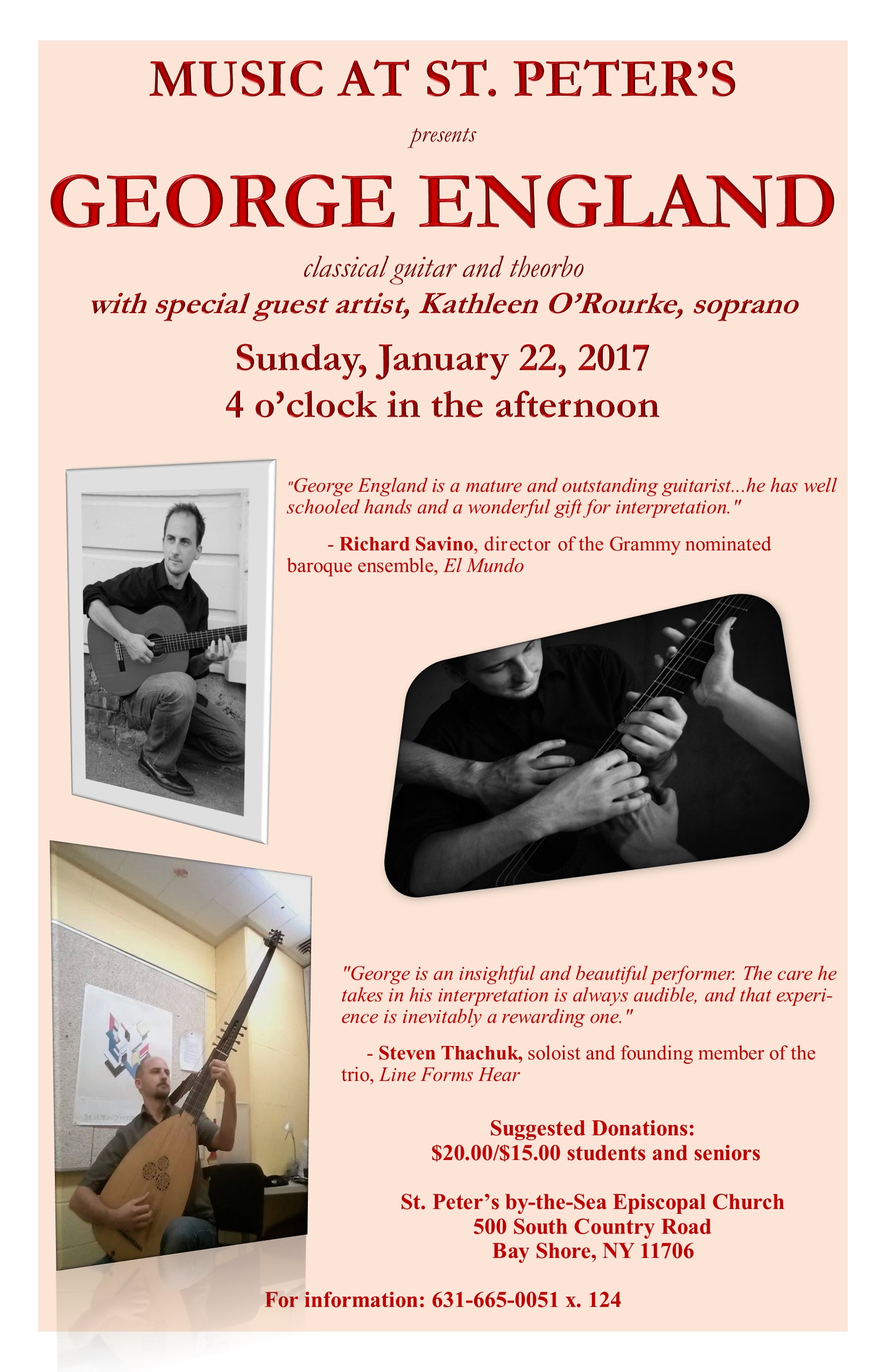 ---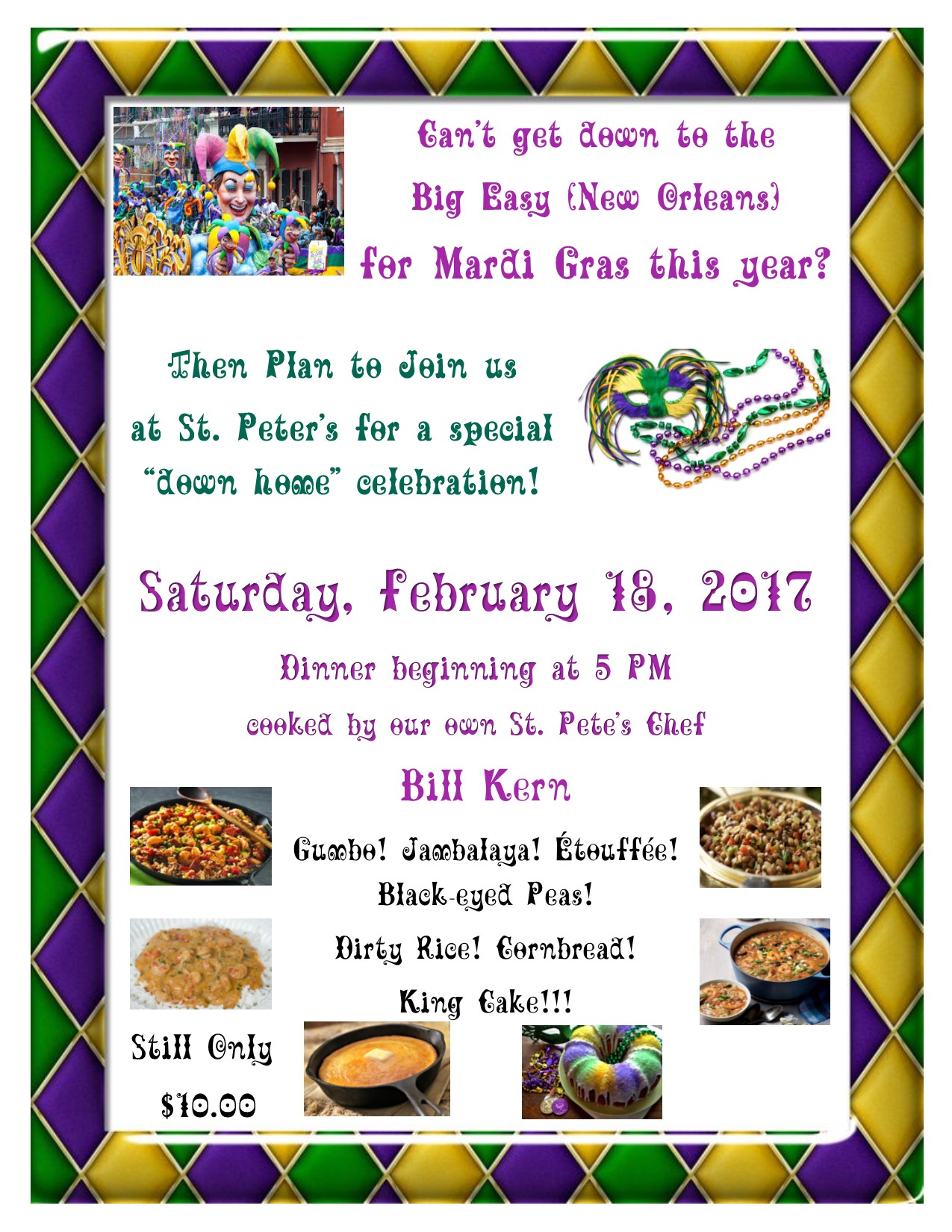 ---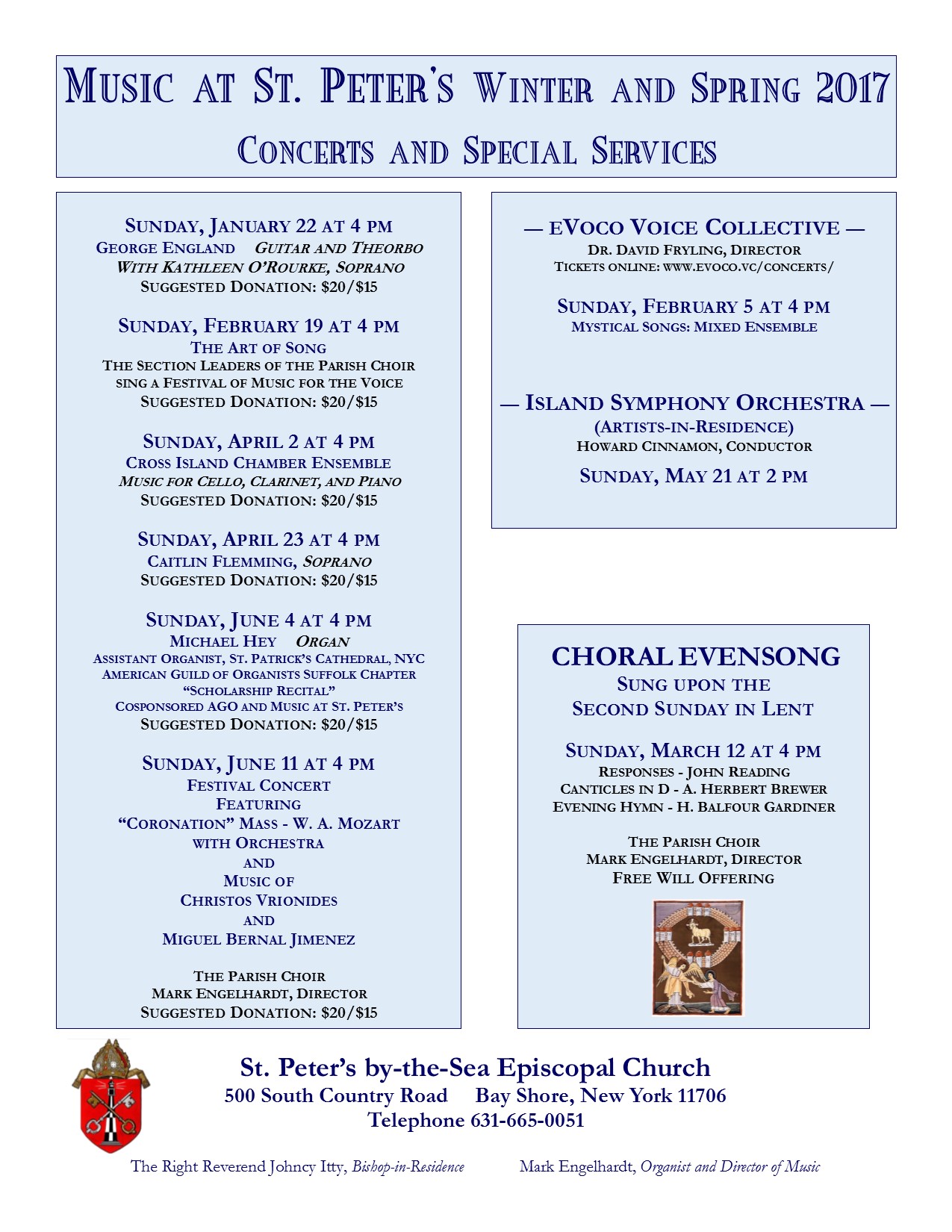 ---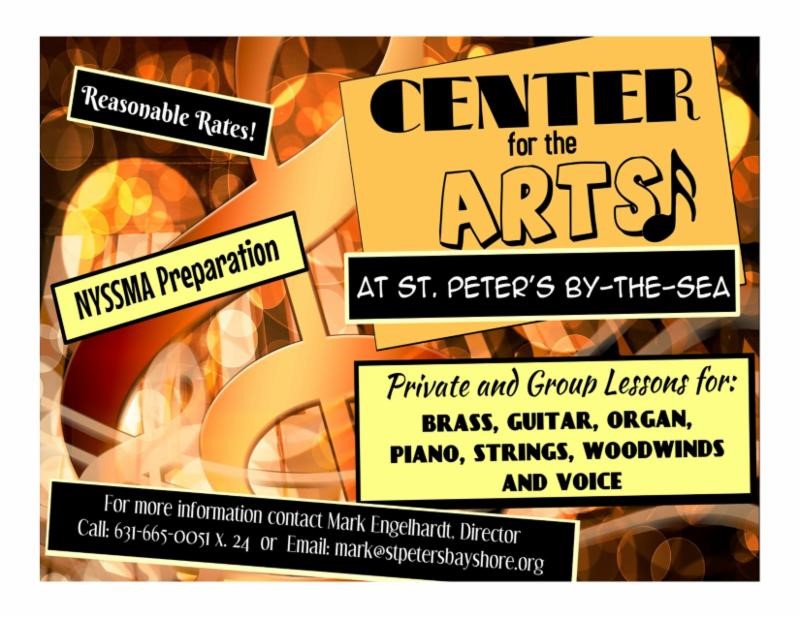 ---
Weekdays:
Morning Prayer is read Monday at 9 am.
Parish Office is open Monday through Thursday 9 am until 2 pm.

A warm welcome will greet you at St. Peter's!
St. Peter's by-the-Sea Episcopal Church
500 South Country Road
Bay Shore, NY 11706
Phone: 631-665-0051
Fax: 631-665-0052
Join us on FACEBOOK

www.facebook.com/StPetersbytheSea
www.facebook.com/StPetersBytheseaEarlyChildhoodLearningCenter
https://www.facebook.com/centerforartstpeters
https://www.facebook.com/stpeterstreblechoir/
AND FOLLOW US ON TWITTER
https://twitter.com/stpetersbaysho1