THE THIRD SUNDAY OF EASTER

Click on the picture below to see the Service Leaflet.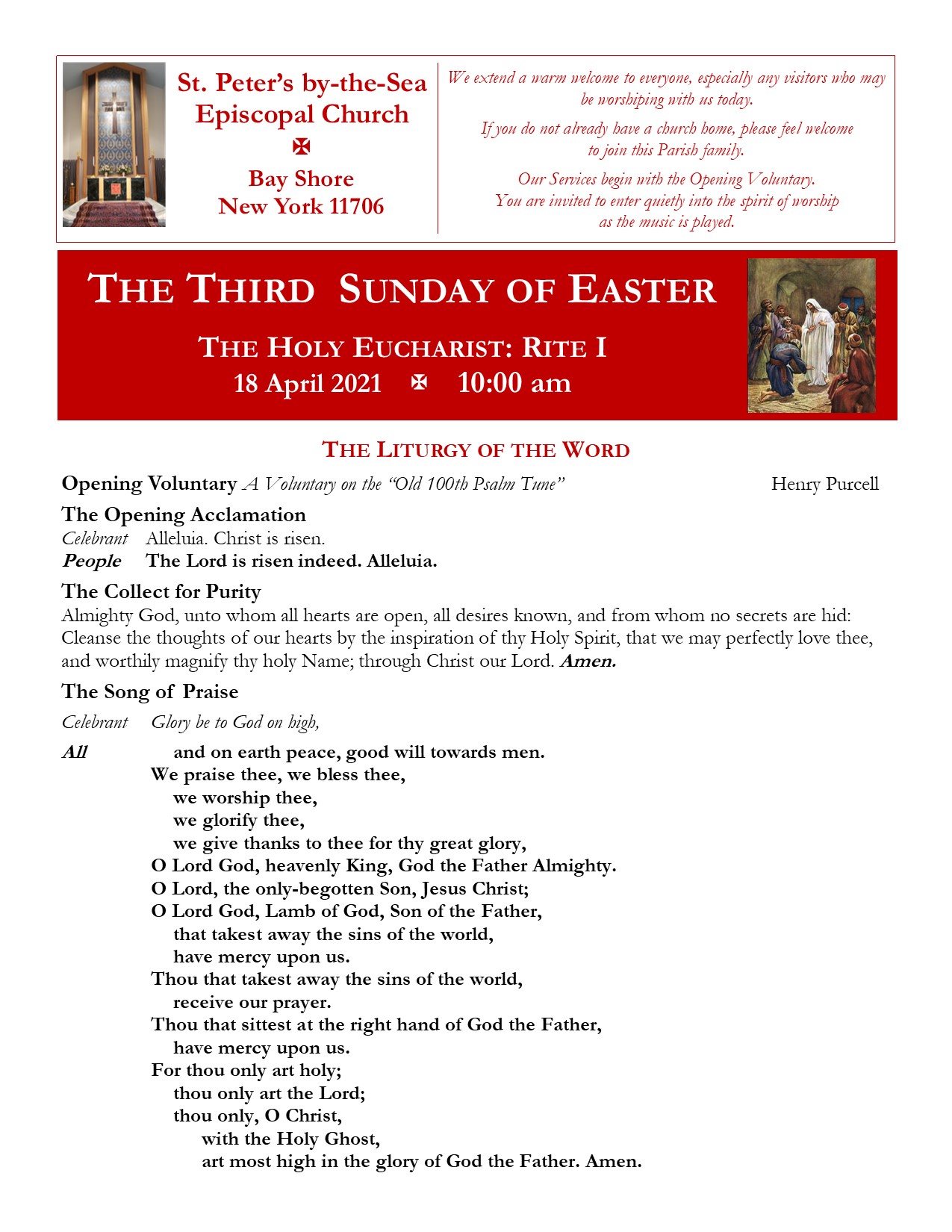 — Parish Notices —
All of the organ voluntaries played today are drawn from the works of English composers of the Baroque period (1600-1750). Henry Purcell (c.1659-1695) is celebrated as one of the finest of the composers from England in any generation. He was a boy chorister in the Chapel Royal and was ultimately organist at Westminster Abbey. Jeremiah Clarke (c.1674-1707) was once organist at St. Paul's Cathedral and later one of the "Gentlemen" (adult singers) of the choir of the Chapel Royal. William Greene (1696-1755) was a boy chorister at St. Paul's Cathedral (under Jeremiah Clarke), became organist at St. Paul's Cathedral and was later organist at the Chapel Royal. All three enjoyed noted reputations not only for their active musical careers but for their compositions in both church and secular worlds.
We are pleased today to welcome to St. Peter's members of the family of former parishioners Nancy and Frank Wellersdieck. Immediately following the service today, the ashes of Nancy and Frank will be interred in the Columbarium. Their family would like to invite any who wish to accompany them in prayer to join the procession.
Bible Study Continues: Tuesdays at 10:30am in the Lounge and Sundays at 9am in the Lounge. Bring your bible and a mask! All are invited.
Our two long-standing AA groups continue to meet on Monday and Friday evenings. We also have meetings for Al-Anon on Friday mornings at 10am and Sunday evenings at 7pm, and a support group for heroin addiction, meeting on Sunday evenings. Please contact Megan via the hotline: 631-210-6297 or www.halongisland.org if interested in joining the HA group.
St. Peter's will again host Life Line Screenings on Tuesday, May 11. Trusted by Hospitals Nationwide, Life Line Screening has now partnered with over 100 hospitals across the country and has conducted 8 million screenings since 1993. The five screenings include Carotid Artery (Plaque); Heart Rhythm (Atrial Fibrillation); Abdominal Aortic Aneurysm; Peripheral Arterial Disease; and Osteoporosis Risk. The Package 1, includes the first 4 tests for $139.00, or if you add Package 2, all 5 tests for $149.00. To register for an appointment and to receive a special $10 discount, please call 1-888-653-6450 or visit www.lifelinescreening.com/community-partners.
Spring has definitely sprung and it's time to prepare and plant in the garden. Please see the flyer for details if you would like to participate in St. Peter's Organic Farm.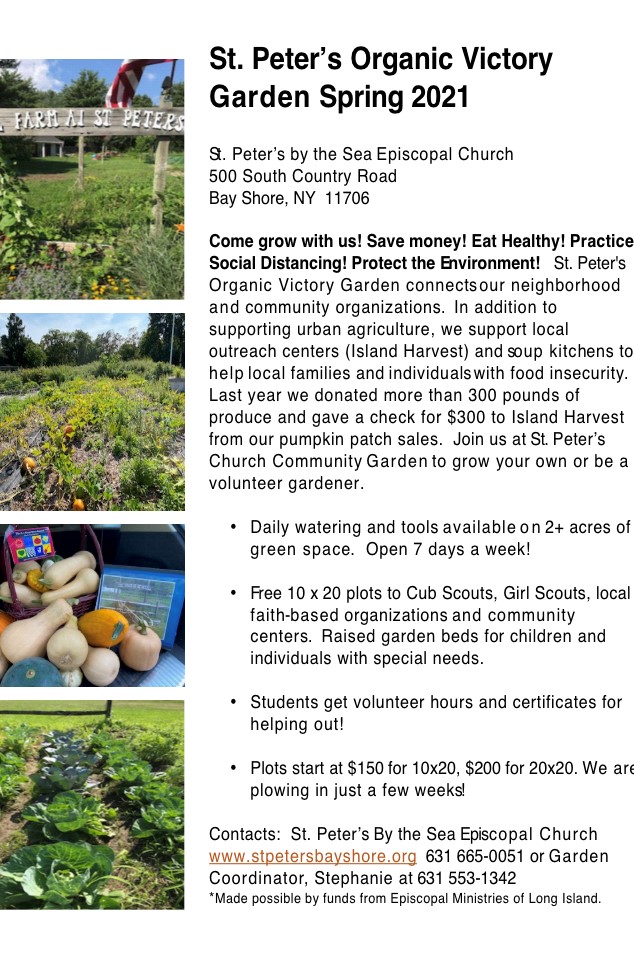 ---
Welcome To St. Peter's!
FOR ALL SERVICES AT ST. PETER'S:

Diocesan and state health guidelines prevail. Please observe the procedures listed below, and as always, thank you for observing these protocols, which is an expression of your care for everyone in the Parish family.
AT THE TIME FOR COMMUNION:
¨ Only the Host (Bread) will be distributed; not wine
¨ Please approach the Altar in SINGLE FILE from the Center aisle only, not the side aisles
¨ Observe Social Distancing in the aisle by using the pew markers for vacant pews
¨ Communicants should sanitize their hands before receiving the host. You may use your own, or a bottle is placed at the head of the aisle
¨ The Host will be placed in the palm of each Communicant, not on the tongue
¨ Please return to your seat, by way of the side aisles
¨ Remove your mask to take the Host, then replace the mask for the remainder of the service
Please also remember, per the mandates of the State of New York and
The Episcopal Diocese of Long Island:
Face Masks are required to be worn by all in attendance at all times.

(We have a supply on hand, if you forgot yours.)
Physical Distancing of 6 feet must be maintained at all times, and pews are marked for that purpose.
Check in upon arrival, and if your name is not in the data base, please provide your NAME, E-MAIL ADDRESS, AND TELEPHONE NUMBER for Contact Tracing.



One-time use paper bulletins are provided, and must be taken away by the user.

Please be sure to take yours with you, and don't leave it behind in the pew or in the Narthex.
Please place your offering in one of the Offering Plates

near the Altar before the service begins. If you came in late, please place it in the plate immediately following the service.
Until further notice, all Day-by-Day booklets and sign-up sheets will be kept in the office. To pick up a tract, or sign up for anything, including memorial flowers, please ask Mark or Brian, or on Sundays, an usher.
Weekdays:

Parish Office is open Monday through Friday 9:30 am until 2 pm.
A warm welcome will greet you at St. Peter's!
St. Peter's by-the-Sea Episcopal Church
500 South Country Road
Bay Shore, NY 11706
Phone: 631-665-0051
Fax: 631-665-0052
Join us on FACEBOOK

www.facebook.com/StPetersbytheSea
https://www.facebook.com/stpetersmusic/
AND FOLLOW US ON TWITTER
https://twitter.com/stpetersbaysho1