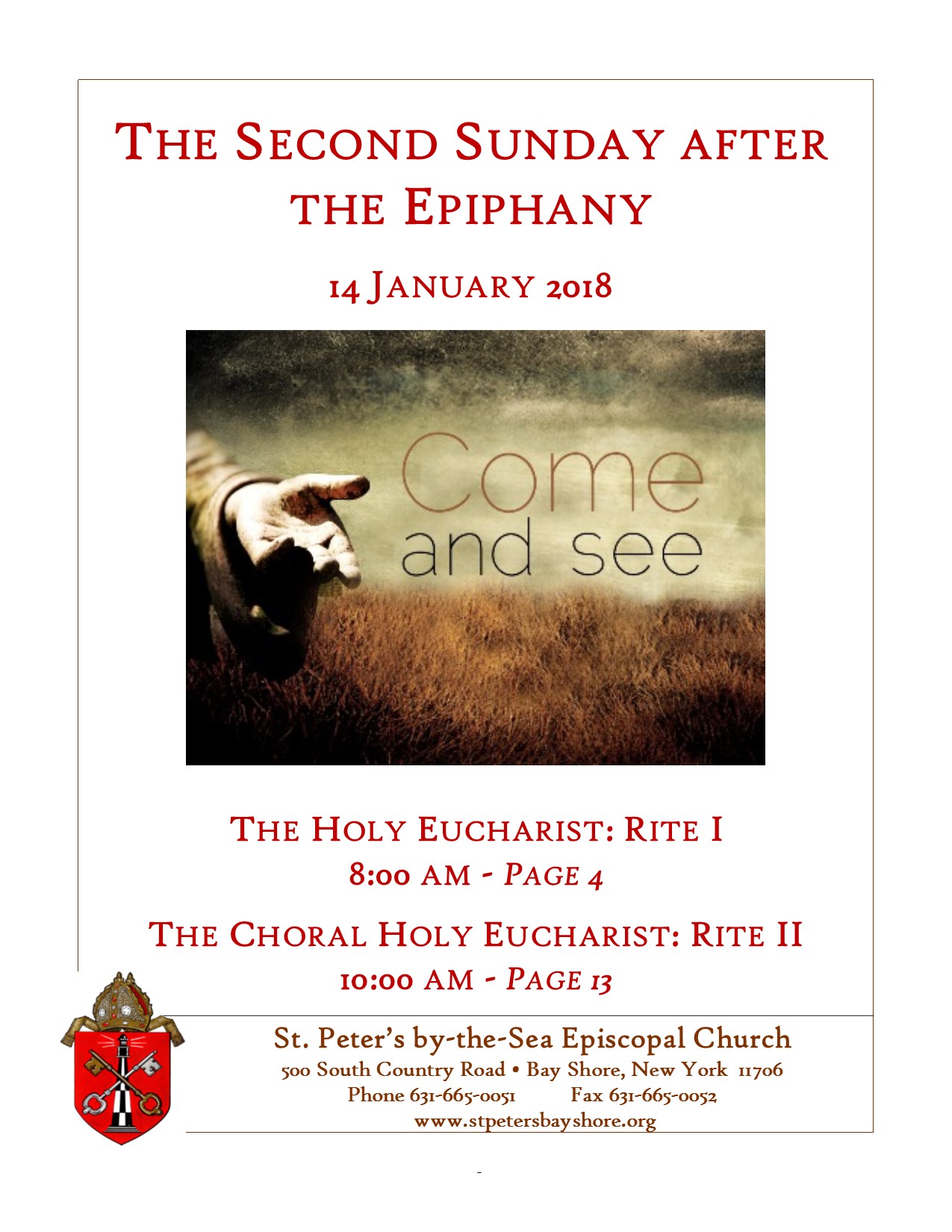 ---
— Parish Notices —
NEXT SUNDAY, January 21 Patronal Festival and ANNUAL PARISH MEETING —
9:00 am Choral Holy Eucharist and Meeting (Annual Reports are due today, Sunday, January 14.)
TOMORROW, January 15 is Martin Luther King Day. The Parish Preschool and Offices will be closed for the holiday.
DURING THE EPIPHANY SEASON this year, we will experience some of the best of the music of the African American tradition in both anthems and hymns at the Choral Eucharist each Sunday. While Spirituals and hymns in a more "gospel" style may seem an odd mix in Episcopal liturgy, this music often reaches into places in the soul not easily touched. We will also be singing the "Service for St. Peter's" which was commissioned by our parish a few years ago. David Hurd, an African American composer, is a one of the most widely-recognized concert organists, composers of sacred music, and church musicians in the United States. He presently serves as Organist and Master of the Choir at St. Mary the Virgin Episcopal Church in Manhattan.
TWO EVENTS IN THE DEANERY to note:
At Christ Church, Babylon, January 20th, 7pm: Paint Night with Dara, $40 per painter. Proceeds contribute to 150th anniversary celebration. Call 631-661-5757 to make a reservation. See poster in Narthex.
AT St. Mark's, Islip: "Bullies, Gangs, Violence. . . What can we do about it? A workshop series for Jr. High and Sr. High Youth. A four-session workshop on the four Saturdays in February from 9am - 1pm. Call 631-581-4950 to register. A poster is on the bulletin board in the Narthex.
---
Weekdays:


Bible Study: Tuesdays at 10:30 am

Parish Office is open Monday through Thursday 9:30 am until 2 pm.

A warm welcome will greet you at St. Peter's!
St. Peter's by-the-Sea Episcopal Church
500 South Country Road
Bay Shore, NY 11706
Phone: 631-665-0051
Fax: 631-665-0052
Join us on FACEBOOK

www.facebook.com/StPetersbytheSea
www.facebook.com/StPetersBytheseaEarlyChildhoodLearningCenter
https://www.facebook.com/centerforartstpeters
https://www.facebook.com/stpeterstreblechoir/
AND FOLLOW US ON TWITTER
https://twitter.com/stpetersbaysho1