Sunday, January 23, 2022
The Third Sunday after Epiphany
Annual Meeting this Sunday beginning at 10am
As in the past, the meeting will be called to Order and the Polls opened,
then adjourned for the Liturgy. We will reconvene in the church following the service.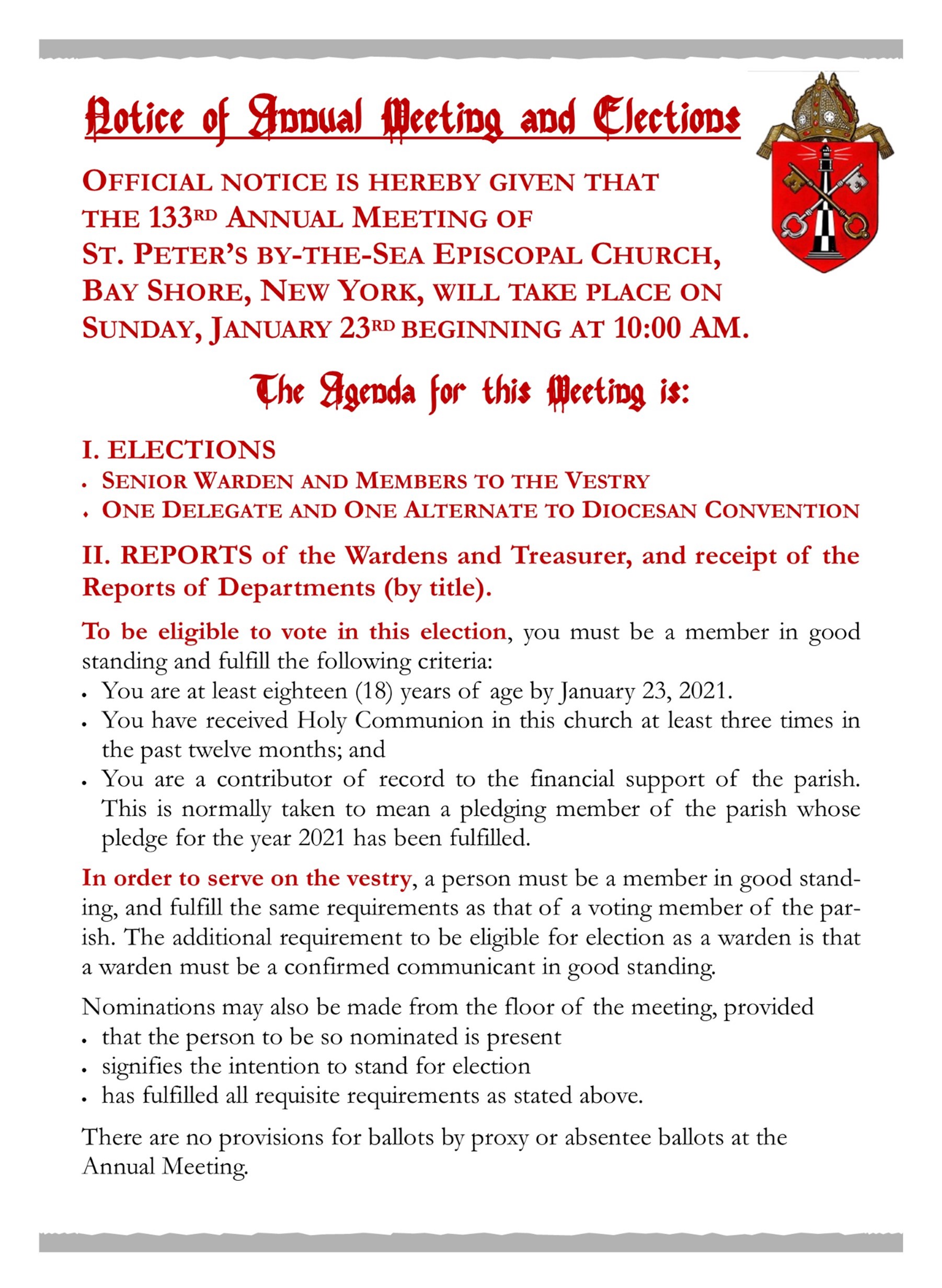 Click the picture below to see the Service Leaflet for this Sunday.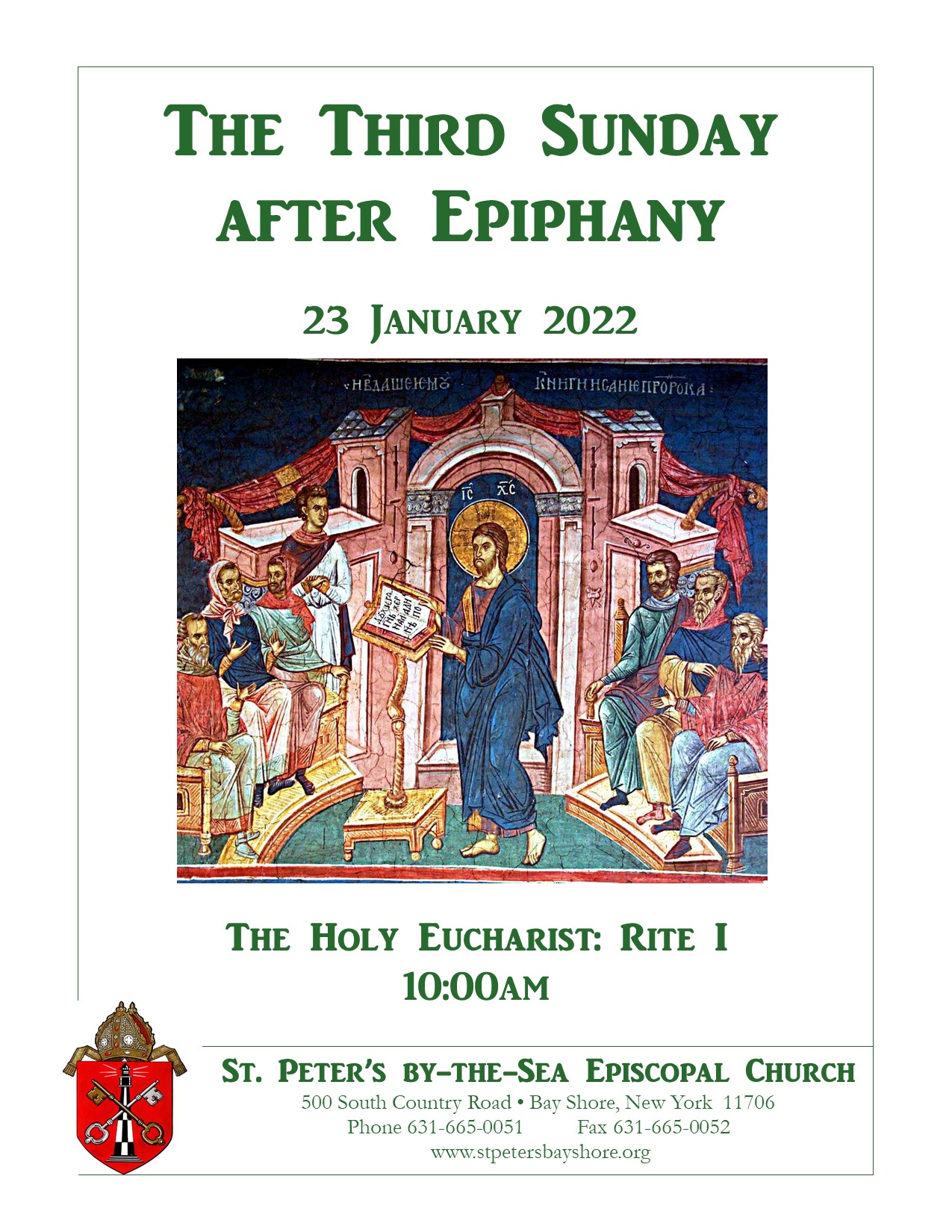 — Parish Notices —
Bible Study is Back on Schedule: Tuesdays at 10:30am and Sundays at 9am; in the Lounge, and all are invited!
Due to the present trend of spiking cases of Covid-19, the members of the parish choir have reluctantly elected to suspend singing until it seems safer. This is especially appropriate given the high risk of the spread of the virus through choral singing which requires time in rehearsal as well as in service. We hope to be back soon!
Bishop Rodney Michel, former Rector of St. Peter's Church, and retired Bishop Suffragan of the Diocese of Long Island is now receiving therapy in a rehabilitation center. Please pray that he may soon be restored to good health. Those wishing to send cards and notes to Bishop Michel may send to him at: Lorien Health Services, 6334 Cedar Lane, Room 204, Columbia, MD 21044.
---
Welcome To St. Peter's!
FOR ALL SERVICES AT ST. PETER'S:

Diocesan and state health guidelines prevail. Please observe the procedures listed below, and as always, thank you for observing these protocols, which is an expression of your care for everyone in the Parish family.
AT THE TIME FOR COMMUNION:
¨ Only the Host (Bread) will be distributed; not wine
¨ Please approach the Altar in SINGLE FILE from the Center aisle only, not the side aisles
¨ Communicants should sanitize their hands before receiving the host. You may use your own, or a bottle is placed at the head of the aisle
¨ The Host will be placed in the palm of each Communicant, not on the tongue
¨ Please return to your seat, by way of the side aisles
¨ Remove your mask to take the Host, then replace the mask for the remainder of the service
Please also remember, per the mandates of the State of New York and
The Episcopal Diocese of Long Island:
Face Masks are required to be worn by all in attendance at all times.

(We have a supply on hand, if you forgot yours.)
One-time use paper bulletins are provided, and must be taken away by the user.

Please be sure to take yours with you, and don't leave it behind in the pew or in the Narthex.
Please place your offering in one of the Offering Plates at the rear of the nave

before the service begins. If you came in late, please place it in the plate immediately following the service.
Weekdays:

Parish Office is open Monday through Friday 9:30 am until 2 pm.
A warm welcome will greet you at St. Peter's!
St. Peter's by-the-Sea Episcopal Church
500 South Country Road
Bay Shore, NY 11706
Phone: 631-665-0051
Fax: 631-665-0052
Join us on FACEBOOK

www.facebook.com/StPetersbytheSea
https://www.facebook.com/stpetersmusic/
AND FOLLOW US ON TWITTER
https://twitter.com/stpetersbaysho1