The First Sunday of Advent
Year A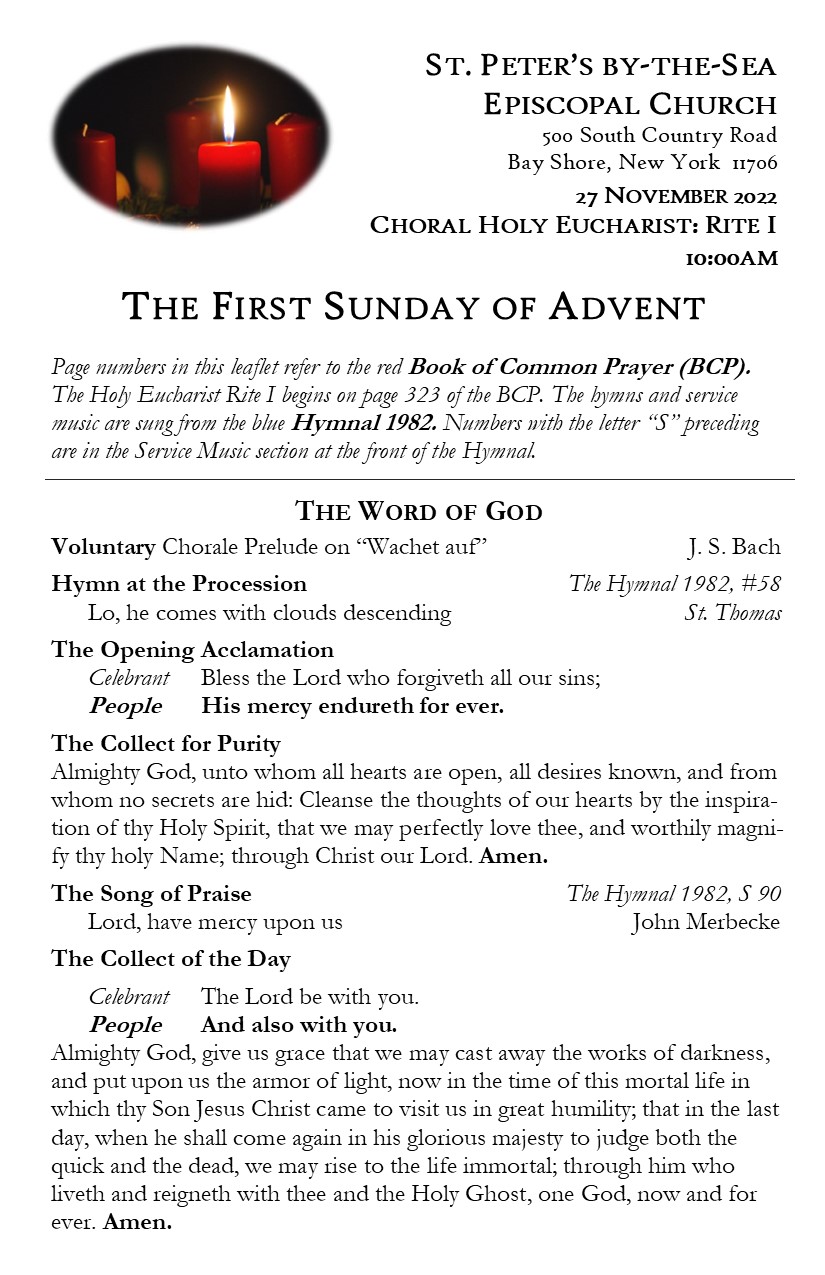 ---
— Parish Notices —

Today is the First Sunday of Advent, the beginning of a new Liturgical Year. In the three year cycle of lessons read on Sundays, we begin anew with Year A. The season of Advent provides four weeks of preparation for the celebration of Christmas. It is marked with a change of the liturgical color to purple, reminding us to repent, but purple is also the ancient color of kings, reminding us of the kingship of Our Lord. Another marker for the season is the Advent Wreath. During these brief four weeks, we sing some of the most beautiful hymns of our tradition. On December 11, The Third Sunday of Advent, The Parish Choir will lead us in a special observance of Advent with a shortened version of Lessons and Carols sung as the Liturgy of the Word in our 10am Eucharist. Following the service, we will have the "Greening of the Church." The traditional "Christmas Pageant" will be presented as the Liturgy of the Word on Sunday morning, December 18.
The Next Altar Guild meeting will be at 9am NEXT Sunday, December 4 in the Lounge.

Bible Study continues on Tuesdays at 10:30am. Sunday Bible study begins at 9am. All are invited!

The ECW Christmas Luncheon will be on Tuesday, 13 December, 12:30pm in the Lounge. A catered hot buffet luncheon will be served at a cost of $25.00 per person. Reservations are a must and may be made by calling Linda Brady at 631-665-8330 before 9 December. Guests may participate in a Christmas Grab-Bag with a $5.00 limit. Join us for fun and fellowship — all women of the parish are invited.

The ECW is reviving an old custom — "Socks for Saints." A collection box placed in the narthex is for socks plus hats, gloves and mittens for men, women, and children. Items will be collected until Christmas and will benefit the needy in our community. All items must be new. Thank you for your generous donations!

From the Sunday School Ministry . . . Our Angel Tree will be up starting this Sunday! We are in the process of gathering names of individuals and families in need of extra Christmas joy this season. This year we will be collaborating with New Hour, a non-profit based on the grounds of St. Joseph in Brentwood. New Hour assists women and families whose lives have been impacted by incarceration and the justice system.https://www.newhourli.org/about-us Please feel free to take an ornament with a first name and a wish list on it and shop for your individual in need. We ask that you return all items clearly marked and wrapped to St Peter's by the 10am service Dec 18th. They will then be delivered to New Hour so they can disperse them to families at their annual Christmas party. We thank you and we appreciate all your support!

Adult Children of Alcoholics (ACA) now meets on Tuesdays in the Lounge at 7pm. For additional information, please call the church office at 631-665-0051 ext. 157.

Out of the Darkness . . . Into the Light. Babylon Chorale will sing the first concert of their 2022-2023 season at St. Peter's on Sunday, December 4 at 4pm. Advance tickets are available on their website for $20/General Admission; $12/Seniors and Students; and $10 for children under 10.
---
Welcome To St. Peter's!
Weekdays:

Parish Office is openTuesday through Thursday 9:00 am until 2 pm.
The Thrift Store is open Fridays and Saturdays from 10am until 2pm.
The Food Pantry is open Saturdays from 11am to 1:30pm.

A warm welcome will greet you at St. Peter's!
St. Peter's by-the-Sea Episcopal Church
500 South Country Road
Bay Shore, NY 11706
Phone: 631-665-0051
Fax: 631-665-0052
Join us on FACEBOOK

www.facebook.com/StPetersbytheSea
https://www.facebook.com/stpetersmusic/
AND FOLLOW US ON TWITTER
https://twitter.com/stpetersbaysho1