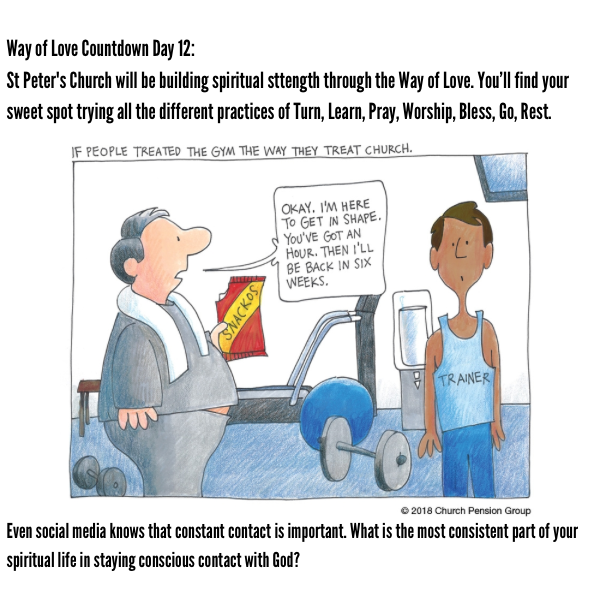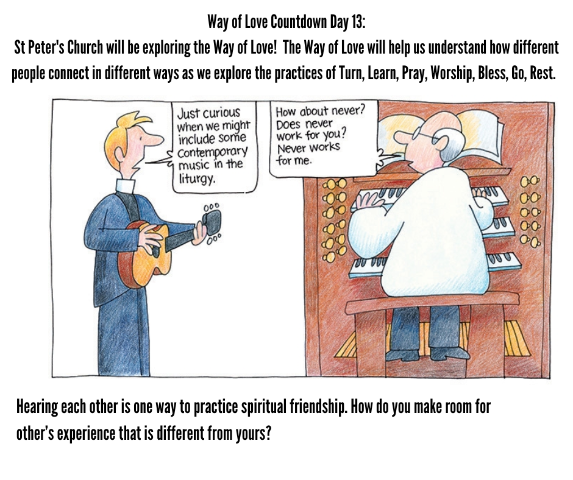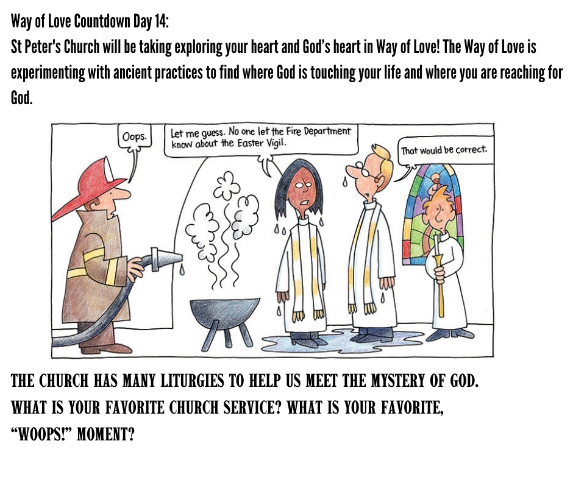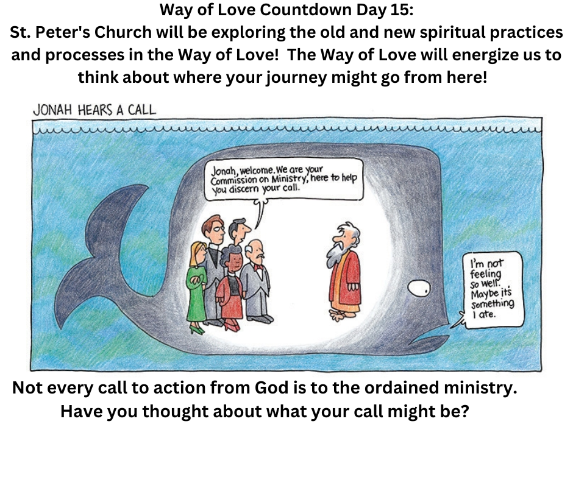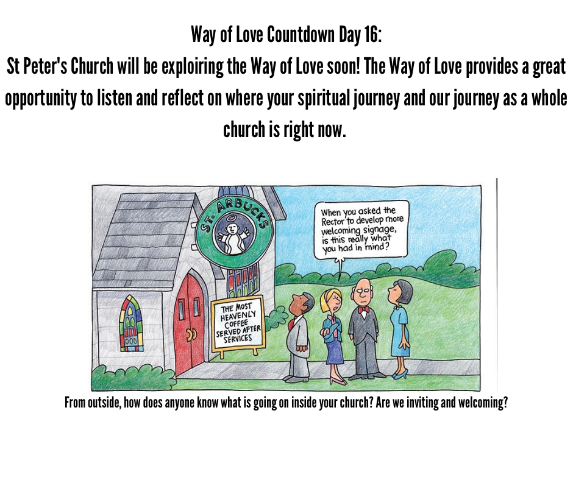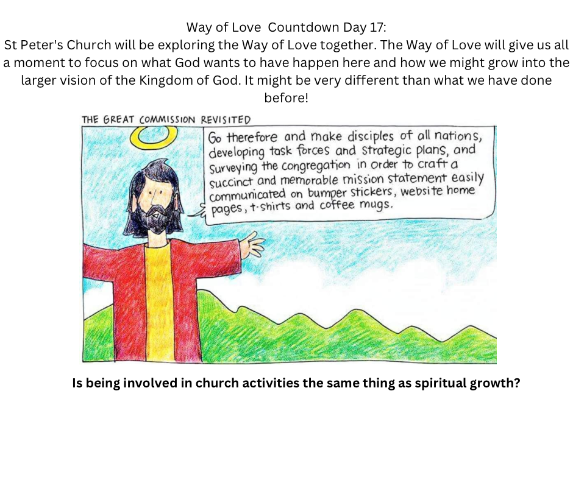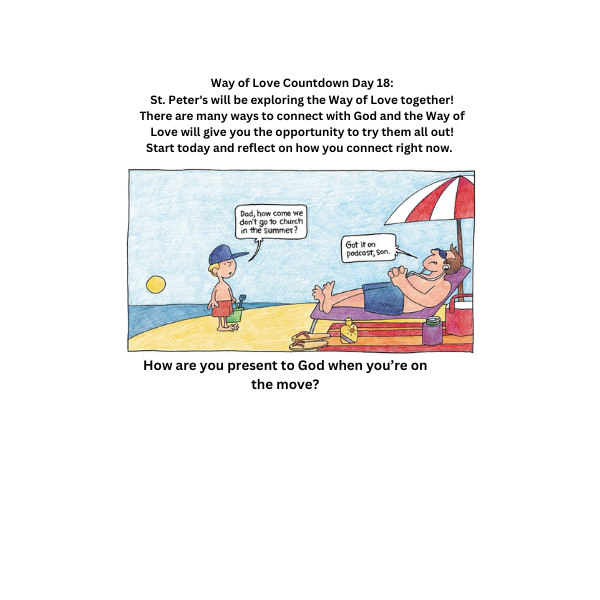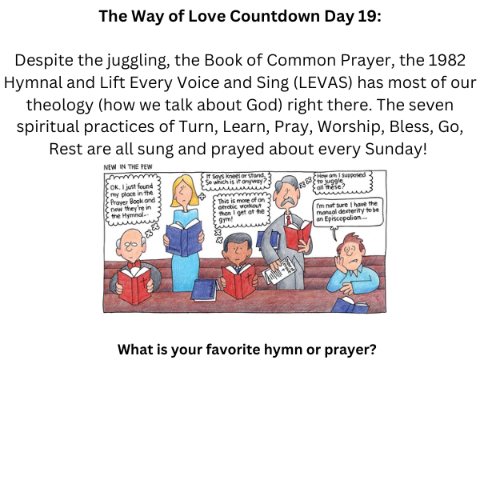 Day 20
St. Peter's will be experiencing the Way of Love together. We'll be counting down to our launch Sunday, October 1st. We will explore and experiment with the spiritual practices to grow our spiritual life together. You'll receive daily cartoons and questions to start thinking about your spiritual life as we each get ready for the Way of Love. This is a great opportunity to share the life of our parish with others and to invite friends, neighbors and family. The Way of Love provides many ways to invite, welcome and connect people with the Jesus centered life. Enjoy the cartoons on Episcopal Church life by Episcopal priest and Way of Love champion, the Rev. Jay Sidebotham. Share! Invite! Welcome! Get connected to the Way of Love!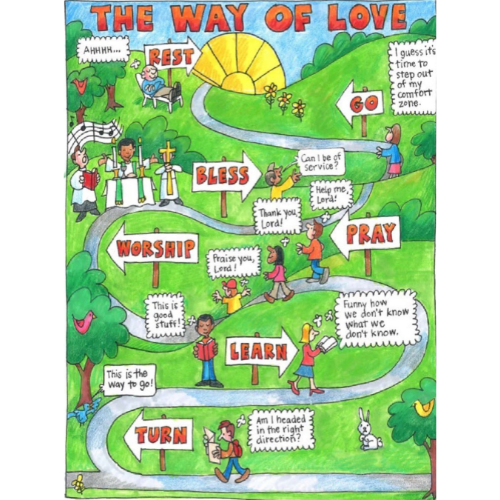 The Sixteenth Sunday after Pentecost
Proper 19/A

September 17, 2023
Click the picture below to see the leaflet for Sunday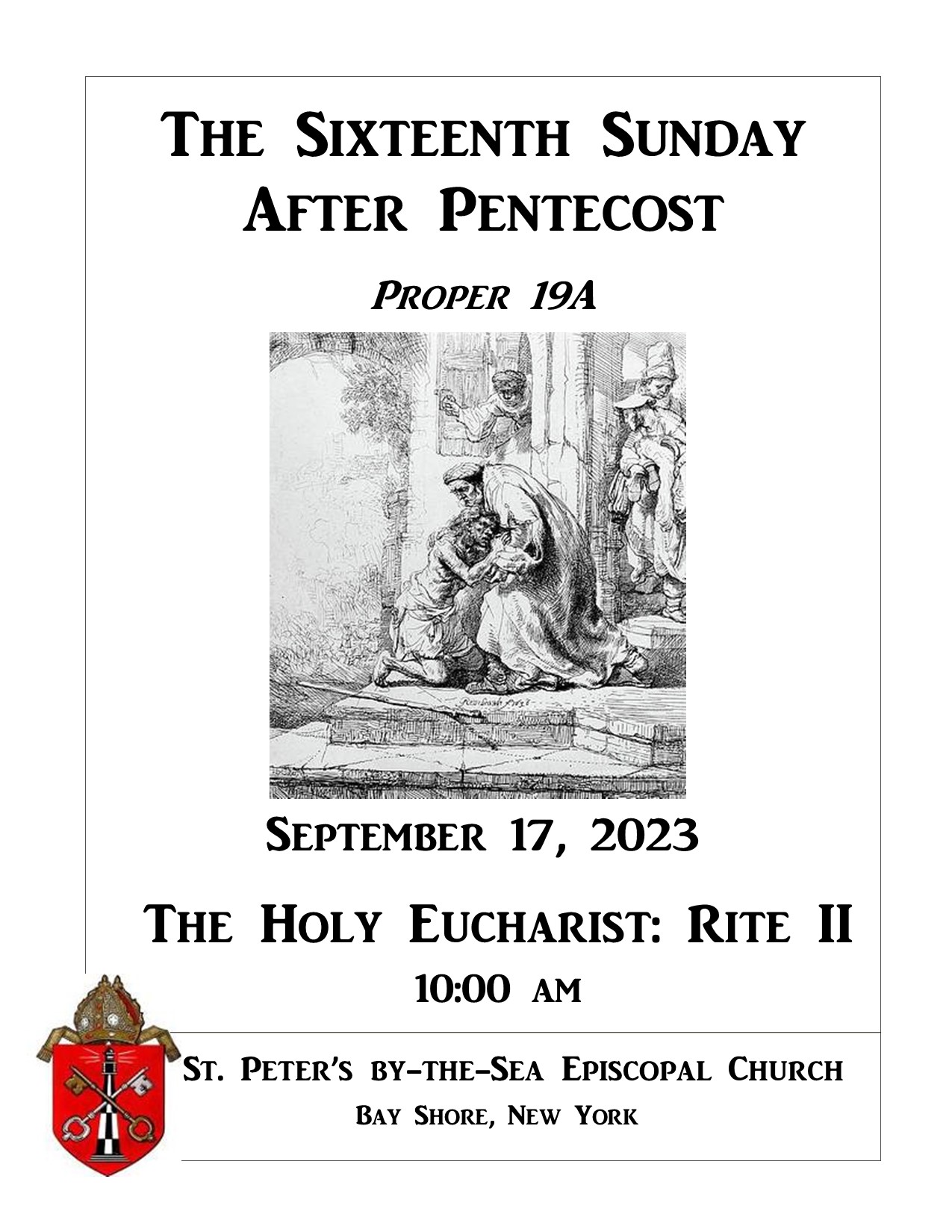 ---
— Parish Notices for September 17 —
Altar Guild Meeting will be today Sunday, September 17 at 9am in the Lounge.

WELCOME BACK PICNIC: TODAY immediately following the 10am service. The picnic will be in the Parish Hall, and a special feature of the event will be a Ministry Fair. All are invited.

We are long-overdue for updating our Parish Directory. We are asking EVERYONE to please fill out the Church Directory Authorization Form as soon as possible, and turn it in to the Parish Office. By having everyone, including all those previously listed, and new members fill out the form, we know that we will be up-to-date.

The Thrift Store is NOW open on Wednesdays, Fridays, and Saturdays from 10am until 2pm. Come by and see us sometime!

Episcopal Church Women Welcome Back Meeting, Tuesday, 19 September at 11:30 am. Come and find out about the exciting programs we have planned for you in the coming months; the new calendar for the year will be available. Please remember to bring a sandwich for your lunch and a cup/mug for your coffee; desserts will be provided by your board members. All women of the parish are invited. Please call Joan Derle at 631-499-8234 if you have any questions. See you on the 19th!

Blessing of the Animals will be on Sunday, October 8, immediately following the the 10AM service in the Garth (The garden behind the Narthex). Coffee hour will be in the Lounge following the blessing.
— A Special Invitation from the Diocese
and Mercer School of Theology —
Our diocesan Creation Care Community warmly invites you to join us on Saturday, October 7, from 9-4:30 at the Mercer School of Theology, for "Stewarding the Garden", our second Green Team Retreat. Formulated especially for those who recognize the necessity of caring for and preserving God's good creation, this will be an opportunity to learn more about the challenges of the climate crisis and to explore what we can do as people of faith to address them in our own church communities. The main focus areas will be:
1. Reducing greenhouse gas emissions (for instance, installing solar panels)
2. Advocacy (for instance, working on campaigns to pass environmental legislation)
3. Nature conservation and biodiversity, including greening our spaces
4. Reduce/Reuse/Recycle (reducing our carbon footprint at home and in our parish)
Community engagement
The Green Team Retreat will be a day of prayerful discernment and dialogue with our Creation Care Community Leadership Team and others from across the diocese with a concern for the well-being of the earth and all who live on it.
Please register by September 27, at https://bit.ly/GreenTeamReg23.
If you have any questions, please email Father Matthew Moore, the Missioner for Environmental Justice (mmoore@dioceseli.org).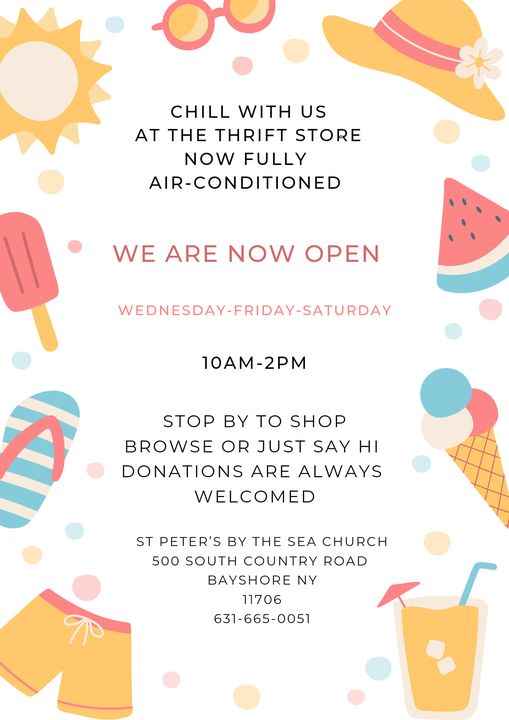 St. Peter's is host to a number of 12-step groups. Anyone who would like to attend, or knows of others who would, are invited to do so at any time, no reservation required.

Al-Anon Sunday 7pm Lounge
AA Monday 7pm Lounge
Al-Anon (Adult Children of Alcoholics)Tuesday7pmLounge
Al-Anon (TGIF)Friday10amLounge
AAFriday7pmGym
Weekdays:

Parish Office is open Tuesday through Thursday 9:00 am until 1:30 pm.
The Thrift Store is open Wednesdays, Fridays, and Saturdays from 10am until 2pm.
The Food Pantry is open Saturdays from 11am to 1:30pm.

A warm welcome will greet you at St. Peter's!
St. Peter's by-the-Sea Episcopal Church
500 South Country Road
Bay Shore, NY 11706
Phone: 631-665-0051
Fax: 631-665-0052
Join us on FACEBOOK

www.facebook.com/StPetersbytheSea
https://www.facebook.com/stpetersmusic/
AND FOLLOW US ON TWITTER
https://twitter.com/stpetersbaysho1


Prayers for the Candidates
The Bishop then says to the congregation
Let us now pray for these persons who are to receive the Sacrament of new birth.
Leader Deliver them, O Lord, from the way of sin and death.
People Lord, hear our prayer.
Leader Open their hearts to your grace and truth.
People Lord, hear our prayer.
Leader Fill them with your holy and life-giving Spirit.
People Lord, hear our prayer.
LeaderKeep them in the faith and communion of your holy Church.
PeopleLord, hear our prayer.
LeaderTeachthem to love others in the power of the Spirit.
PeopleLord, hear our prayer.
LeaderSend them into the world in witness to your love.
PeopleLord, hear our prayer.
LeaderBring them to the fullness of your peace and glory.
PeopleLord, hear our prayer.
The Bishop says
Grant, O Lord, that all who are baptized into the death of Jesus Christ your Son may live in the power of his resurrection and look for him to come again in glory; who lives and reigns now and for ever. Amen.