Click on the picture above to see the Service Leaflet.
— Parish Notices —
Concerts return to St. Peter's! NEXT SUNDAY, we will host the first concert presented in St. Peter's Church in this new season. Island Symphony Chamber Strings will perform on Sunday, June 27 at 2:00 pm. The program will feature solo artist Leslie Strait, flutist performing Telemann's Concerto in A Major with the orchestra; and Mark Engelhardt will perform a solo organ work the "Sonata in Sea: Cape Cod" by James Woodman. Other works to be performed are "Lullaby" by George Gershwin, and "Danzas de Panama" by William Grant Still. The concert is free and open to the public. Social Distancing will be observed, and all must wear a mask. All are invited to join us!
It has been a long while since we offered classes in CPR and First Aid. Anyone interested in our scheduling a class with a professional instructor, please speak with Brian Clark or Mark Engelhardt.
Loving Hands Preschool visited St. Peter's Organic Victory Farm on June 16. The students learned about vegetables, tools, compost, worms and beehives. We had a morning filled with enthusiasm and sunshine!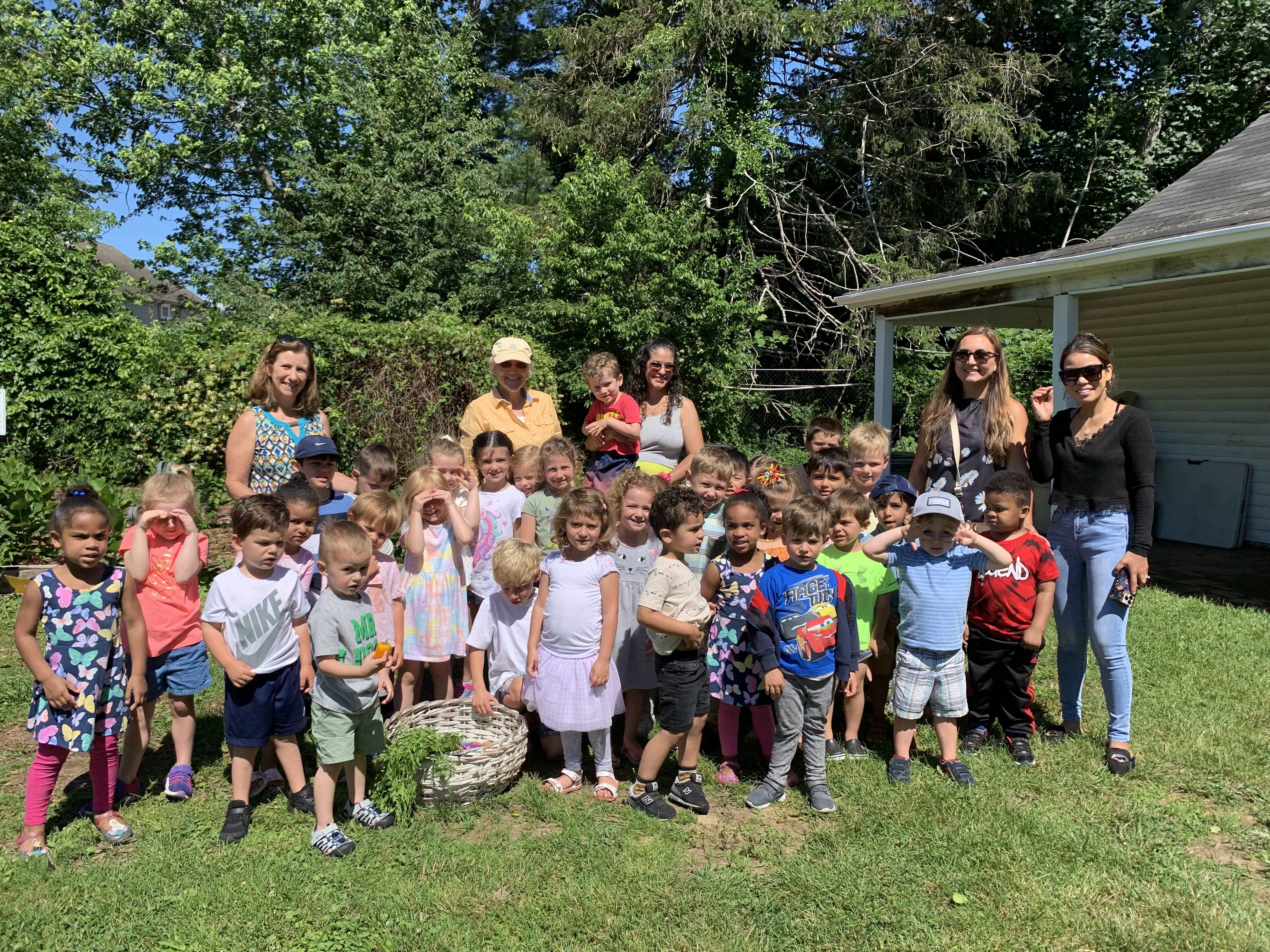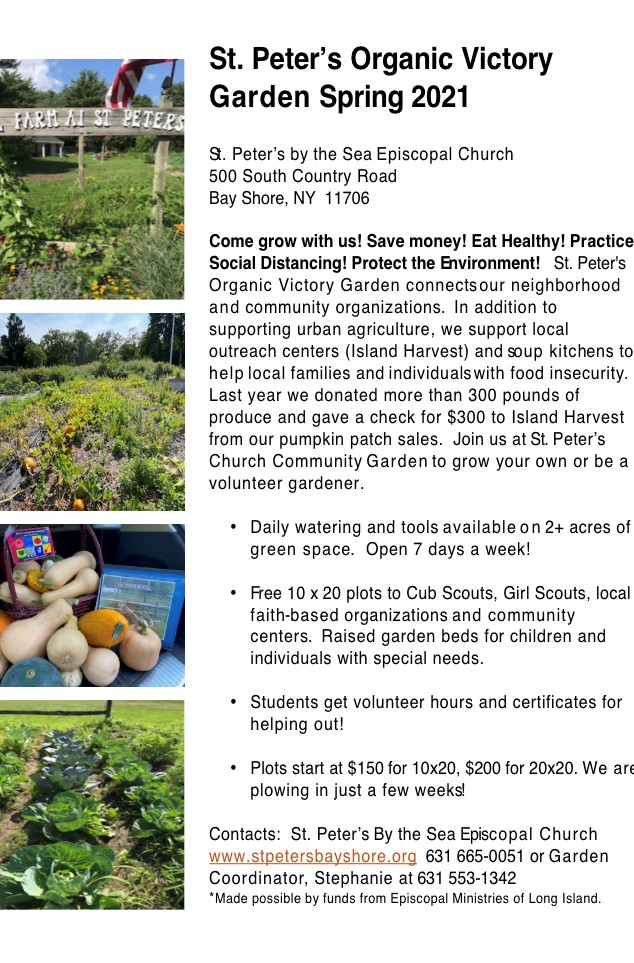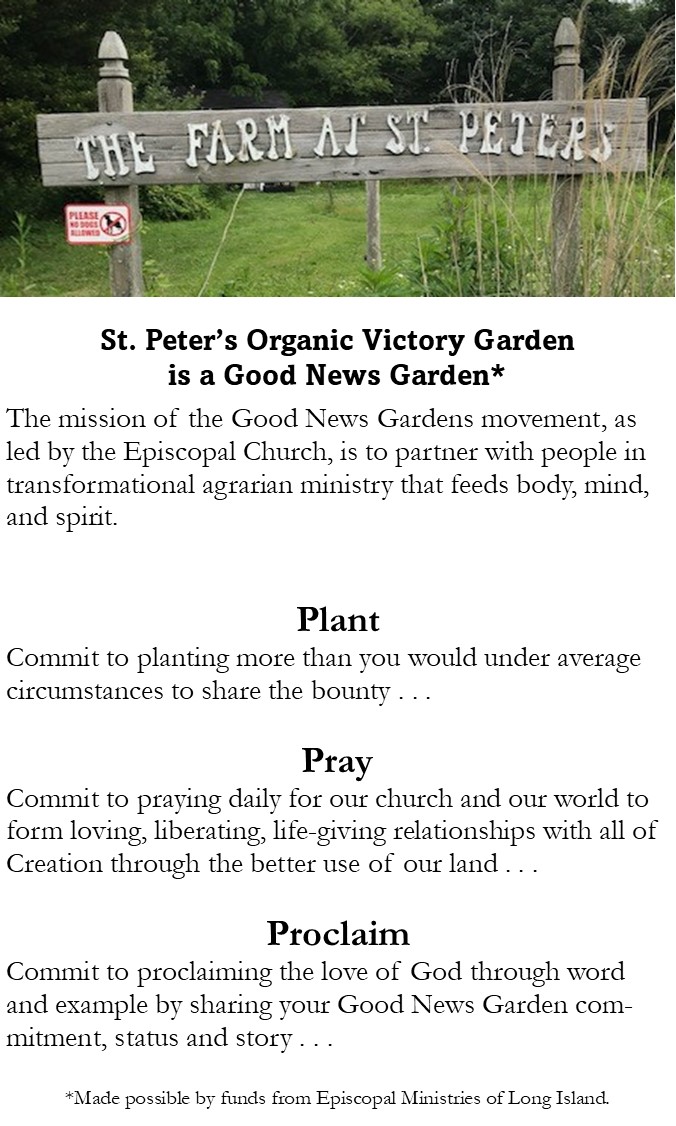 ---
Welcome To St. Peter's!
FOR ALL SERVICES AT ST. PETER'S:

Diocesan and state health guidelines prevail. Please observe the procedures listed below, and as always, thank you for observing these protocols, which is an expression of your care for everyone in the Parish family.
AT THE TIME FOR COMMUNION:
¨ Only the Host (Bread) will be distributed; not wine
¨ Please approach the Altar in SINGLE FILE from the Center aisle only, not the side aisles
¨ Observe Social Distancing in the aisle by using the pew markers for vacant pews
¨ Communicants should sanitize their hands before receiving the host. You may use your own, or a bottle is placed at the head of the aisle
¨ The Host will be placed in the palm of each Communicant, not on the tongue
¨ Please return to your seat, by way of the side aisles
¨ Remove your mask to take the Host, then replace the mask for the remainder of the service
Please also remember, per the mandates of the State of New York and
The Episcopal Diocese of Long Island:
Face Masks are required to be worn by all in attendance at all times.

(We have a supply on hand, if you forgot yours.)
Physical Distancing of 6 feet must be maintained at all times, and pews are marked for that purpose.
Check in upon arrival, and if your name is not in the data base, please provide your NAME, E-MAIL ADDRESS, AND TELEPHONE NUMBER for Contact Tracing.



One-time use paper bulletins are provided, and must be taken away by the user.

Please be sure to take yours with you, and don't leave it behind in the pew or in the Narthex.
Please place your offering in one of the Offering Plates

near the Altar before the service begins. If you came in late, please place it in the plate immediately following the service.
Until further notice, all Day-by-Day booklets and sign-up sheets will be kept in the office. To pick up a tract, or sign up for anything, including memorial flowers, please ask Mark or Brian, or on Sundays, an usher.
Weekdays:

Parish Office is open Monday through Friday 9:30 am until 2 pm.
A warm welcome will greet you at St. Peter's!
St. Peter's by-the-Sea Episcopal Church
500 South Country Road
Bay Shore, NY 11706
Phone: 631-665-0051
Fax: 631-665-0052
Join us on FACEBOOK

www.facebook.com/StPetersbytheSea
https://www.facebook.com/stpetersmusic/
AND FOLLOW US ON TWITTER
https://twitter.com/stpetersbaysho1