Palm Sunday

April 2, 2023
Click the picture below to see the leaflet for Sunday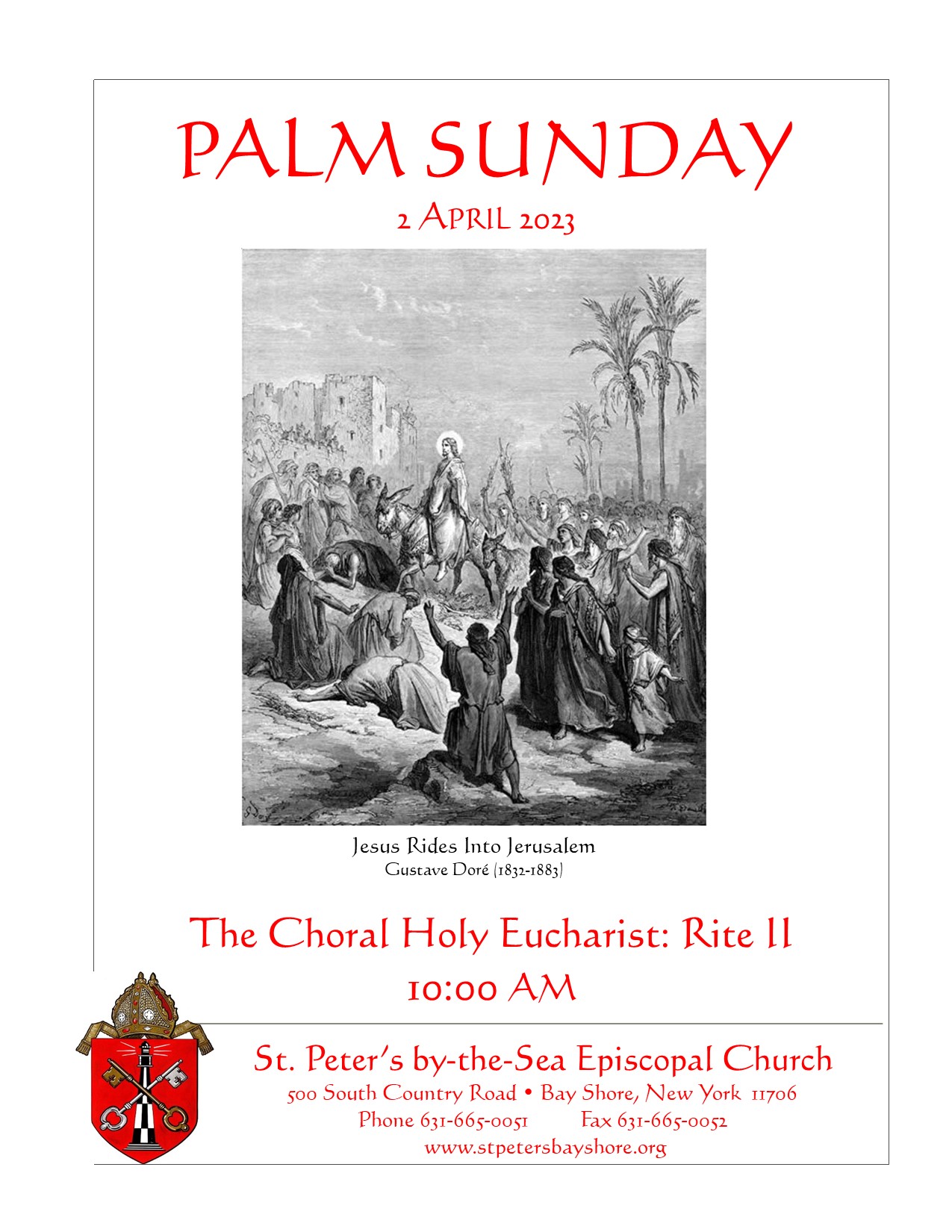 Celebrant and Preacher - The Reverend Doyle Dietz Allen
Lector - Lisa Hallett
Lay Eucharistic Ministers - Betsy Mayo, Juanita Moon

Acolyte - Thaddaeus Perry
Organist - Mark Engelhardt
Ushers - Linda and Bruce Rauch
Altar Guild - Linda Brady, Juanita Moon, Jeannie Taylor, Diane ARrigo

---
— Parish Notices for April 2 —
HOLY WEEK begins today, Palm Sunday. The Service will begin in the Parish Hall and process to the Church following the Liturgy of the Palms. Please note the schedule for Holy Services below. (There will be an Easter Egg Hunt immediately following the Easter Day service.)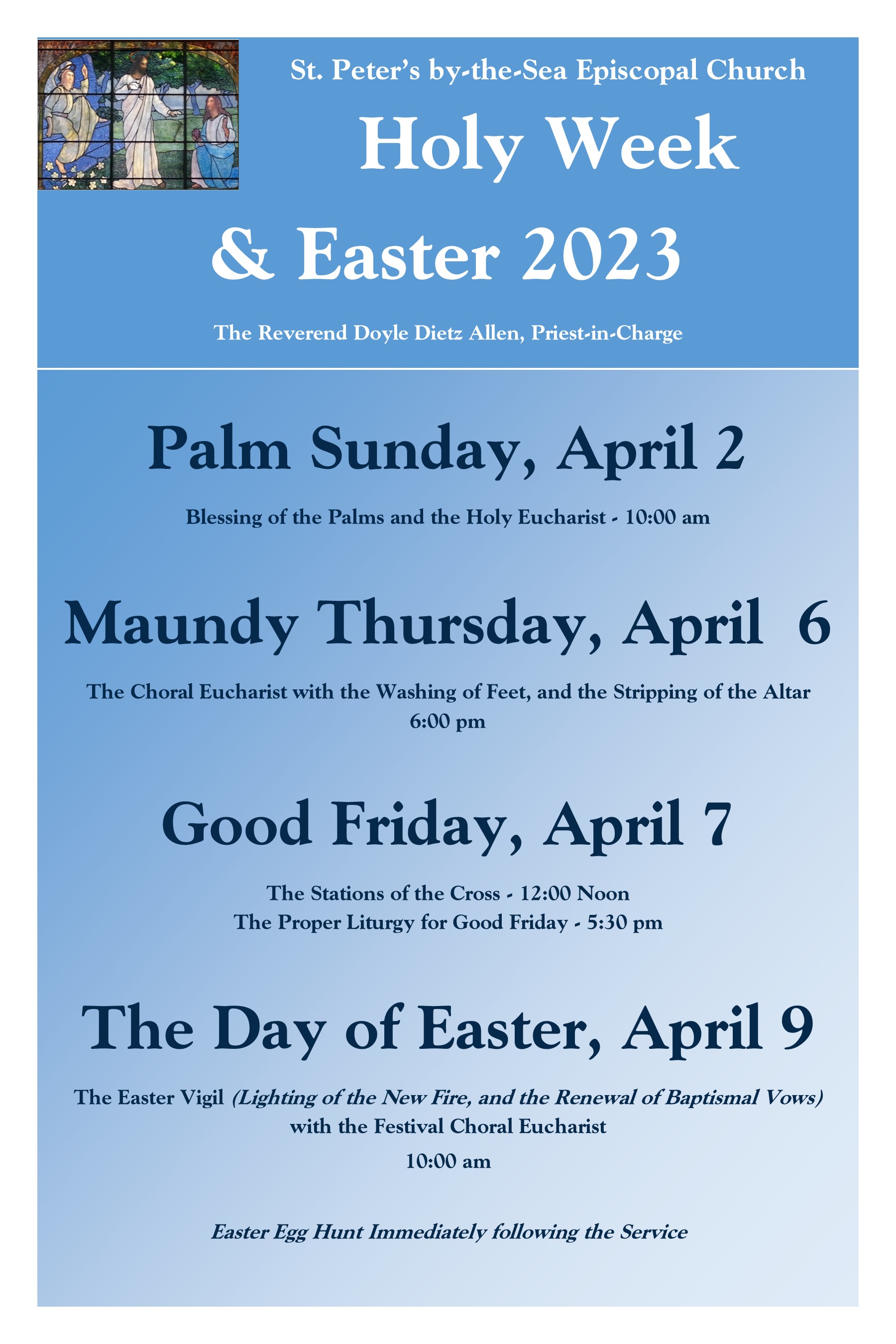 Please join us for Coffee Hour in the Lounge immediately following the service!

The Island Symphony, our Artists-in-Residence at St. Peter's, will be performing a concert at St. Peter's TODAY, April 2 at 2pm. This program will feature the 2023 Island Symphony Orchestra Young Performer's Competition Winner, Jessica Zhao. The thirteen year old pianist will perform Beethoven's Piano Concerto No. 1 with the Orchestra. Please see the poster below for further details.

Episcopal Church Women Celebrate 135 years at St. Peter's. On Tuesday, 18 April, in the Lounge at 11:30 am, ECW will celebrate this special occasion with an English Tea with scones, tea sandwiches and tea cakes followed by a trip down memory lane. Please bring your own tea cup and saucer; wearing of hats is optional! Please call Linda Brady at 631-665-8330 to reserve—reservations are a must! The cost per person is $7. (Checks made payable to St. Peter's Church; memo line, ECW.) Deadline for reservations is Friday, 14 April. All women of the parish are invited.

The organization now known as Episcopal Church Women of St. Peter's Church was started in 1888 by a small group of twenty-eight women whose purpose was to promote charity, peace and humility among its members and to band together in Christian work. It was known as the Gild of the Silver Cross of St. Peter's Parish. The guild had a constitution, a silver cross as its emblem and officers were elected. Later it became known as St. Peter's Guild and in 1973 the name was changed to the Episcopal Church Women of St. Peter's Church.

The present ECW continues to carry out the purposes of the original group. It accomplishes much in the support of the Parish and the Diocese and for support of missionary work, both domestic and foreign.

Episcopal Church Women T-Shirt Collection: Spring is here and soon we will be removing our heavy winter jackets and everyone will be out in their short sleeves. ECW would like to donate bright new t-shirts to the less fortunate. Everyone wears t-shirts—they have even been worn to church! Please help us by donating NEW t-shirts for men, women, and children—all sizes are needed. Check sales and even the Dollar Stores ($1.25) sell them. There is a collection box in the narthex. Please help us in this outreach project. ECW thanks you in advance. The collection will run through the end of April.

Sunday School Notes from the Director Anne Perry: NEW Hour for Women and Children has asked our Sunday School program/Children's ministry to assist with donations for their annual Easter egg festival for children whose lives have been impacted by the legal system. We have two baskets in the narthex labeled where members of the congregation are free to donate Easter items that can be used to assemble Easter baskets for children ages 3 to teenaged years. Some needed donations include: Easter grass, plastic eggs, individually wrapped tiny candies, bubbles, stickers ,pencils/ erasers, lip balms, small cosmetic items, Matchbox cars or any other little trinket toys that can be placed in a basket. Baskets will be assembled and delivered to NewHour early next week.

We will also be having our annual Easter egg hunt following the 10:00 a.m. service on Easter morning April 9th in the courtyard. If anyone would like to donate individually wrapped candies to be placed in Easter eggs we would also be very appreciative!

Thank you for your ongoing support of our children , our parish and our community! A special thanks to the ECW and those who have already donated monetarily to assist with shopping for New Hour!

The Memorial Service for former parishioner Kathy Brasher Helf who died January 5, 2021 of Covid will be on Saturday, April 29th at 10am in the Church. Kathy's family wishes to extend an invitation to all parishioners to attend.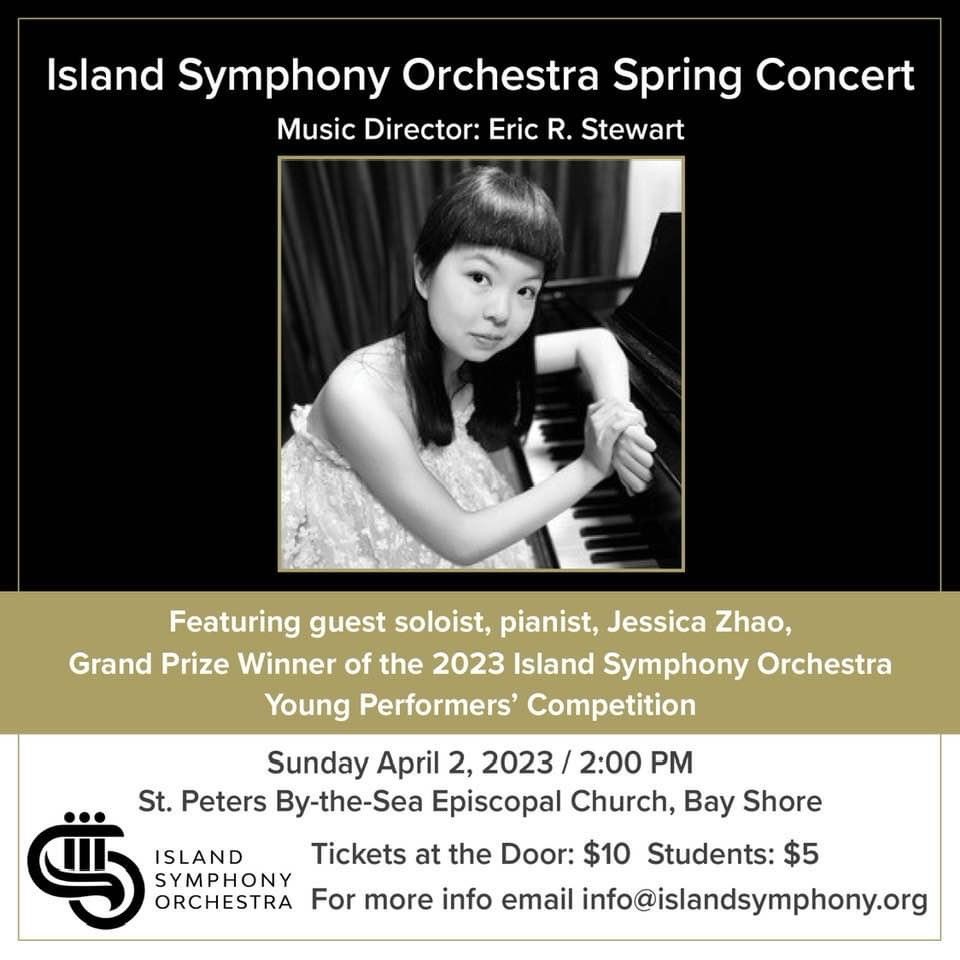 Weekdays:

Parish Office is open Tuesday through Thursday 9:00 am until 1:30 pm.
The Thrift Store is open Fridays and Saturdays from 10am until 2pm.
The Food Pantry is open Saturdays from 11am to 1:30pm.

A warm welcome will greet you at St. Peter's!
St. Peter's by-the-Sea Episcopal Church
500 South Country Road
Bay Shore, NY 11706
Phone: 631-665-0051
Fax: 631-665-0052
Join us on FACEBOOK

www.facebook.com/StPetersbytheSea
https://www.facebook.com/stpetersmusic/
AND FOLLOW US ON TWITTER
https://twitter.com/stpetersbaysho1