THE SIXTH SUNDAY OF EASTER

Click on the picture below to see the Service Leaflet.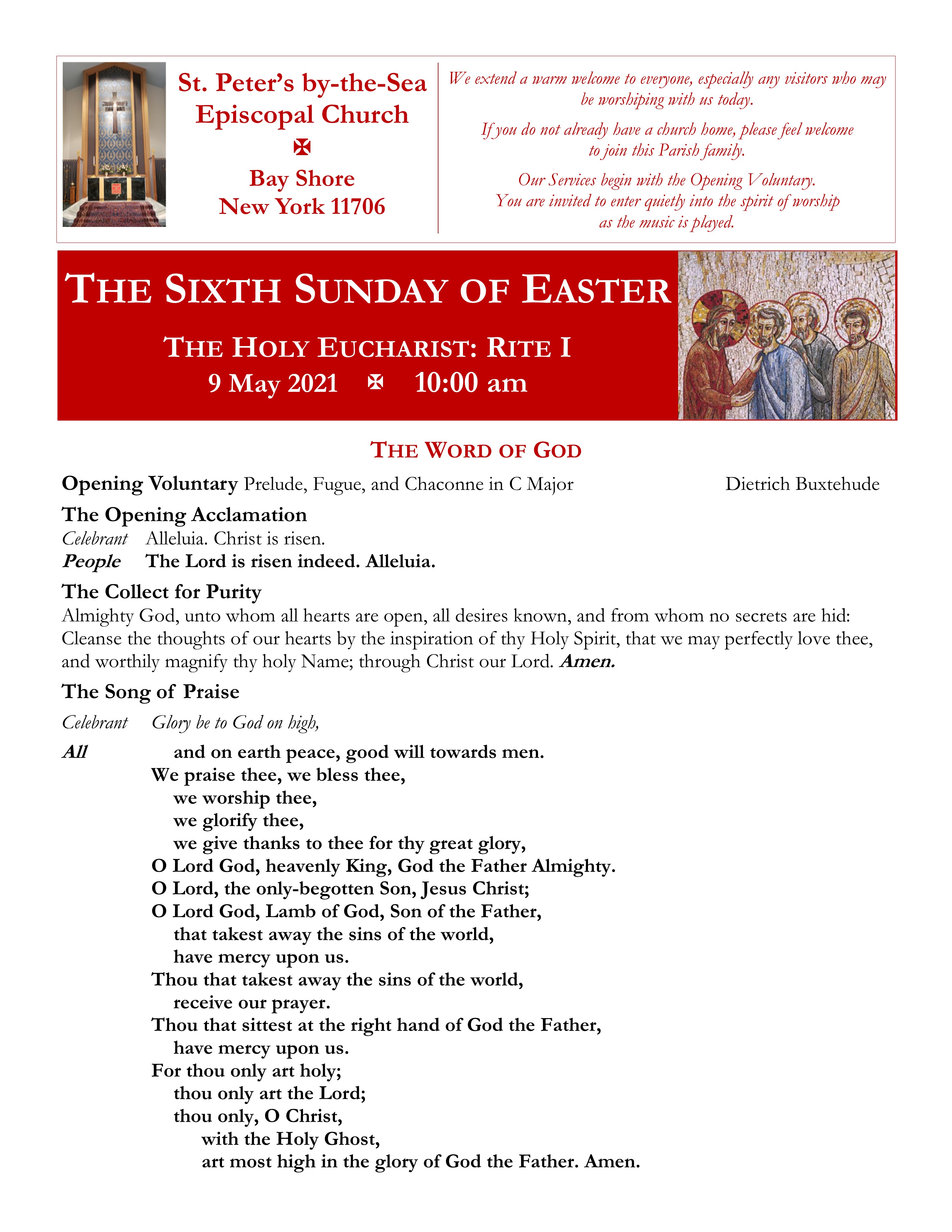 — Parish Notices —
Today's Voluntaries are all the work of Dietrich Buxtehude (1637-1707). Born in what is now Denmark, much of his active musical life was in the town of Lübeck in what is now Northern Germany. As organist at the Marienkirche there, he enjoyed an enviable reputation for his compositions, mostly for the church, and his stunning technique, especially his mastery of the pedals. Many of Buxtehude's contemporary musicians looked to him as a model for composition and performance, most notably Handel, Telemann, and J. S. Bach. There is a story, probably apocryphal, that the twenty year-old Bach walked from Arnstadt where he was working to Lübeck (about 250 miles) to study with Buxtehude, overstaying his one month leave from his organist position by two months! The Prelude, Fugue, and Chaconne is one of Buxtehude's iconic organ works showing off his improvisatory flair, mastery of the art of the fugue, and concluding with a brilliant finish over a repeated bass melody. The Canzonetta played at the Offertory is a short piece for manuals alone in two distinct parts; and the Concluding Voluntary Fugue in C Major is a rollicking good romp in the dance form of the Gigue (Jig).
Bible Study Continues: Tuesdays at 10:30am in the Lounge and Sundays at 9am in the Lounge. Bring your bible and a mask! All are invited.
St. Peter's will be hosting Lifeline Screenings in the Parish Hall this coming Tuesday, May 11th from 9am until 4pm. Advance reservations are required. We will also host screenings in September, so if you missed it this time, you will have opportunity to sign up then.
Next Sunday, May 16th, we are planning to offer our Parish Eucharist outside in the front parking lot, and conclude the service with a procession to the Farm to bless the grounds. Please note that we will continue to observe social distancing and the wearing of masks, but because we will be outside, we will have an opportunity to sing a few hymns! We will provide a few chairs for those unable to stand for the service; however, all are invited to bring their own folding chairs if they choose to do so. Following the service, we'll provide a simple outdoor barbeque, (not potluck) so plan now to join us!
Our two long-standing AA groups continue to meet on Monday and Friday evenings. We also have meetings for Al-Anon on Friday mornings at 10am and Sunday evenings at 7pm, and a support group for heroin addiction, meeting on Sunday evenings. Please contact Megan via the hotline: 631-210-6297 or www.halongisland.org if interested in joining the HA group.
.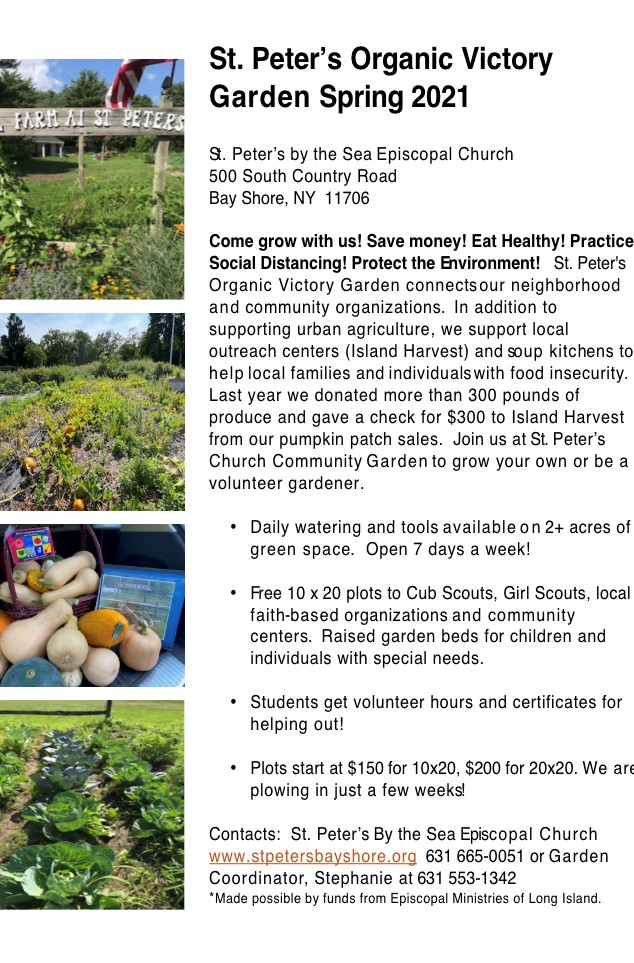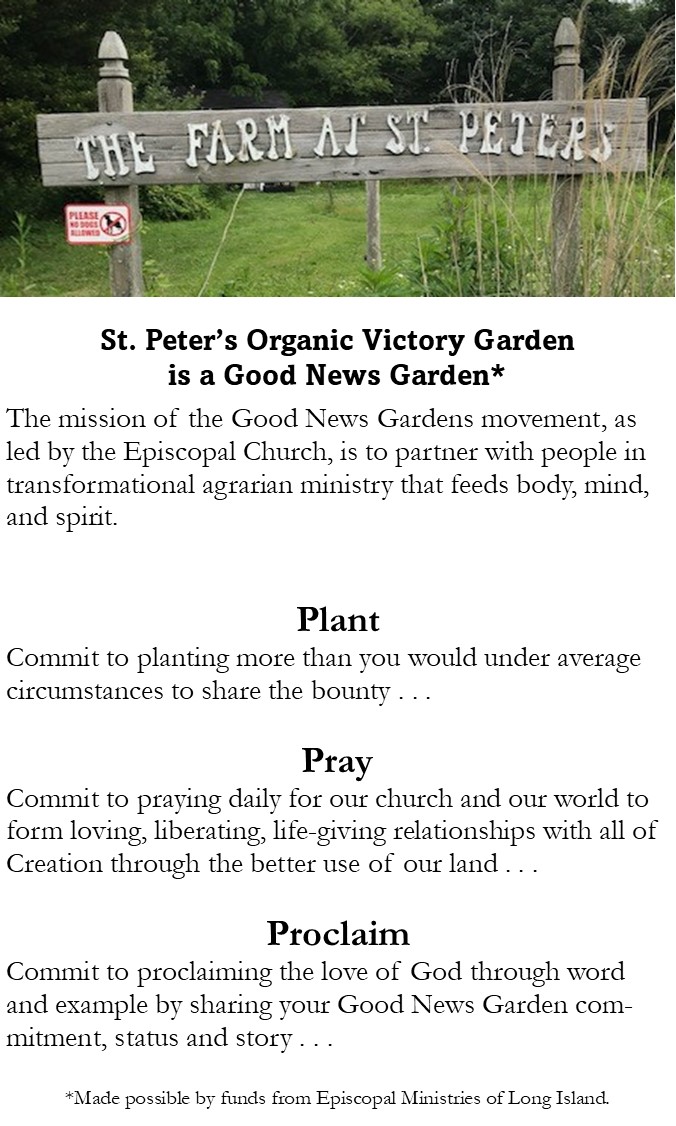 ---
Welcome To St. Peter's!
FOR ALL SERVICES AT ST. PETER'S:

Diocesan and state health guidelines prevail. Please observe the procedures listed below, and as always, thank you for observing these protocols, which is an expression of your care for everyone in the Parish family.
AT THE TIME FOR COMMUNION:
¨ Only the Host (Bread) will be distributed; not wine
¨ Please approach the Altar in SINGLE FILE from the Center aisle only, not the side aisles
¨ Observe Social Distancing in the aisle by using the pew markers for vacant pews
¨ Communicants should sanitize their hands before receiving the host. You may use your own, or a bottle is placed at the head of the aisle
¨ The Host will be placed in the palm of each Communicant, not on the tongue
¨ Please return to your seat, by way of the side aisles
¨ Remove your mask to take the Host, then replace the mask for the remainder of the service
Please also remember, per the mandates of the State of New York and
The Episcopal Diocese of Long Island:
Face Masks are required to be worn by all in attendance at all times.

(We have a supply on hand, if you forgot yours.)
Physical Distancing of 6 feet must be maintained at all times, and pews are marked for that purpose.
Check in upon arrival, and if your name is not in the data base, please provide your NAME, E-MAIL ADDRESS, AND TELEPHONE NUMBER for Contact Tracing.



One-time use paper bulletins are provided, and must be taken away by the user.

Please be sure to take yours with you, and don't leave it behind in the pew or in the Narthex.
Please place your offering in one of the Offering Plates

near the Altar before the service begins. If you came in late, please place it in the plate immediately following the service.
Until further notice, all Day-by-Day booklets and sign-up sheets will be kept in the office. To pick up a tract, or sign up for anything, including memorial flowers, please ask Mark or Brian, or on Sundays, an usher.
Weekdays:

Parish Office is open Monday through Friday 9:30 am until 2 pm.
A warm welcome will greet you at St. Peter's!
St. Peter's by-the-Sea Episcopal Church
500 South Country Road
Bay Shore, NY 11706
Phone: 631-665-0051
Fax: 631-665-0052
Join us on FACEBOOK

www.facebook.com/StPetersbytheSea
https://www.facebook.com/stpetersmusic/
AND FOLLOW US ON TWITTER
https://twitter.com/stpetersbaysho1